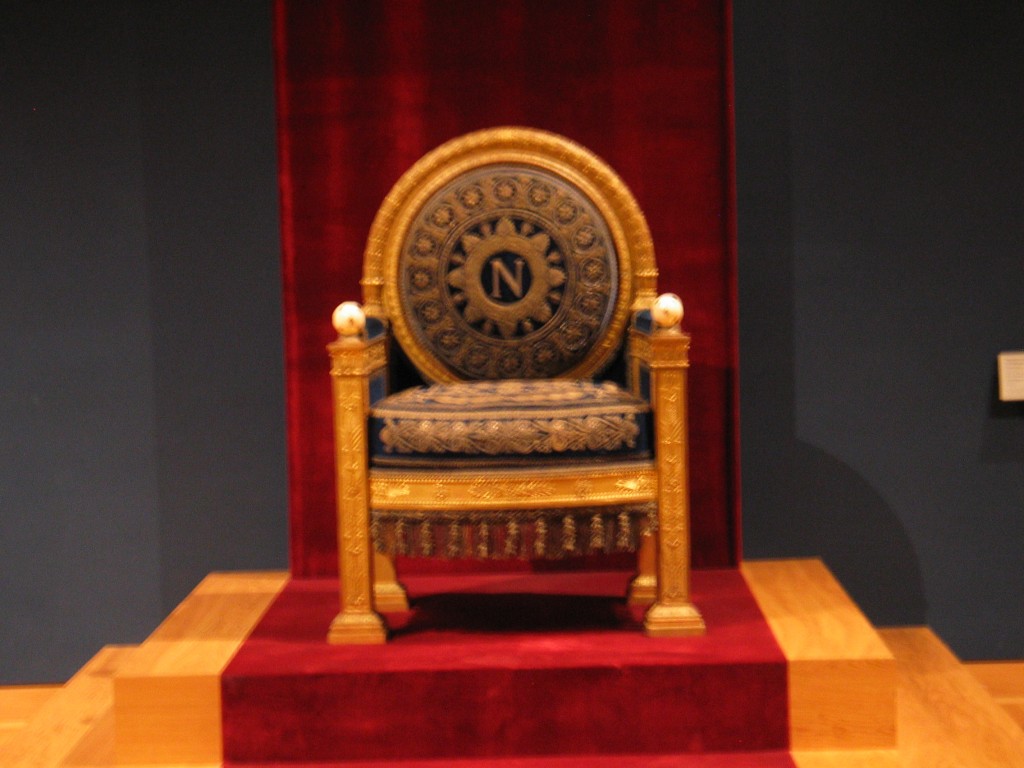 Napoleon Bonaparte's throne
I think most everyone knows who Napoleon Bonaparte is and what you see in the picture above is his throne displayed in the Louve in Paris, France.  There is an entire apartment within the Louve dedicated to all things Napoleon and it is breathtaking to see.  My son, Jared, loves history and so it was a given that during our last visit to France that we had to visit the Louve and most definitely not miss this!
There is lots to read about Napoleon, lots of history, lots of tidbits which makes him interesting enough to style a costume after… such as the Butterick 4891 pattern.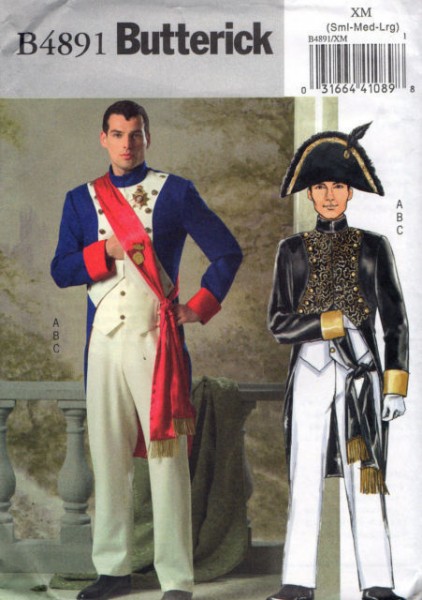 I thought this would be a fun pattern and costume to share with you and so included it in my scheduled line-up of costume posts.  Then when it was time to dig it out of the costume closet and begin writing this article, I experienced several shockers!  First, I have discovered that the Butterick website no longer has this pattern.  It is not even listed in the out of print section and is spoke of on the internets as a vintage pattern.  It's selling anywhere from $26 to $38 dollars… Qu'est-ce que c'est? (English…What is this!)  And secondly, I made this costume for Jared a few years back and… well… his sizing has changed… A LOT!  Once again, what I thought would be quick and easy has turned into a laborious job but hey – since I have been making shirts for Jared, I have learned some things about fitting him which has saved my butt!
The jacket was my biggest obstacle to change up.  Fortunate for me, while this pattern is considered a historical costume of a Napoleon French Revolution Uniform, it is not exact nor does it use period garment making techniques so I had free range on how I managed the changes.  The pattern instructions are easy to follow and the design of it is well put together and an enjoyable sew.  For the main part of the jacket, I used a royal blue denim and as per the pattern added a white garbardine  overlay to the front.  It is a lined jacket and so I chose the only obvious color to line it with… red!  I loved working with the contrasting colors and for the first time, sewing on buttons was a treat because that's when I began to see the jacket really become officially a uniform!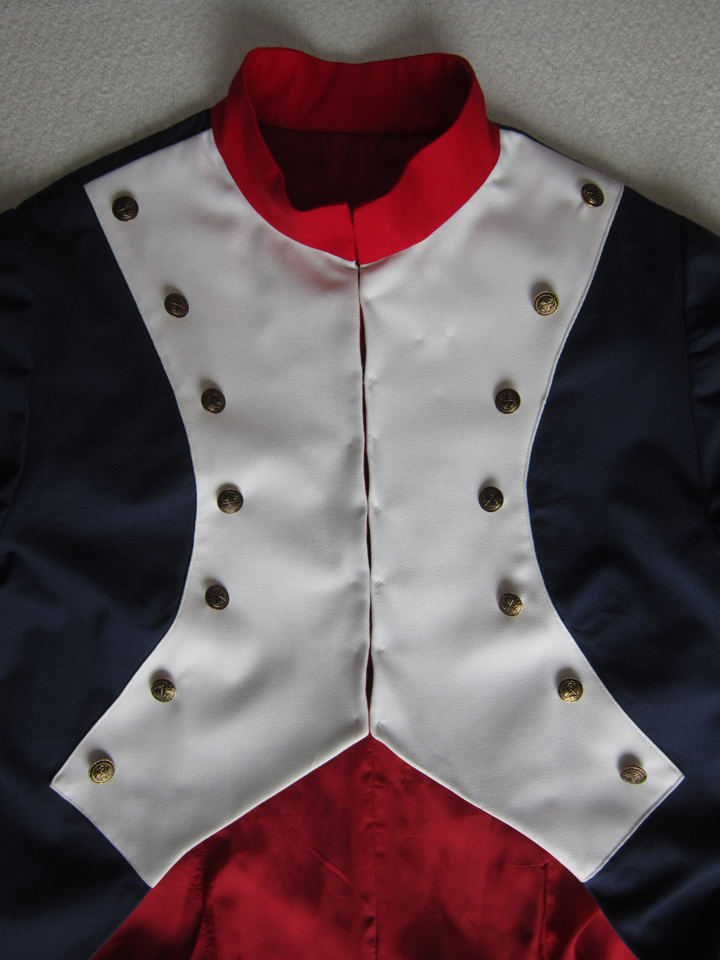 As you can see in the picture above and below, I chose to make the collar in red since that is what all the Napoleon images on the internets show it to be.  I think the mandarin style makes it quite attractive.  I do wonder though when the mandarin collar was introduced into military fashion.  I guess I have a homework assignment!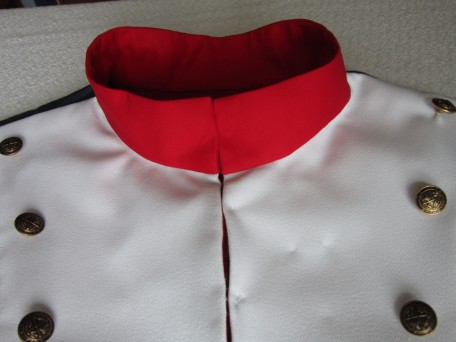 Given that this is a mens garment, I chose to use big jumbo hooks for closures.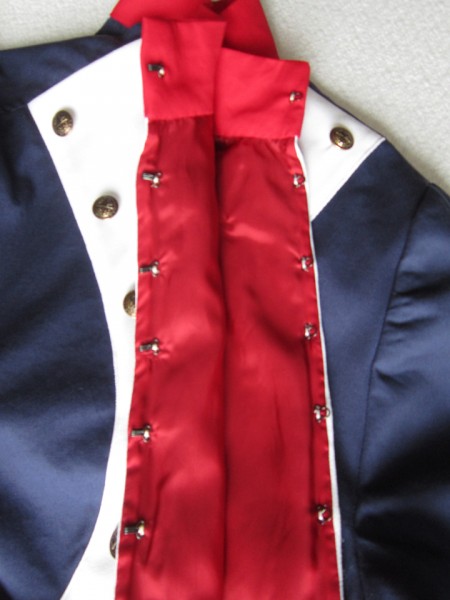 Of course the red cuffs brought it all together.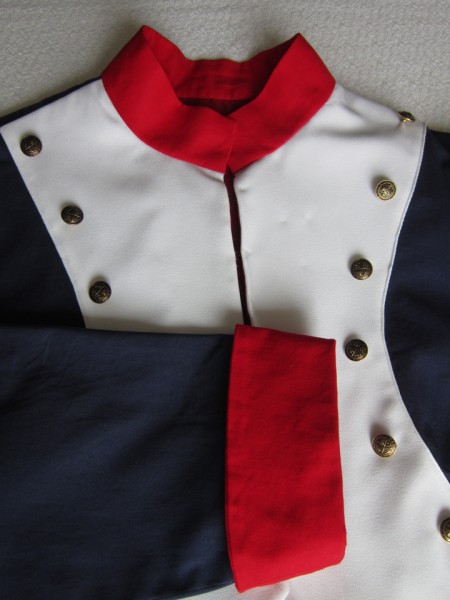 When I first made this costume, I didn't do any research to see how close to the real deal it was, I just followed the instructions and made it!  Now that I'm back re-doing it, and at the same time searching on-line, I've discovered that the shape of the tails, the cuffs, as well as the kind of buttons, etc, may not be correct so you can't very well call this a true historical period costume but it certainly is easy to adapt it to what you need.  For instance, the back of the jacket seemed so plain that I decided to borrow a detail from some of the images I viewed and with some scrap fabric I had left, did this.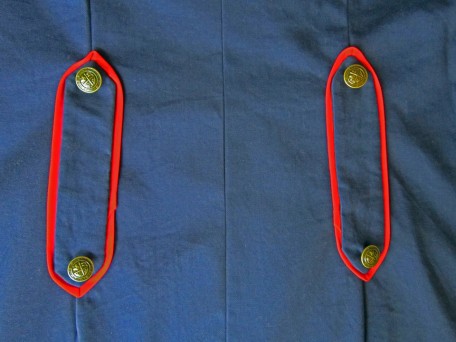 Next is the vest.  It is simple and quite traditional.  As you can see, I did it all in white using the same gaberdine fabric as in the pants and jacket.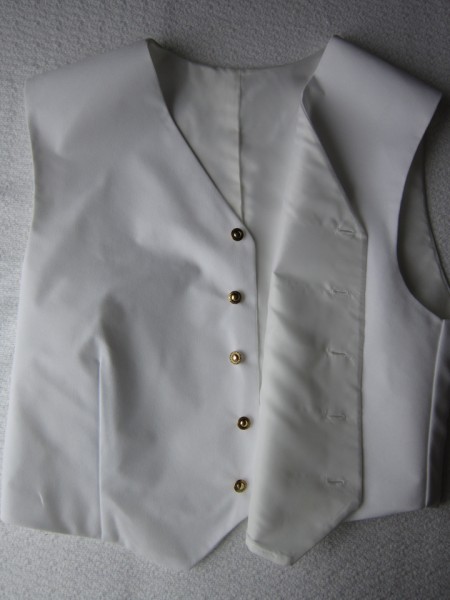 The pants are nothing more than two legs with an elastic waist.  I hate elastic but when I made these pants, I was following pattern instructions so I just went with it.  And… the costume was for my son and I knew he didn't care one way or the other as long as he had a costume!  I thought the Gaberdine fabric I used was too thin so I lined the pants with Bemberg (Ambiance) and this made a big difference.  I didn't take a picture though because… because… I'm a nerd and forgot!
The sash definitely gives this uniform some panache!  I used a lining fabric from the JoAnn store that cost me $12.99 a yard and it was not silk!  The gold fringe  is oh so uniform.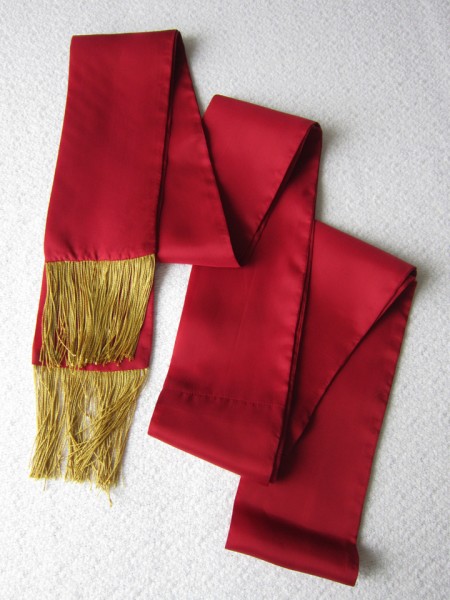 Shoulder boards seemed to be in order as I was re-working this costume.  I found a gorgeous pair on a historical costume site for 400.00  euros but… I decided that it might be better to eat and have electricity so decided to try making them myself.  This is what I ended up with.
Now –  there is the matter of a bicorne hat.  Long story short… after spending most of the week rebuilding the costume and another day making the shoulder boards, I decided to bypass the bicorne and get this posted!  The hat sure would have made the costume complete but I am choosing not to stress!  I think you all would agree with me! 🙂
We dug up a shirt and a pair of boots from our costume collection but for the life of me, I can't remember where I purchased them from.  I do know that I found both on-line.  The shirt, my son Dylan calls a "doilie shirt".  You know… like doilies that you put on tables and set nicknacks on!  He has an attitude huh!  We tried to find medals that looked like what Napoleon wore that wouldn't cost a fortune… it didn't happen.  It was compromise.  I created something from what Jared decided he could accept.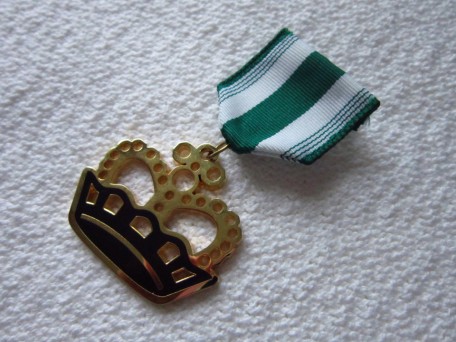 Now it is the time for the man of the hour in all his regalia that his mom made!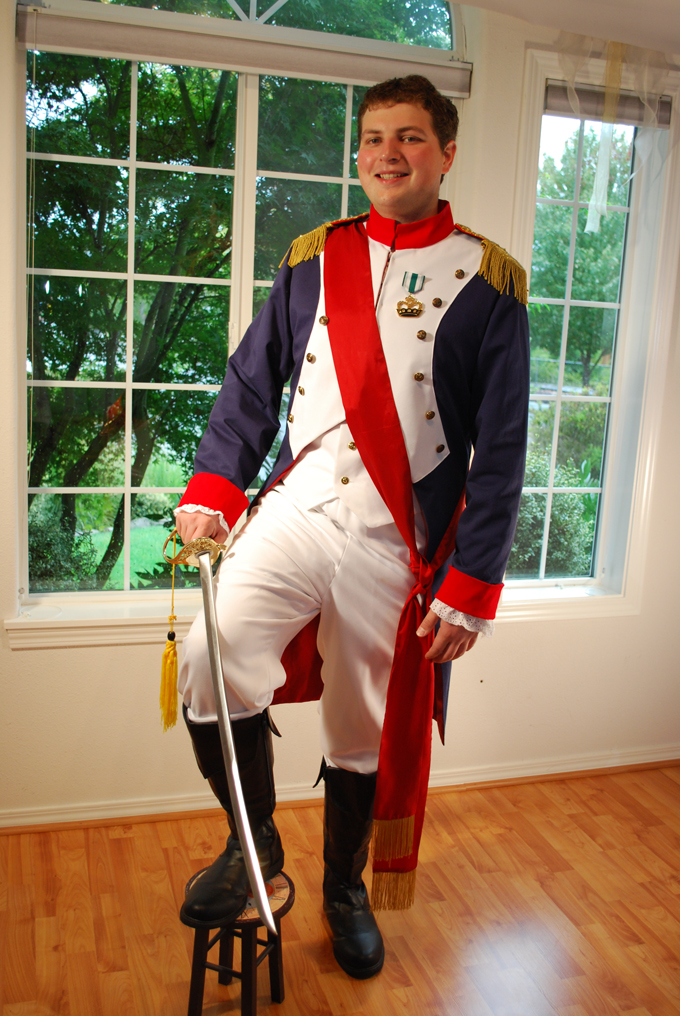 On the back are the bands that I added.  They are really suppose to be a little longer based off the historical images that I've seen but I was working with scraps!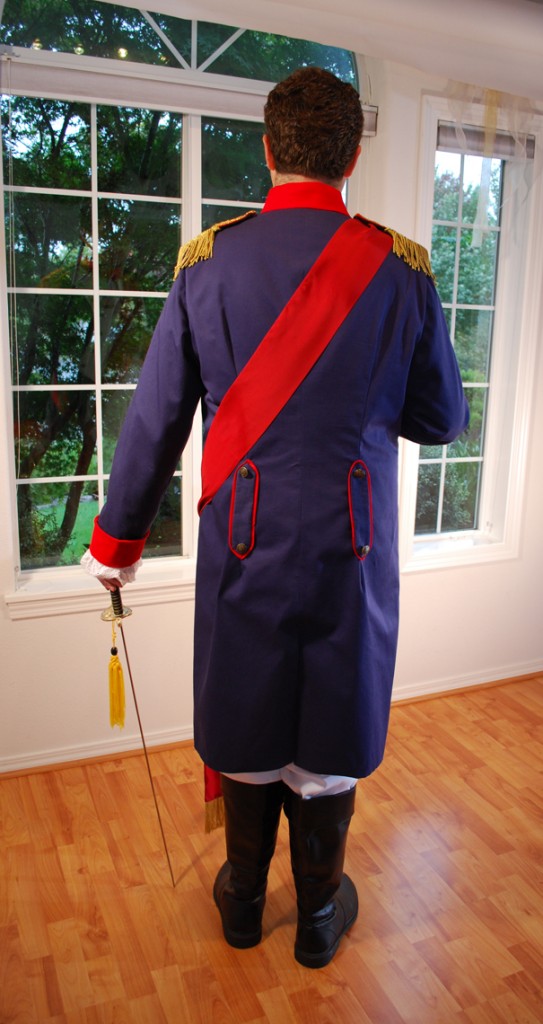 I think the shoulder boards or epaulettes really stand out on the costume.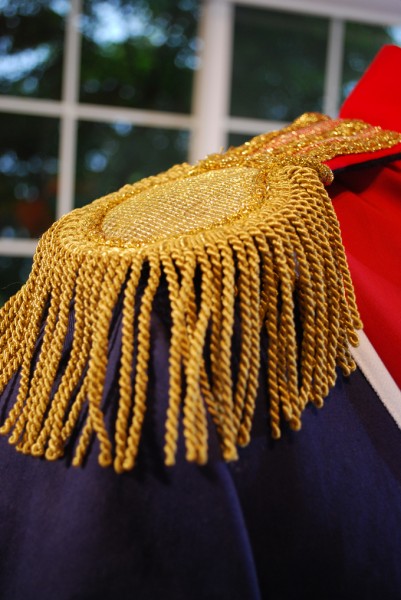 Probably need to include this one…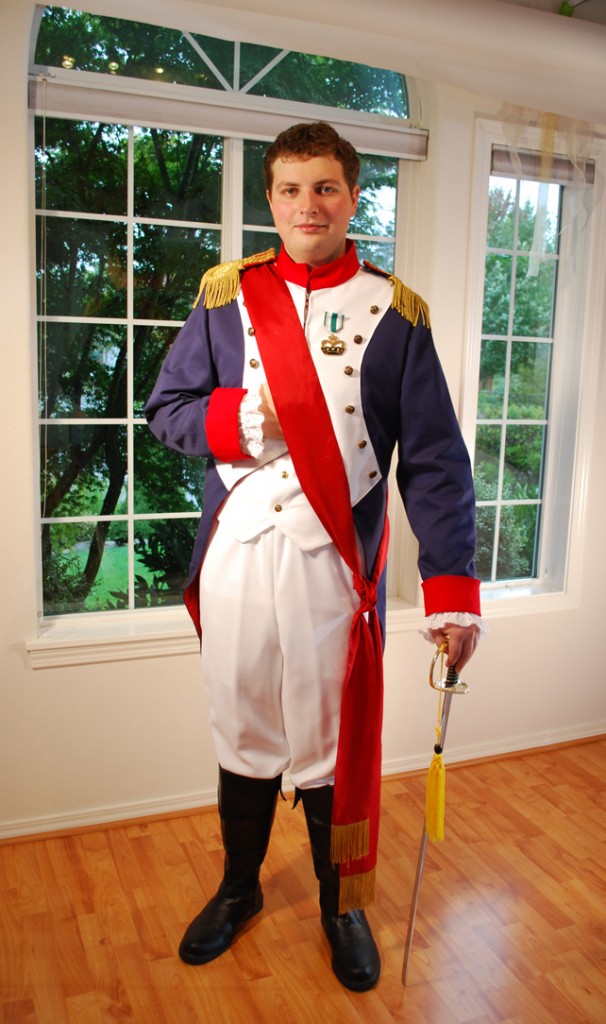 Jared is a fencer and so is having a bit of fun here!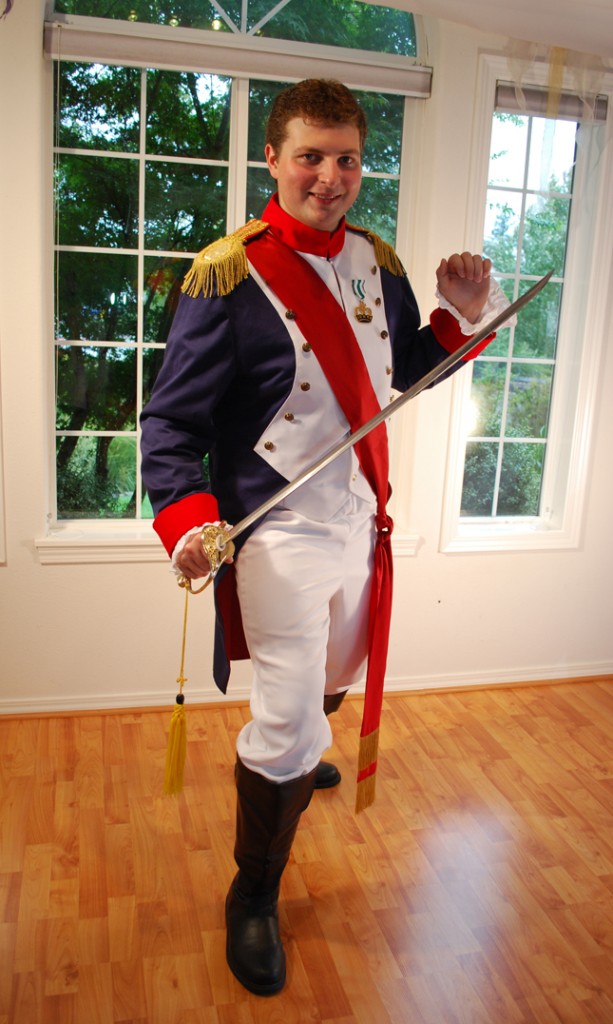 Well…it is 4 1/2 weeks until All Hallow's Eve and I've already started counting down!  I hope you are enjoying the costumes so far.  Next week's show-and-tell will be a bit of a mix-up… a little bit of pirate, a little bit of Victorian and a whole lot of fun!
Salute!  Jessica