I have a fascination with Mademoiselle Coco Chanel that seems to keep growing. I can't claim I developed this interest all by myself though… it was partially kindled by my son, Jared, who dubbed me "Coco" a few years back because of my on-going sewing projects. I didn't even know he knew who she was! I proudly accepted my nickname but realized that I needed to know something about this woman so I began doing my homework.
Coco was born Gabrielle Bonheur Chanel in Saumar France on August 19, 1883 to an unmarried laundry woman in a workhouse in the Loire Valley.  Considering that this went against the grain of society in that era, Coco tried to disguise her past.  She changed her year of birth, changed the story of her youth as well as various other things which has made it difficult for those that want to tell her story to get it straight.
As the story goes, her mother died when she was 6, leaving her father with five children, some of which he farmed out to relatives.  He sent Coco to the orphanage of the Catholic monastery of Aubazine and it was there that she learned to sew.   At 18 she left the orphanage and at this point is where it truly begins…  Her journey that one day takes her to the top of a fashion empire.  Interestingly, she did not immediately start with the designing of clothes; it was hats that caught her fancy.
I am no Coco nor would I dare compare myself to such an amazing woman, but for some reason I feel an understanding or a connection to her.  Maybe it is her passion that I identify with…I don't know, but whatever the reason, I have found myself wanting to know everything I can so I have spent a lot of time surfing the web for anything Coco Chanel.  I have ordered several books from Amazon and have recently watched several movies about her.  Three autobiography movies have been done, each telling basically the same story though there are some subtle differences between them.
The most recent…
Coco Avant (before) Chanel was filmed in France in 2009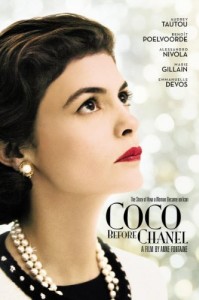 Audrey Tautou did a beautiful job at playing the part of Coco in her early life as Gabrielle Bonheur Chanel.  You learn how she got her nickname and watch her journey towards becoming the fashion icon of today.  I enjoyed the film immensely, though it would have been even better if there were sub-titles since it is all in French.   I streamed it and for some reason (who knows!) I was not given an option for sub-titles so I had to follow the story with my eyes, leaving my ears to trail behind, hanging onto a few French words here and there that I knew.  Yes, I watched a 111 minute movie all in French with no sub-titles!  Either you will think I am very dedicated or crazy, but that's okay.  It's all for Coco!
The second movie I watched was…

"Coco Chanel', filmed in 2008 and because it is an American film, it's in English!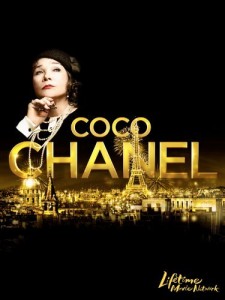 Shirley McClaine is Coco when she does her comeback to the fashion world in 1954 at the age of 70.  I hope I am still holding on to my passions when I am 70! As the present day story unfolds, she begins thinking back to her earlier years of life, back to where it all began.  There are a few variations in this version as compared to the French one; I think this is because the film makers were being careful with how they presented some of the content.  Nothing super racy, but people back then smoked a lot, and remember the roaring 20's stories, the wild parties, etc. etc. etc.
There is a third film
Chanel Solitaire, filmed in 1981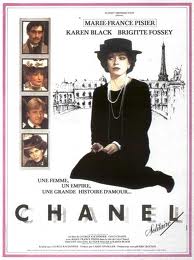 This one I have not yet watched, but plan to.  I did find sections of it on YouTube, but it is of such poor quality that I threw in the towel after part 2.  Okay, so I wasn't as determined here, but…visual is a must.
In her earlier years, Coco started as a hat maker.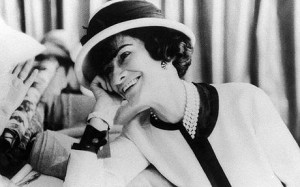 She was not into the frills and feathers, everything that was in style.  She favored more simple designs.  I love this picture of her.
One of her creations from 1925.  I don't know why, but there is something about it that I find very interesting.  It is simple, very feminine, and I think would be fun to wear.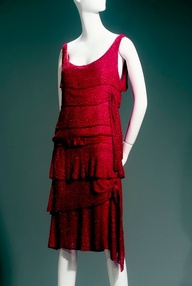 Gabrielle "Coco" Chanel Dress, 1925 (crystal beads on silk chiffon.  Collection of Phoenix art Museum.  Photograph by Ken Howie
I think I love the simplicity of this, but I also love it because it's red!
A Chanel evening dress from 1938.  I think one would feel like a Hollywood starlet wearing this.
Coco Chanel doing finishing touches on one of her little black dresses.
Yes, Coco has been credited as the wonderful person that inspired the "little black dress" which is a staple to many of us today.  I tip my hat to you Coco!