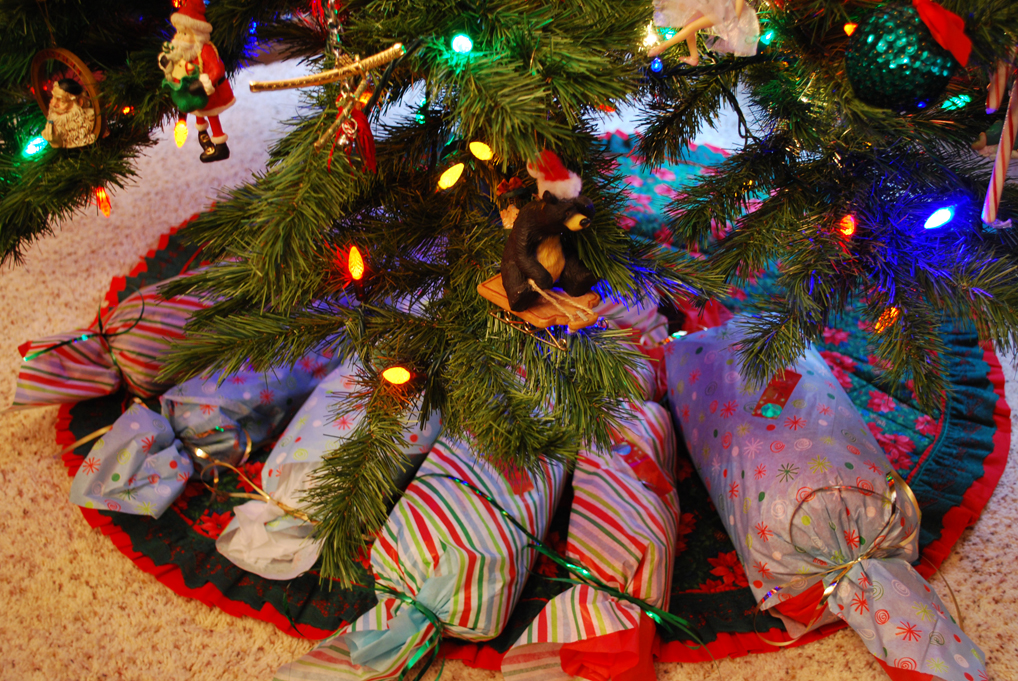 There were only 5 "tootsie rolls" under the tree last night. This morning there was a 6th. It is for me! … and I thought they forgot!
What is under the Christmas tree you ask?  Looks maybe like "tootsie rolls"?  Well yes, that's what we call them, but no, they are not candy.  Inside each tissue paper roll are pajamas!  Those who have been reading  Sewlikeinparis for the last year are familiar with this oddity but for you new comers, I'll give you a brief synopsis!  I've carried on a family tradition that my mother did for me when I was growing up.  Every year on Christmas Eve, the "tootsie rolls" are the one present my children get to unwrap and wear for all the evening festivities!  It's gotten even more fun now that they've grown up… we party down in our pajamas!  In past years, we've had guests who have spent Christmas with us knowing that if they stayed, they would have to play along in this strange tribal custom.  They were good sports and discovered that it was actually a pretty fun thing to do and had a really good time!  Friends and neighbors who drop in for a hot tottie have grown use to seeing all of us in our bed clothes and look forward to seeing what the trend and styles are for the year!
To make the girls pajamas, I used the Vogue 7837 pattern.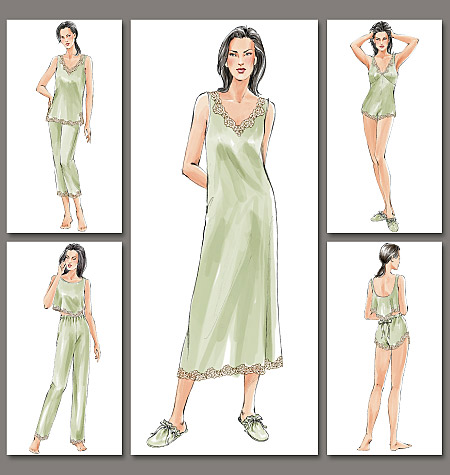 There was a bit of mixing pattern styles, as well as some recreating to end up with the kind of  tops I made.  I did this by using the pieces for the teddy, except when cutting out the front and back, instead of cutting the pieces on the bias, I cut them on the grain at 22″ in length.  They turned out the same as shown in the top left corner, only they had the empire bodice of the teddy.  Also, I cut the back pattern piece leaving in the flare of the back center seam which would have been part of the seat of the teddy.  Leaving it this way gave a nice shape to the back and allowed it to drape nicely over the derriere!  At least on me!  We'll see when the girls put on theirs!  The pants I sewed just as the pattern directions instructed.
Here they are finished…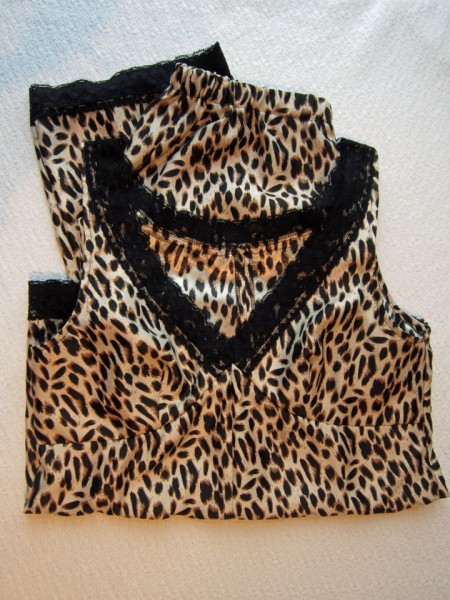 For my daughter who really likes Cheetah anything!
and…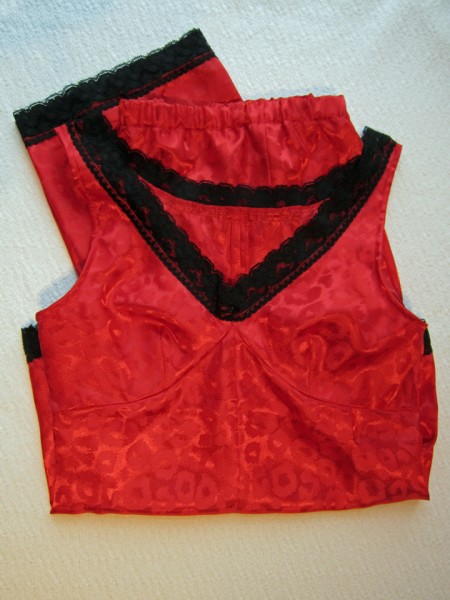 for my daughter-in-law who loves the color Red!
I did do one thing when making the bodice that wasn't part of the pattern design.  I cut a second set of bodice sides and sewed them onto the shoulders in the same way when making a man's shirt with a yoke.  This way the bodice part was double thickness which ensured a bit more privacy.
A bit of warning when making the top though… I struggled with how to bring the two bodice sides to meet the center of the point at the top of the bottom front section after I had already sewn on the lace.  Each top turned out slightly different because I never really did figure it out!
The boys were next… I have two sons and our herd has grown to include my daughter's boyfriend which meant I still had to sew three pair of mens pajamas!  It was at this point that I decided that even though it would have been nice to make them shirts that matched the pants… it wasn't going to happen!  Time has been flying just way too fast this year!  What they got were t-shirts that I purchased from various sources but matched nicely with the pants.  Hey!  They were cool t-shirts.  They had personal sayings on them to not only match the fabric of their pants but also their individual personalities!    The pattern I used was McCall's 4244.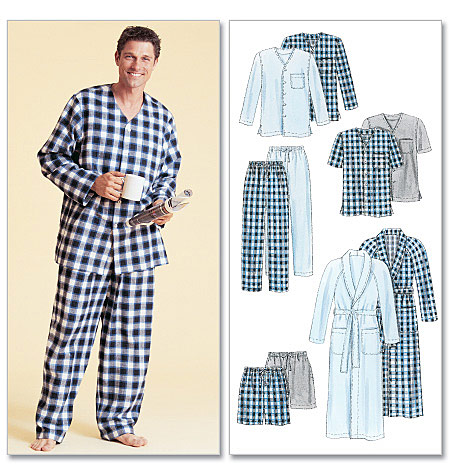 For the most part, making these pants was pretty cut and dry, though after three times of trying to feed the elastic into the top casing, I got really really pissed (sorry but that's what I was) … removed all the seams and then folded down the top of the waist 2 inches plus an extra  1/8 of an inch for good measure.  I  did surge the seam allowance of  the top of the waist so I wouldn't have to mess with folding it under 1/4 of an inch.   Then I re-sewed the casings as follows:
From top to bottom: 
5/8 inch, 3/4 inch, and then 5/8 inch. 
Obviously not sure yet how they will fit the guys but I checked the crotch lengths on some of their ready-to-wear pants and the pajamas are almost identical so I don't think there will be a problem.  I doubt they will notice anyway, not with all the celebrating that will be going on!  😛
Here they are…  This first pair are for my oldest son who makes hard cider and beer!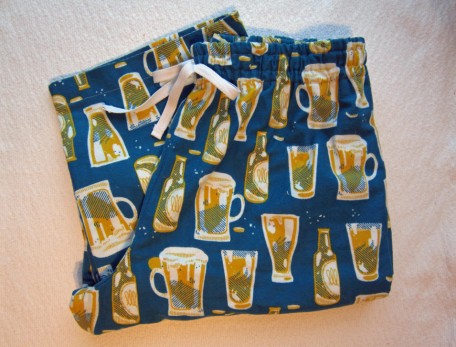 The second pair is for my younger son who likes to drink beer!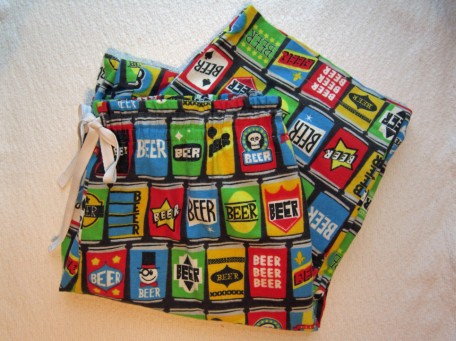 and the third pair are for my latest adopted son who likes to drink beer after he plays hockey!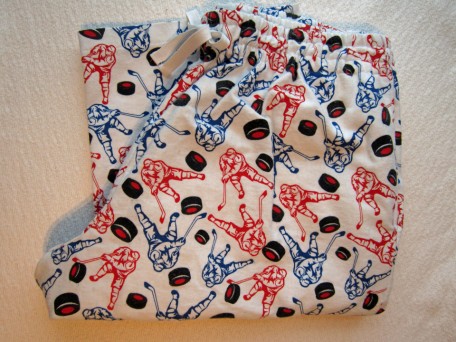 Not sure if we will get in a photoshoot on Christmas Eve but if we do, I'll certainly share the moment here on Sewlikeinparis!
And there you have it.  We've almost reached the end of 2014 and what a year it's been!  As I look back over the last 12 months, I have to say its been crazy fun!  Have made a lot of new friends, have had lots of adventures, and got to spend some wonderful days with my family.  The only thing on my Christmas list that I'm asking the big guy in the red suit for is a healthier me in 2015.  I have spent a good deal of this year ill due to an unexpected exposure to Mononucleosis sometime back in March of this year.  I discovered I am not as invincible as I thought I was!
Ending on that note…if you are so willing, please raise your glass and have toast with me!  Together we will say goodbye to 2014 and the next time we meet it will be 2015!  Cheers!  Enjoy the rest of this holiday season and see you next year!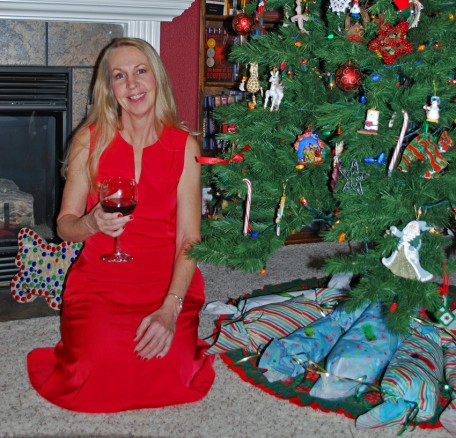 Salut!  Jessica