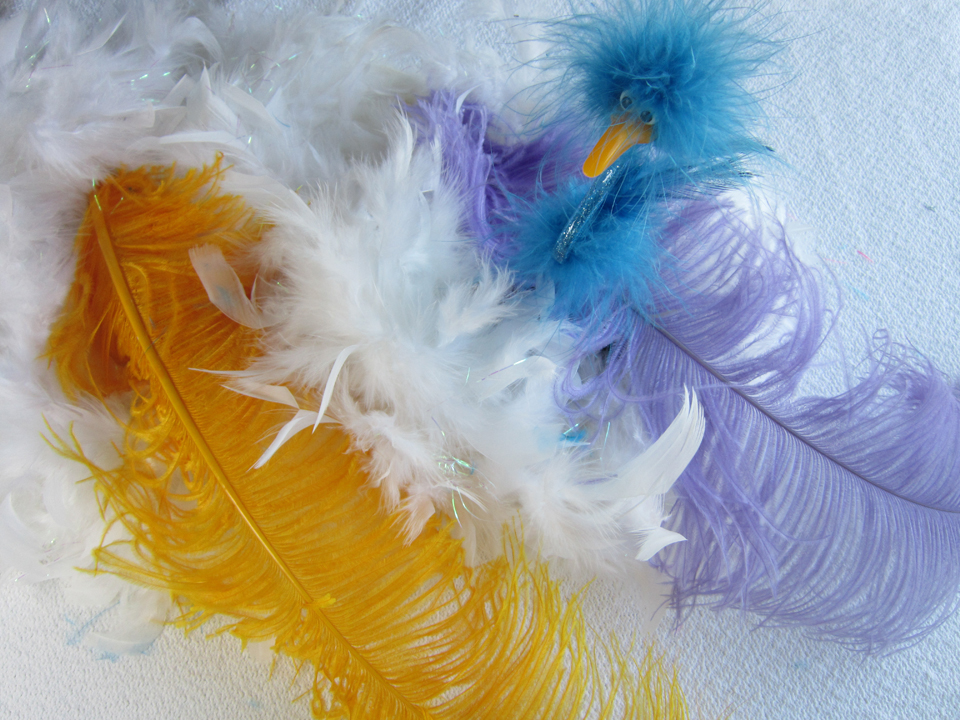 Feather fashion is said to date back to the 11th century with the birth of plumes in head dresses of the wealthy.  Twelve century venetian masks were adorned with them.    Through the middle ages, feathers were a wardrobe staple for high society.  However, when the 1800's rolled in, feathers were for everyone!  AND… the boa stepped into the spotlight!  They were actually an accessory in the 1700's but didn't catch on very well.  Thank goodness some dear soul was determined not to give up!  I Love boas and would own dozens if my practical side wasn't so dominating!  I saw a beautiful pink one at the Oregon Fabric Depot in Portland a few years ago.  It was $55.00 and about a foot in diameter.  It was gorgeous and I remember how I longed for it but there were many other things that my family needed… things that cost less than that boa!  Besides, it would likely have ended up in the basket with all the other boas that I do have… but they are special boas.
This one I wore several years ago at the Seafood & Wine Festival in Newport, Oregon along with about 10 other ladies wearing them too!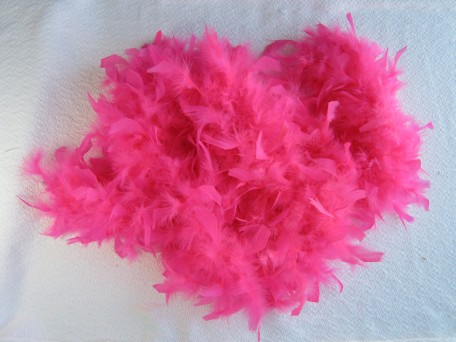 In 2008 I visited Trinidad and stumbled across one of the biggest Carnival supplier shops in Port of  Spain…  Samaroo's Limited on Abercromby Street where I found this black one!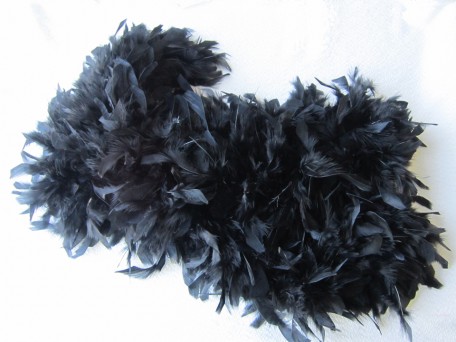 This one was my daughter's that her grandmother (my mother) gave her when she was about 10-years-old.  A few years  ago she was reorganizing her room and stumbled across it somewhere in her closet.  She asked me if I wanted it because she grew up and was not into pink anymore.  I told her  Y-E-S – I want it!!!!  Does a bear poop in the woods!  End of discussion and now I have a pink boa!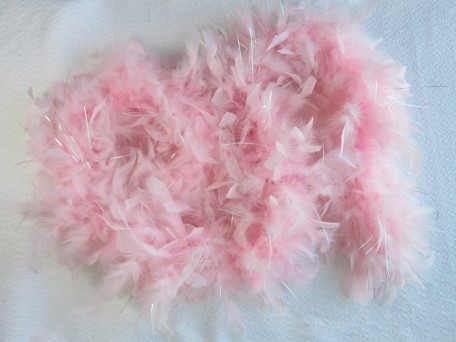 So about now you are asking what all of this has to do with a costume!  Well… this next costume I want to share with you is a cornucopia of feathers!  To start, let's take a flight with Simplicity 2851.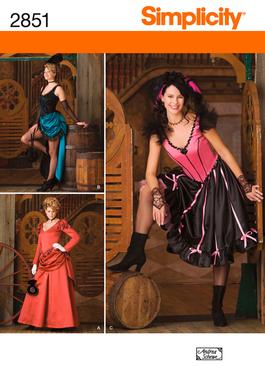 This costume pattern includes what they call an apron.  When I think of an apron, I think of what you wear when you're cooking in the kitchen however, the apron you can create using this pattern is a whole lot different, really cute… AND certainly perfect for a Moulin Rouge costume!
I started off constructing apron B, using black fabric that I chose for it's draping qualities but for the life of me don't remember what it was.  I do know that I didn't want to use cheap fabric so I was picky when I chose it.  I was happy with the way it turned out but I knew that we needed some extra poof in the back, bustle poof to be exact so I made a giant bow out of black petticoat netting and fastened it permanently to one side with a snap that fastened to the other side when worn.
When it came time to sew the train, I knew that it was going to be too long for what I had in mind.  I used only one puff and sewed the long train onto it just like if it was puff number #2.  The train was still a little too long so I gathered the sides from where it was sewn to puff number #1 and down about 10 inches on each side.  I took a picture to share but the picture looked so stupid and confusing that I decided not to post it.   I think it would be easy to understand what I am saying if you were sewing this.
Now that I had got the apron/puff/train finished, it was time for my daughter to try it on.  It just wasn't working.  Then an idea hit me… wasn't sure how I was going to do it, but I saw feathers all over the back somehow attached to the puff/train.  To the internets I went and after a bit of surfing, ordered three six-foot 60 gram boas. from Rhode Island Novelty.  Why here?  Well, they were the only ones that had a red AND black boa.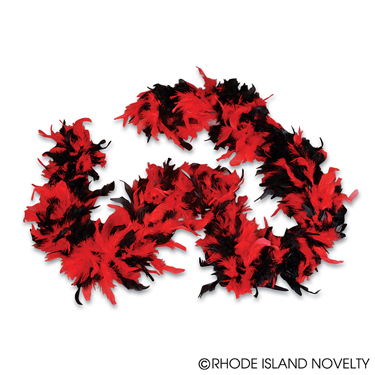 I spent an hour or two figuring out how I was going to attach them and when I finished, had my daughter try it on again.  It was DA Bomb!  This is it and the puff/train that it's attached to is underneath.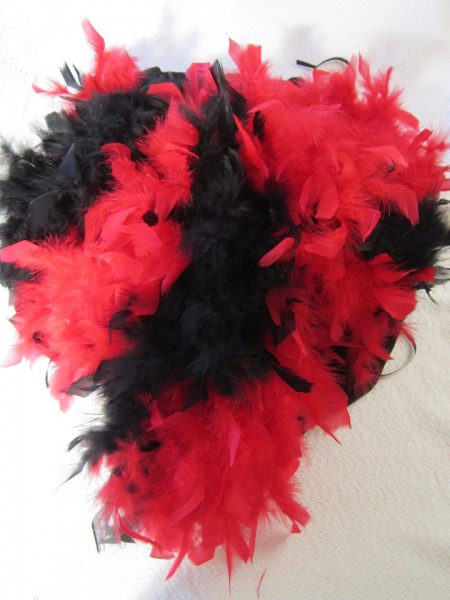 Now that the bottom half of the costume was taken care of, it was time to create a top.  We already had a vision… a corset of course!  After much thought, I decided not to draft a corset and instead used Simplicity 2966.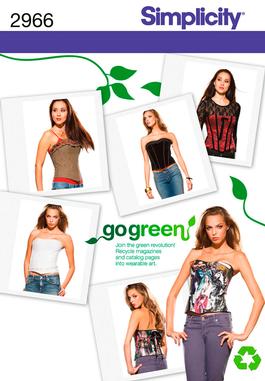 I had already made a few corsets and I knew the proper way to construct them so I used the pieces of this pattern but did my own thing for all of the construction.  I used a Brocade for the outer fabric; underlined this with Coutil that I purchased from Tutu.com; and lined it with black cotton batiste.  I think lacing looks cool but I wanted the corset to be a one-person job, in other words, I wanted my daughter to be able to dress herself!  I therefore decided to use a 12 inch busk for the front which I purchased from Corsetmaking.com.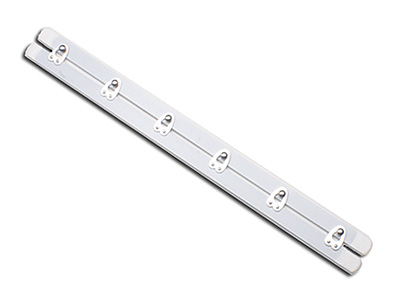 Below is a picture of the front of the corset.  To finish the edges, I made bias strips to encase them using remains of the black fabric that I used to make the apron/puff/train.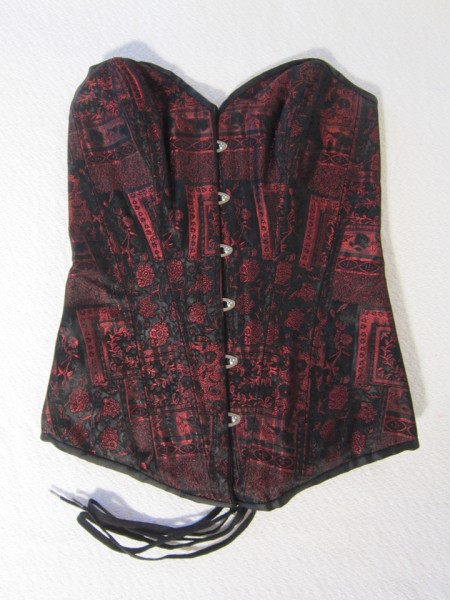 This is what the busk looks like when it is opened.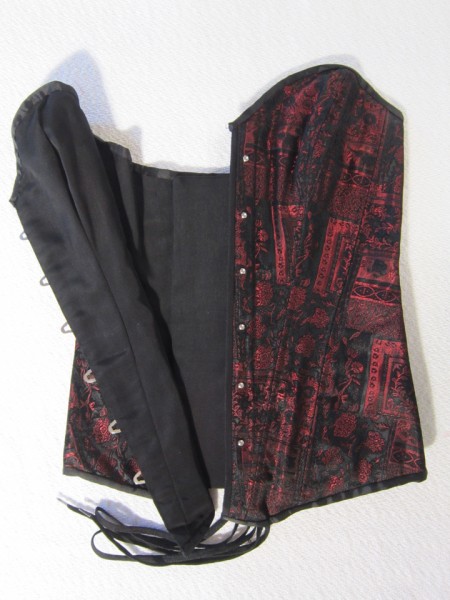 I put lacing in the back, but it doesn't have to be undone so it gets to stay put and look cool!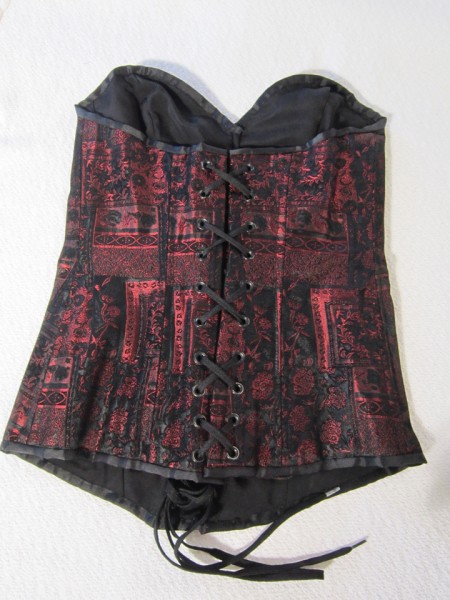 If you are a regular reader, by now you know that I really have a thing for accessorizing my costumes, a condition which all my children seem to have developed… even in their everyday attire!  Calley and I decided that the right hosiery was necessary for our version of the Moulin Rouge costume so she chose these from Art of Adornment.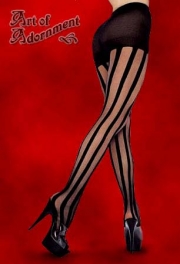 We thought a fan was in order!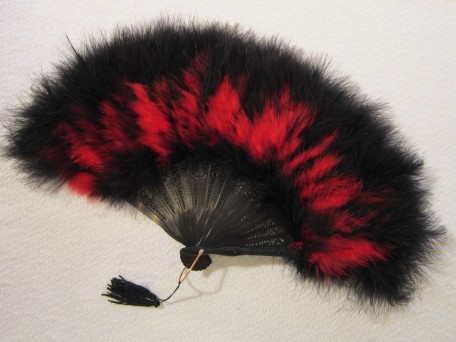 And there has to be something to adorn the head so I made this using sinamay, satin, lace, netting, red trim, lots of feathers, a red jewel and rhinestones.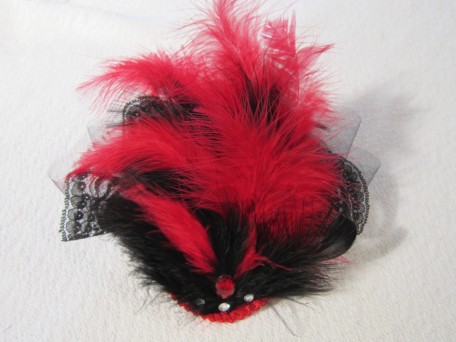 For shoes, she chose these.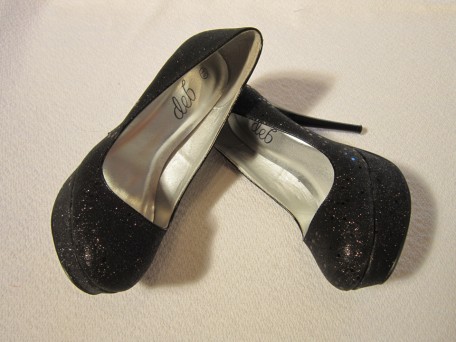 And… when you lump it all together.. Voila!  You have Lady Calley!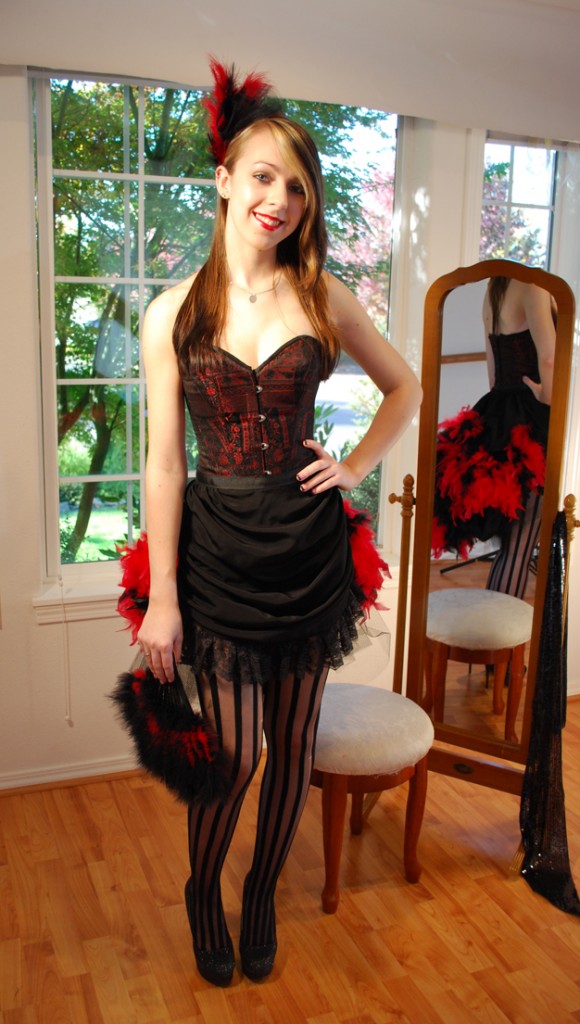 The bustle of boas!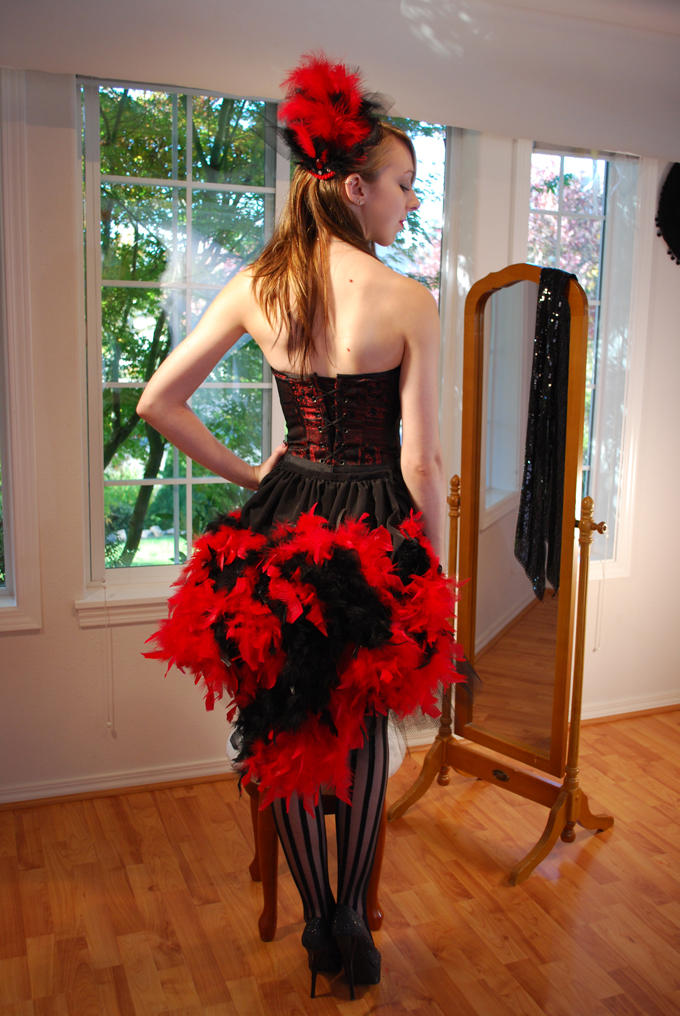 Hair adornment…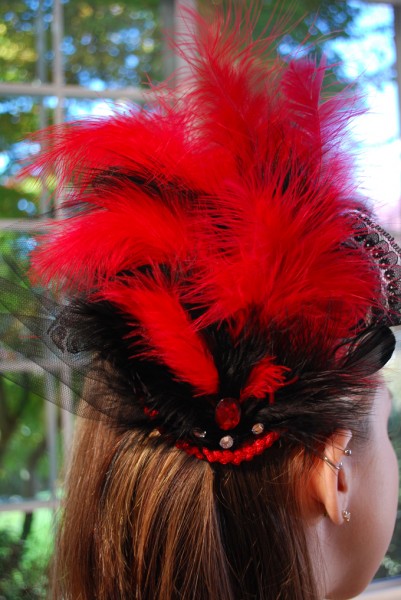 And a picture of my lovely daughter that was just too pretty to pass up.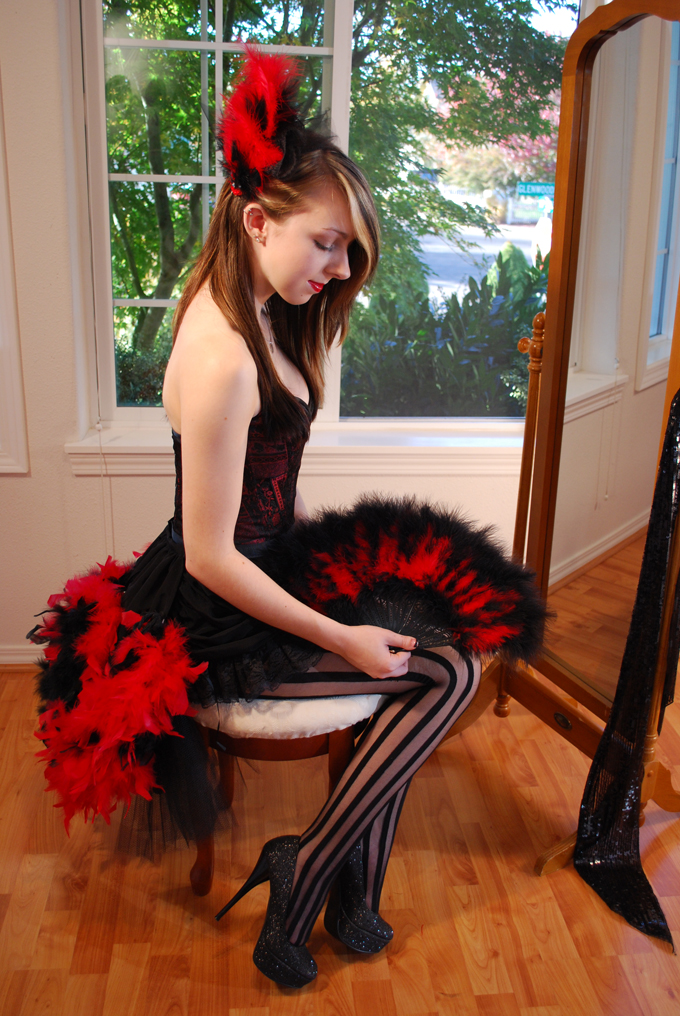 Well… there it is, our version of a Moulin Rouge costume.  Next week is zooming in fast and of course the grand finale of my costume presentation… It has taken me months to make this last one and  is definitely an eye catcher in the light!  Until then…
Salute!  Jessica