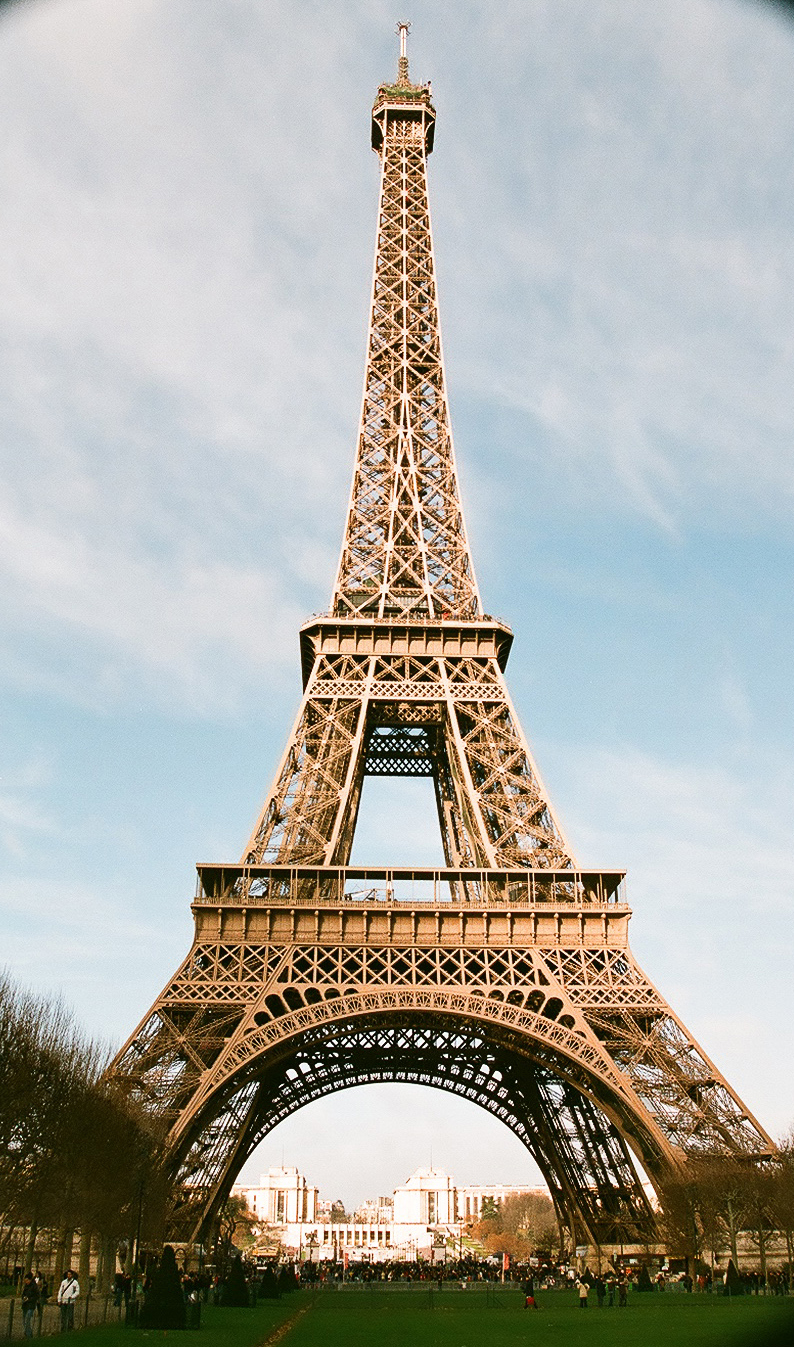 When I first saw the Eiffel Tower, I was awestruck.  It was gargantuous!  No doubt I looked like the typical tourist at the time, snapping away on my camera, picture after picture.  It was a magical moment for me that is hard to describe and one that I will never forget.   So when I saw the McCall's 6754 pattern with the model standing in front of a back drop picture of the Eiffel Tower, there was no question… I had to get that pattern.  Yeah for me that it happened to be a dress – I love dresses because they are so feminine and to me, this dress had a look of french-ness, especially with the Eiffel Tower in the background.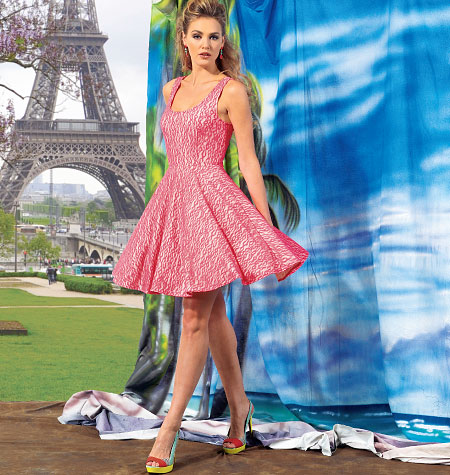 The pattern is designed for knits and instructions suggest a stretch lace specifically for dress B, the adorable one shown on the envelope.  It' rated as an "easy" pattern and I would agree, however, if you plan on making dress B with stretch lace, get ready for a LOT of hand sewing.  Both the dresses and tops require 1/4 inch wide elastic in the waist.  I personally do not like using elastic because it feels to me like I am cheapening the quality of a garment that I have poured my heart and a lot of time into.  But… the design utilizes the waistband seam allowance as the casing to hold the elastic so it is a lot less intrusive to the outside appearance which eased my mind quite a bit.
For a test, I decided to first make the sleeveless top that's like dress B from some left over knit fabric that I had when I made McCall's 6708 sweater.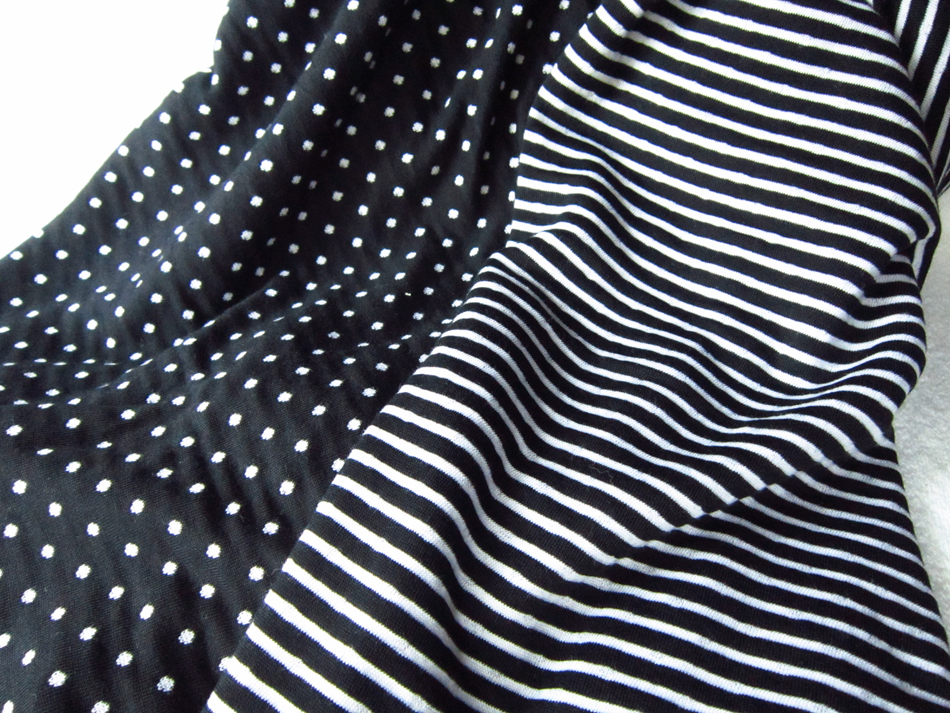 It fit quite nice aside from the neckline in both the front and back which hung so low that my bra was sticking out majorly, a demi-bra that shows some cleavage!  I wasn't sure what to attribute this to.  It could have been a combination of things:  the knit fabric I was using, my shoulders may be more sloped downward than I thought, or just maybe the pattern size I was using was to big.  Whatever it was, I managed to repair this problem somewhat in this top through shortening the shoulder straps but decided that when I made the dress, I would add 3/4″ to the neckline on both the front and the back and definitely do a fitting right after assembling the bodice to the skirt before I started finishing the neck and armhole edges.
Now that I was armed and dangerous, I went to what I thought would be a decently stocked fabric store to get some gorgeous stretch lace and 60 inch wide tricot for my french-ness dress.   Mind you I was really hoping to find fabric just like what was used for the dress shown on the pattern envelope.  I bombed!  There was only one lace that was stretchy, 60 inches wide and red…too red and I would later discover, really snaggy!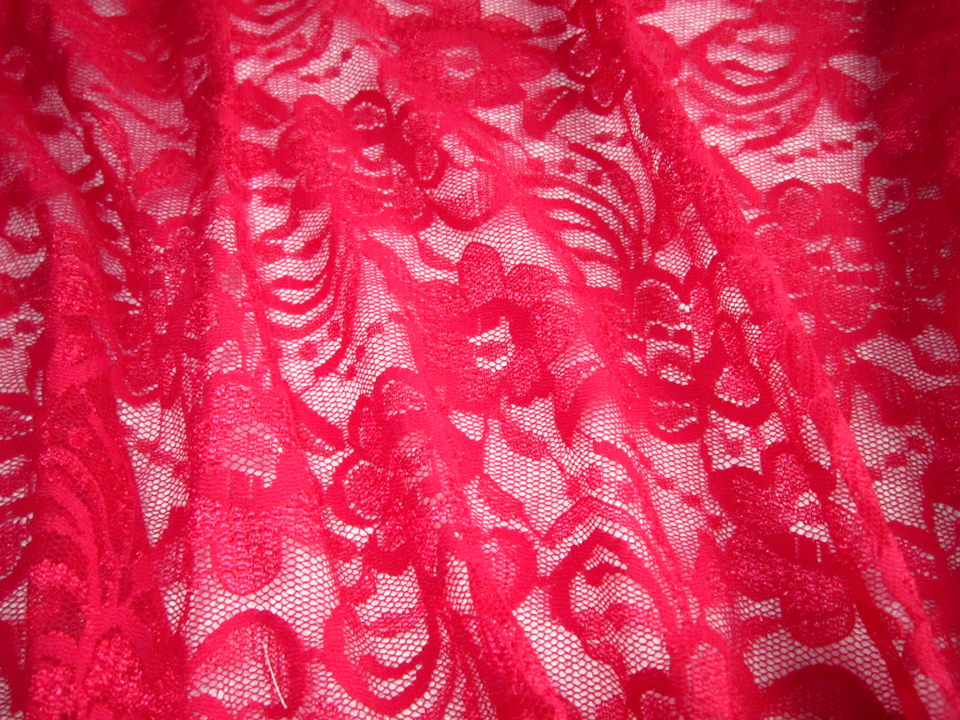 Then there was the 60″ wide tricot that I needed… well forget that!  There was nothing, nada, zilch, zip, zero in white.  It was suggested by one of the ladies at the fabric store that I try using swimsuit fabric which I did.  DON'T DO IT!  I think it is too heavy and the skirt of the dress will not have that billowy or light flouncy look you see on the envelope.
So… moving right along, remember all that hand sewing I was talking about?  It starts when you are done cutting out the lace pieces AND the underlining pieces.  ALL the lace pieces have to be basted to their matching underlining pieces (in stitches that can easily be removed) and then handled as single pieces.  I did not take pictures to share because I was too busy basting and forgot!    I used green thread that looked obnoxious which was my intention because then I could easily see it to remove it!  When I finished, I begin the assembling.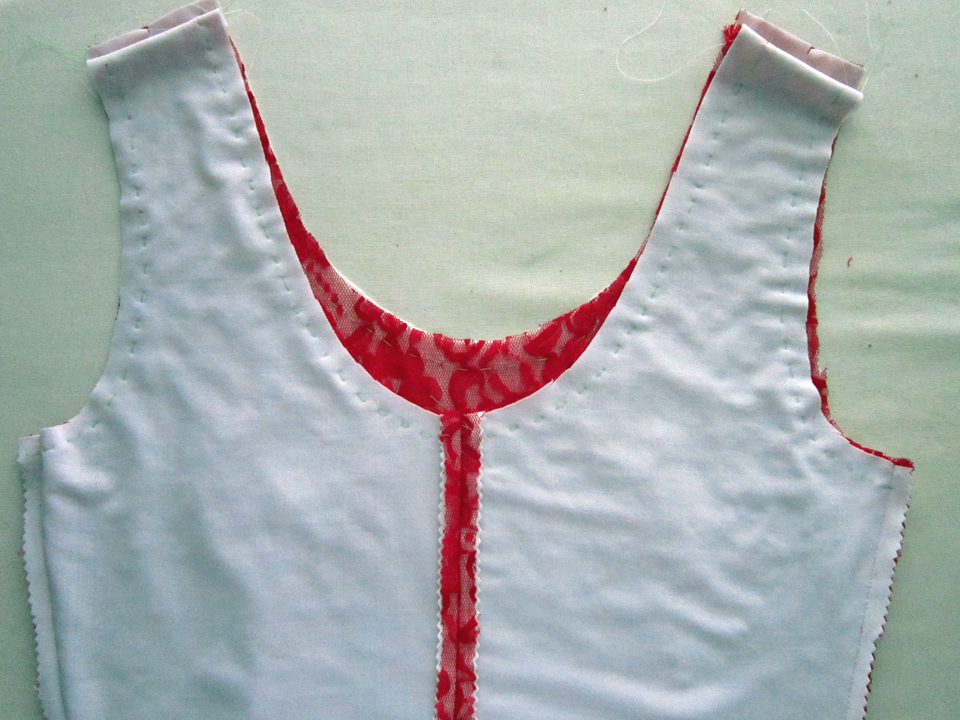 For finishing the seams, I decided to pink the seam allowances so there would be less bulk.  I think I need new pinking shears because they kept catching on the two fabrics.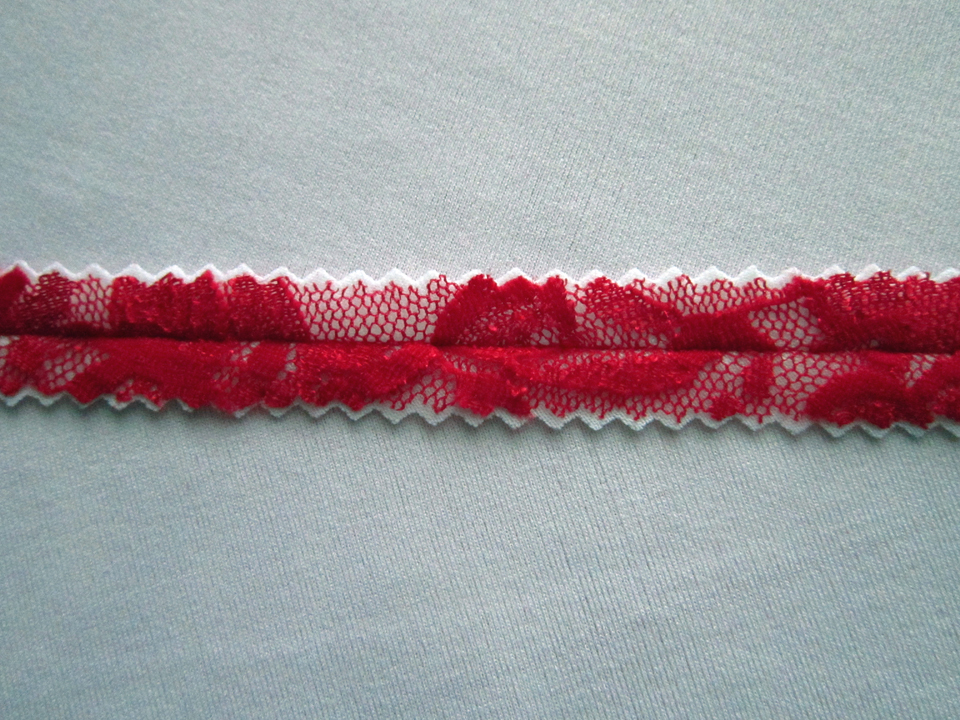 After attaching the bodice to the skirt, I was ready for the moment of truth…would the front and back neckline adjustments be positioned properly and would the shoulder straps be where they were suppose to be?  YES!!!!!  All was right in the world EXCEPT… I did not like the red over-lay look nor did I like the way the skirt hung.  Remember what I said earlier about the fabrics I used?  The way too red snaggy lace and the heavy swimsuit fabric…  Well there was nothing I could do.  The dress was almost done.  I would not blame myself I decided.  These were the only fabrics available to me at the time and being the determined person that I am, I gave them a whirl.   Now I felt like whirling the damn dress into the garbage!  But… I decided I would be better than that.  I would think positive… see the glass still half full!  I had successfully made a dress hadn't I?  It fit perfectly,  and as my daughter timidly added, "it would be real nice to wear for a day on the beach".  Okay – so there it was.  It's not a french-ness dress, it's a "beach-ness" dress and I can live with that, I think?  So all that was left now was to sew in the hem.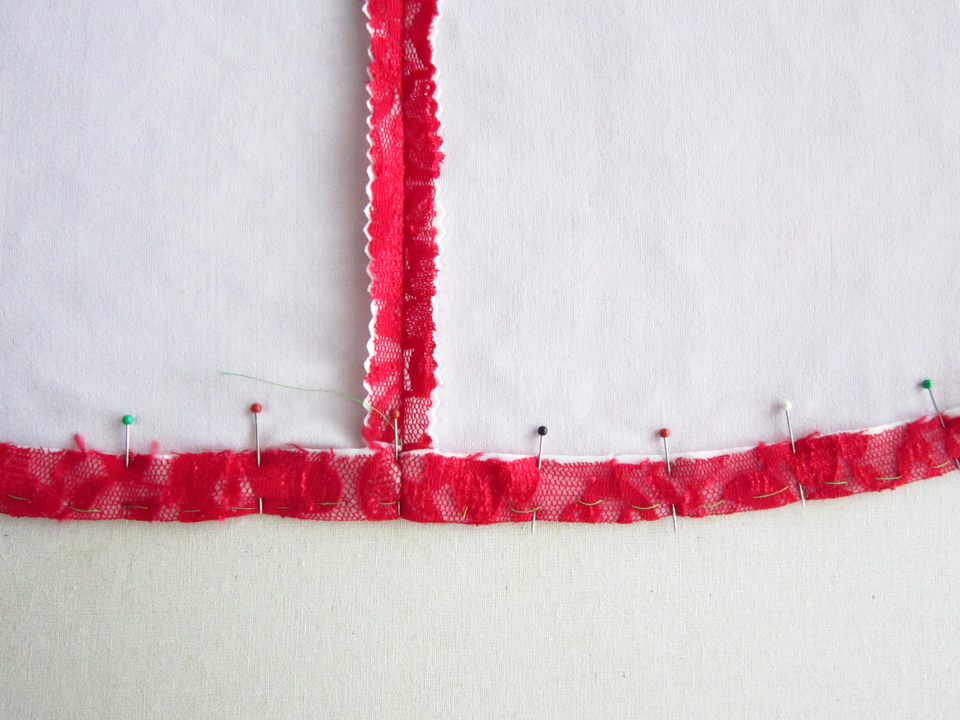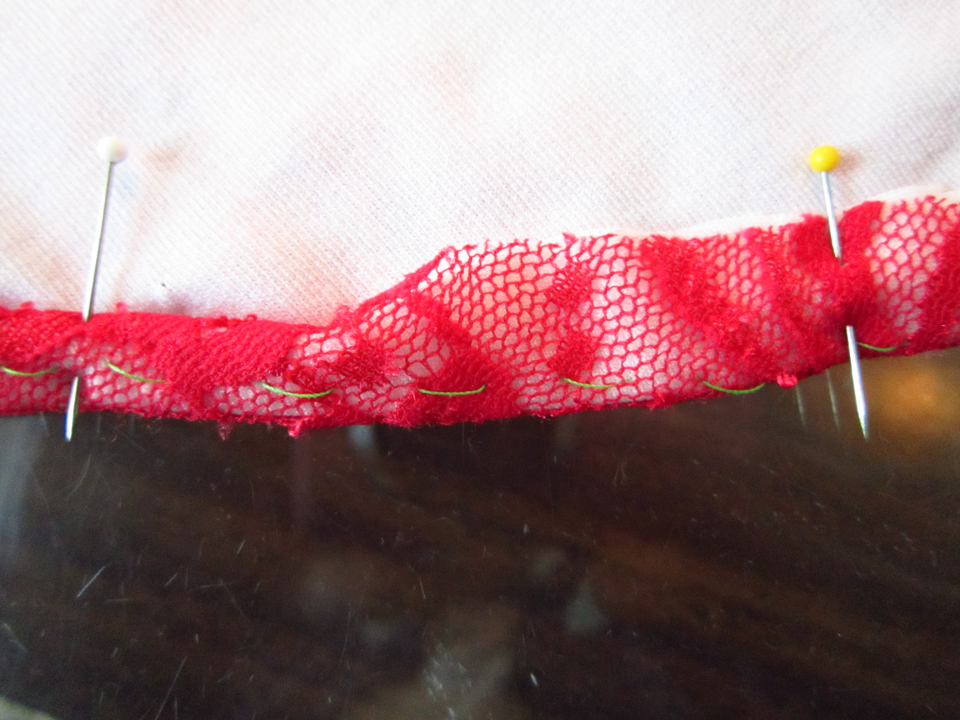 Oh yes, more hand sewing, lots more hand sewing!  Why not use the machine?  Well… early on I had decided that the lace overlay would have a richer look if it didn't have machine stitches in it which proved true when I hand sewed the neckline and armholes.  Therefore, I decided to hand sew the hem as well.  It took a while but eventually I finished.   I then hung the dress in my closet for a few days before looking at it again to decide how I felt about it.  With a little reluctance, I decided to have the official photo shoot so you could decide for yourself.  Is it a "french-ness" dress or a "beach-ness" dress?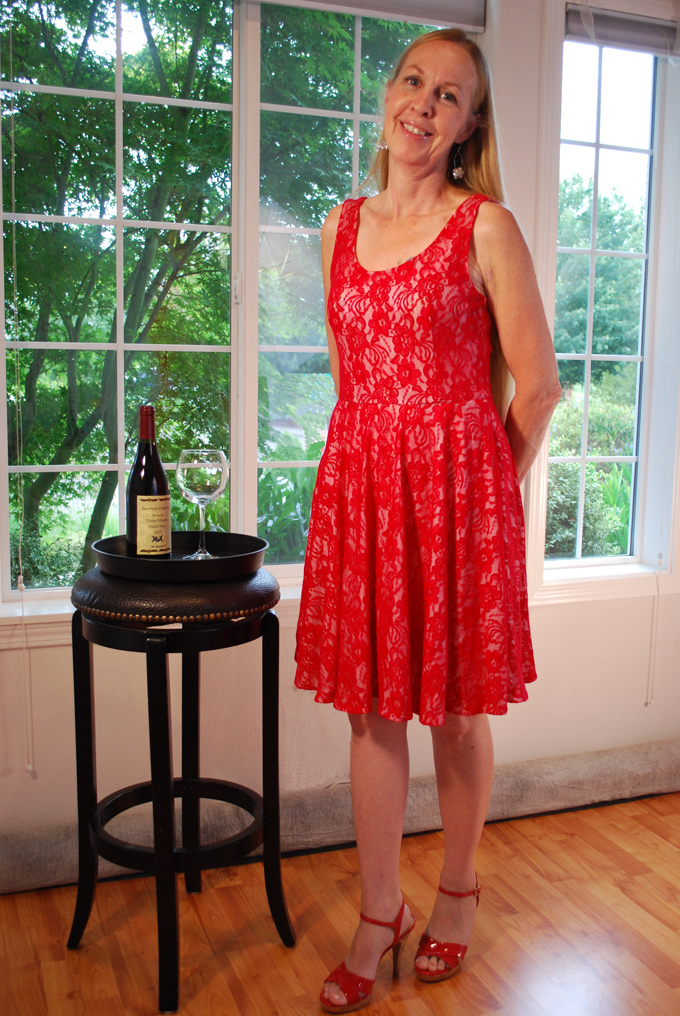 Personally, I have concluded that it is definitely a red wine drinking dress so with that… it's time for a glass of Pinot Noir!
Salute!  Jessica