So if anyone asked me what I did over the weekend that was fun, I would tell them I drafted a fitted waist seam bodice block that fits!  At this point the yawning would start!  There are those of us in this world however, who know how rewarding AND challenging this kind of project is.  During the holiday season this last year, I started drafting the bodice block, got sick and stayed sick for a while, then things got busy, actually more like turned into chaos, so didn't finish it – until of course this last weekend! 
I was intending on drafting a pant block. Why you ask?  What about Vogue 1051 or the Silhouette 3008 pattern.  NOT – Big epic fail!  I know how you are suppose to fit pants, but… maybe I just stink at it!  I don't know – but it was at this point that I decided to not be a sewing artist for a little while, and instead be a wine taster.  After several glasses of wine to gloss over the nasty feelings of defeat, I remembered the big gun I had packed away and decided to bring it out.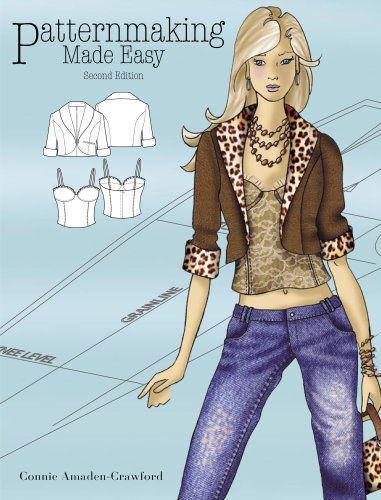 About a year ago, I purchased this book.  "Patternmaking Made Easy", the second edition, by Connie Amaden-Crawford.
No – I am not going to school and learning fashion design.  Wish I was but it's just not financially possible for me at this time.  That's okay though because I happen to be one of those people that enjoys figuring things out on my own, even when it sometimes requires beating my head against the wall!  Uhem…moving right along.  This book is intended for the designer student and covers oodles of things regarding flat pattern design, is pretty straight forward, most of the time, so certainly worth it to have for my personal library.

Anyways, a light went off in my mind, possibly a symptom resulting from banging my head, and I got to thinking that maybe if I drafted a pant block and then compared it to the pattern pieces, I would be able to see what's going on.  But…here I am, finishing the one-dart bodice block I had started.  No worries though, next I will draft pants!
In order to draft a block, you need a number of measurements relative to the specific block you are drafting.  For the bodice, most of them I was able to do myself, though for several I had to fudge a little.
These two rulers are also pretty nifty to have: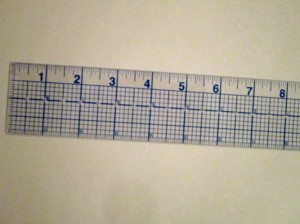 I bought this ruler at JoAnn Fabrics not very long ago.  Couldn't find it on their web site though…weird.  This s a picture of mine.  It is 2 x 18 inches.  It's not real thick which I liked because then my lines all land right on the mark!
In the third chapter of  "Patternmaking Made Easy", step-by-step directions are provided to assist you in drafting your block and this is where you will need to plug in those handy-dandy measurements.   Sample ones are given in parenthesis that can be used as a trial run and I noticed that most of them were a bit more than mine, EXCEPT for the bust point.  Mine was an inch lower!  I was not a happy camper!  You know what this means!  It means gravity is winning!
When you are finished, it is then suggested that you cut out the drafted blocks and convert the single darts to two darts, also clearly explained, that way you can check to make sure that the front and back are in balance with one another and with the crossgrain. 
Drafting blocks, while not difficult takes a bit of time, especially when you are a newbie like me.   But I think it is well worth the time to at least try this because you get a better understanding of why patterns are the way they are.  And why the bust points are  TOO HIGH!
So this is the finished front…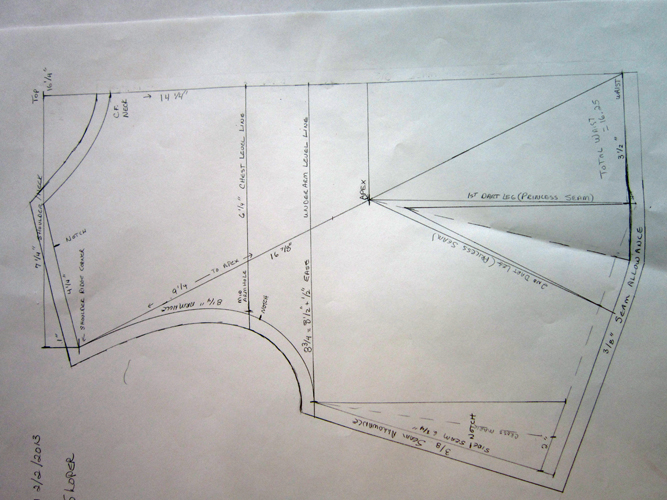 And this is the back….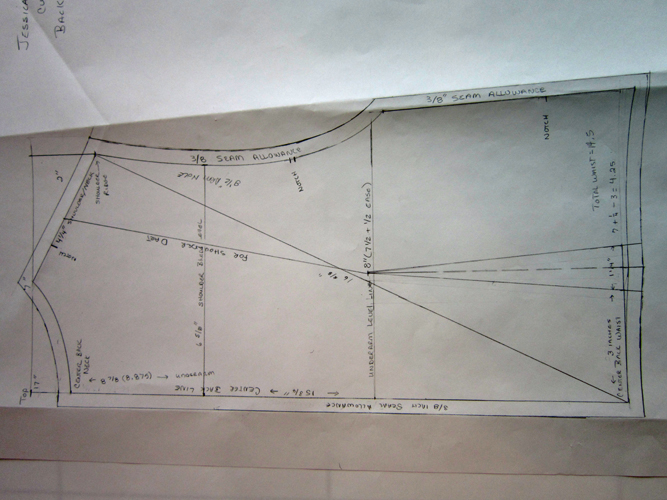 BTW, when I checked my drafts for balance, I decided to do an extra step and traced copies of the originals so I didn't have to cut them up.
When I was done checking for errors which I felt pretty sure weren't there, fingers secretly crossed, I decided to go for it.  Next I made notches where I wanted them, added seam allowances and then traced the drafts using a tracing cloth in order to make official pattern pieces for comparison or whatever else I would need them for.  The tracing cloth I purchased at JoAnn Fabrics.  It is 45 inches wide, is actually called "Crafts & Home Décor-Tracing Cloth" and is $2.49 a yard.  I recently purchased 5 yards and then rolled it up on a scrap piece of plastic gridding that is used for needle point.
This is a picture showing the tracing cloth…it's pretty easy to see through.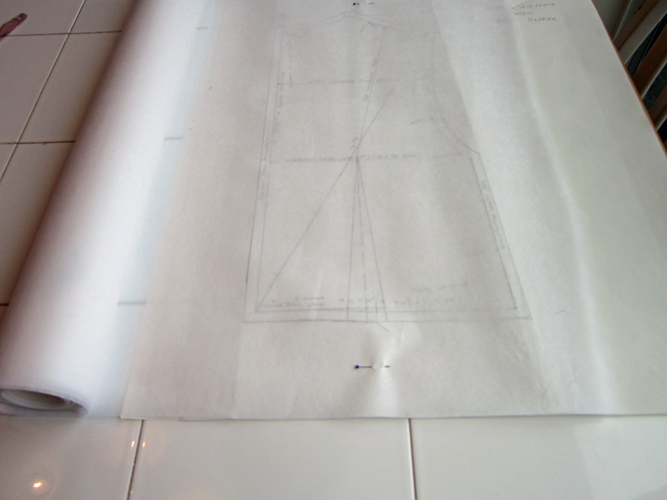 Holding onto my newly revived confidence, I then charged on to using my custom made pattern pieces to make a bodice muslin.  And guess what?  It fits!   This is Moi!
I sewed a zipper in the side so I didn't have to mess with straight pin stabbing ordeals except now that side looks sort of ruffelee!  Is that a word?  Oh yes, my seam allowance is 3/8 inches.  Trying this out as a new method.  It is suppose to eliminate the trimming of seams.  One thing for sure though, I better be sure of fit before cutting any pieces out in my fashion fabric since there is little room for minor adjustments!  Okay then…I think it's wine-thirty! Salut!