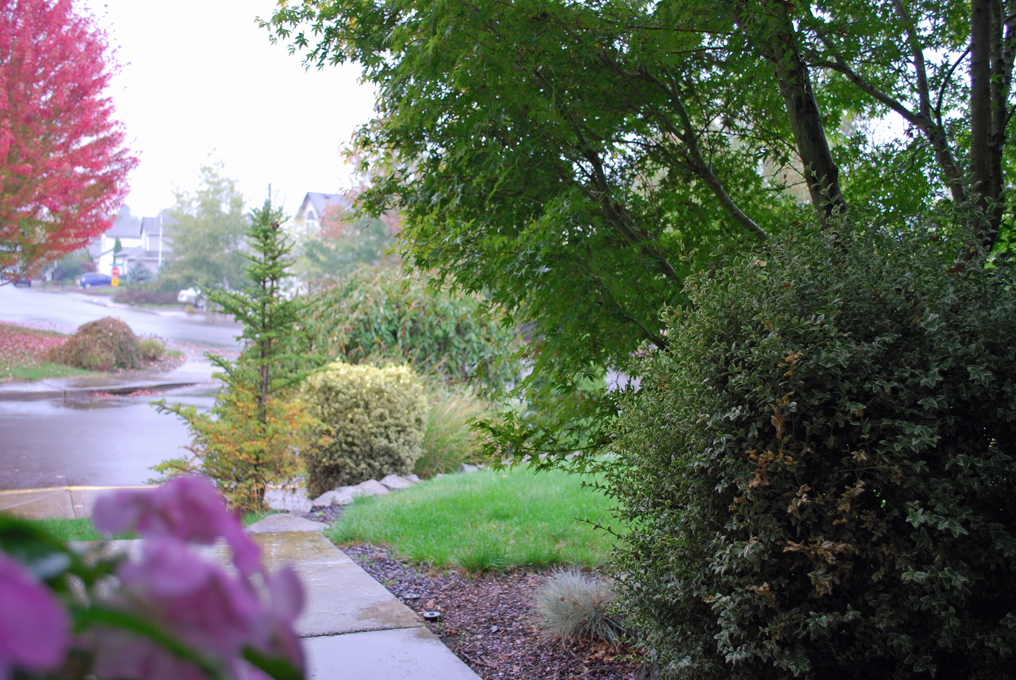 It looks like summer is about over here in Oregon. How do we know this… it's raining! And when it starts, it seems like it never stops. But the good news… this is when I find myself sitting at my sewing machine quite regularly, forgetting the cold wet dreary weather outside and focusing on what I can create to wear that will pick-up my mood through the winter months.  I think bears have it made! They just hunker-down in a cave and sleep until the sun comes back out.  However, it's hard for me to to picture myself hunkering down in a cave… well I do love to sleep, but I'm a social creature who loves to spend time with family and friends, love my wine drinking activities and don't want to miss out on any fun stuff! Hmm… Better re-think the hibernation business.  One thing for sure though, I will definitely continue to cling to my Little Black Dress mode because the LBD makes me think of the warm summer evenings, sipping wine or champagne, laughing, eating and dancing the night away!
This is where the sound of a needle dragging across a vinyl record is heard…..and a voice in the distance crying out "BACK to EARTH JESS!  Ahem…. So — the point to my ramblings is that I am ready to share my new LBD I made using the DKNY Vogue 1160 pattern.  I had fun making it!  Well… most of it was fun… except for all the "n-a-r-r-0-w" hems… especially on the slip that is cut on the bias.  But this too I eventually conquered and I think will not be as big a deal with future projects.  Most of the seams are "french seams" so plan to use lots of thread!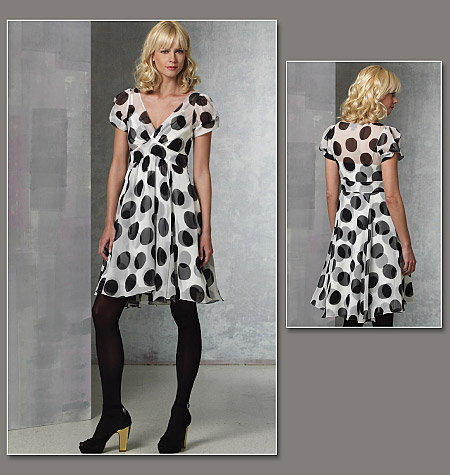 Recommended fabrics are Chiffon or Georgette for the dress and Silk Twill or Charmeuse for the slip.  Definitely jumped ship at this point.  For the dress, I used a rather stretchy mesh. Why?! Well because it's polka dots, it's sheer enough to see the slip underneath, it's black… and because it's just plain cool!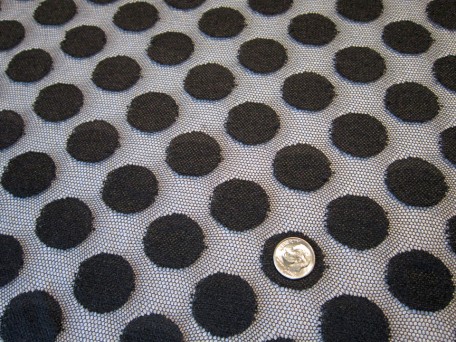 The dots are not much larger than a dime!
The sleeves are an interesting design, but unfortunately my picture could not really capture what's going on. Nonetheless, here it is.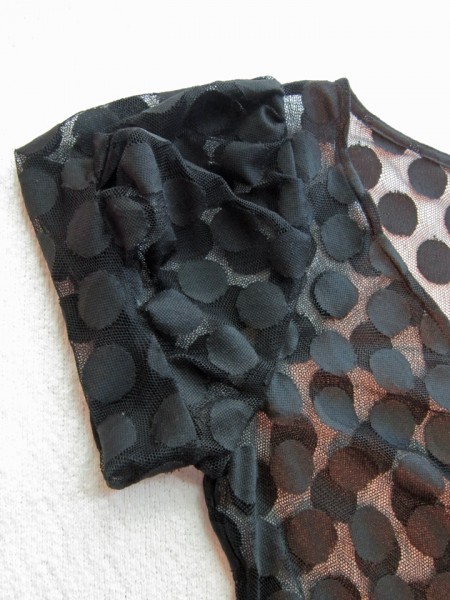 The bodice midriff piece is suppose to be lined with the same fabric as the dress, but I chose to use China Silk because I didn't want all the seams to show.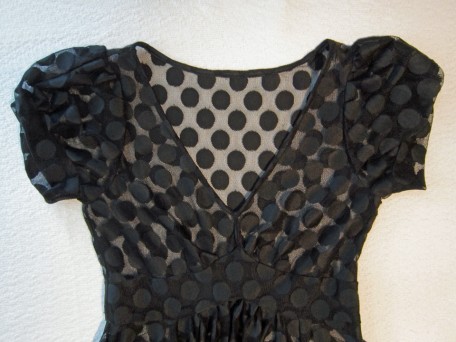 There is a side zipper which fortunately isn't real long, 7 " inches to be exact!  Kind of a pain because of the fabric I used.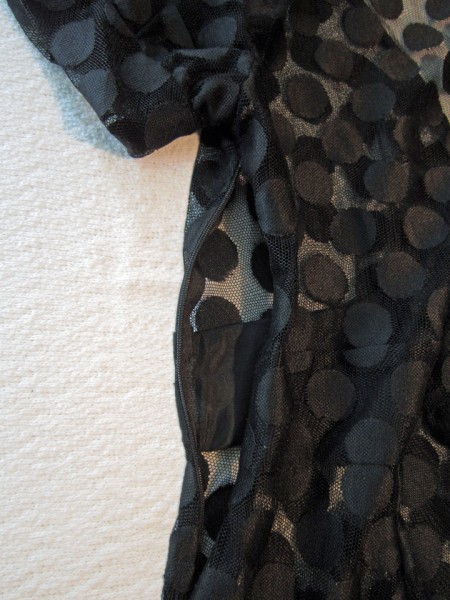 So I was zipping along, making good progress, though all the while thinking… there's a LOT of skirt to hem… in a "n-a-r-r-0-w" hem.  Don't get me wrong, the skirt is really neat.  It's a little shorter in the front than the back… but there is a lot of gathered fabric that creates it!  I never measured it, didn't want to know!  When I finally made it to the hemming step, I had concluded there was only one way to take on this bad girl!  I was gonna do a "rolled" hem!  Do I know how to do this.  NO!  Not really!  But one of my ASG (American Sewing Guild) friends, Suzanne, shared a most awesome link with our group that was gonna save my butt!
What's a hand sewn rolled hem?  Watch this video and you will see!  This is a gem done by Ami Simms, who is a quilter, teacher, author and fellow blogger, who has most graciously allowed me to share it with you.

Pretty nifty huh!  And here is a picture of my "rolled" hem.  I know you can't really see the stitching, but truthfully, I couldn't either!  That's mesh for you!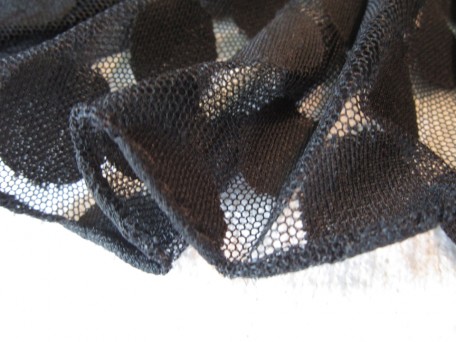 Yes, I did use Silk Charmeuse for the slip and overall, it went smoothly.  Admittedly there was a wee bit of hair pulling but I persevered!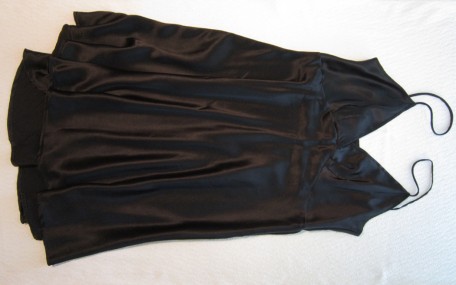 The straps which I call "spaghetti" straps (cuz that's what I learned growing up) were really really really easy to do with Charmeuse!  This fabric has lots of "slippage capability"!   Yes, it slips when cutting it, it slips when sewing it, it slips when "n-a-r-r-0-w" hemming it! But don't be afraid.  We must dive into pits of horror to learn that we CAN get out!  And it makes us better sewers!
I contemplated not doing a photo shoot with me as the model and using Phoebe instead.  She's so easy to work with.  Just hangs around and doesn't talk back!  Phoebe is my full bodied dress form for anyone wondering what in the world I'm talking about.  I sometimes wonder if I come across as narcissistic, with all the pictures of myself.  Truly I'm not, I am actually quite camera shy and so it usually takes a glass of wine to put my mind at ease.  Okay… you figured me out.  I guess photo shoots are wine drinking opportunities!   Well, on with the show!
Moi in my LBD!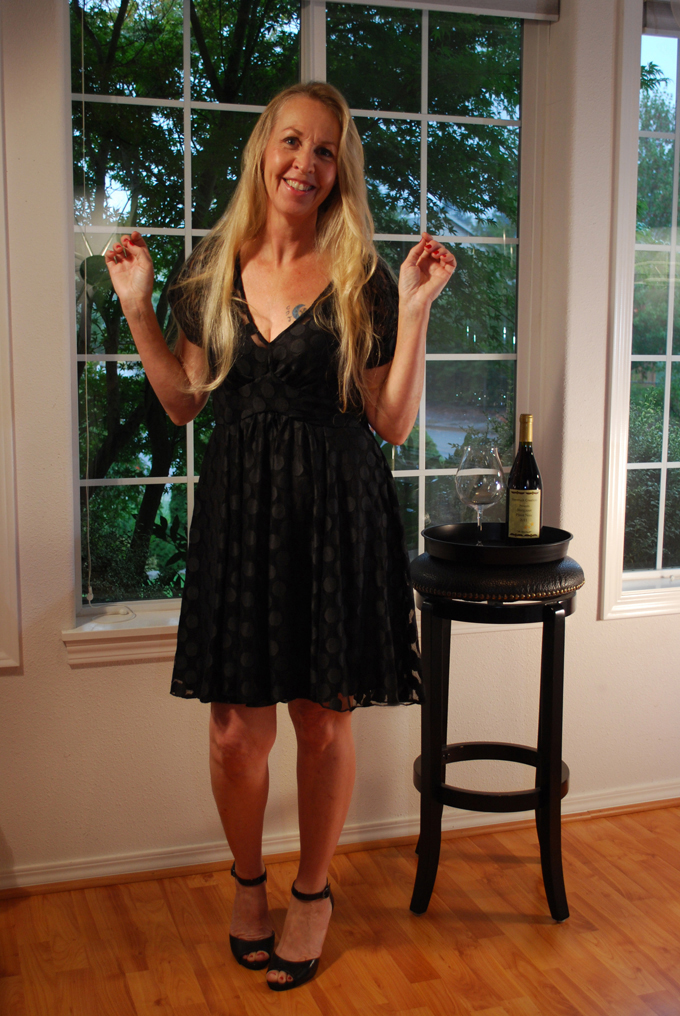 See how the back is a little longer than the front.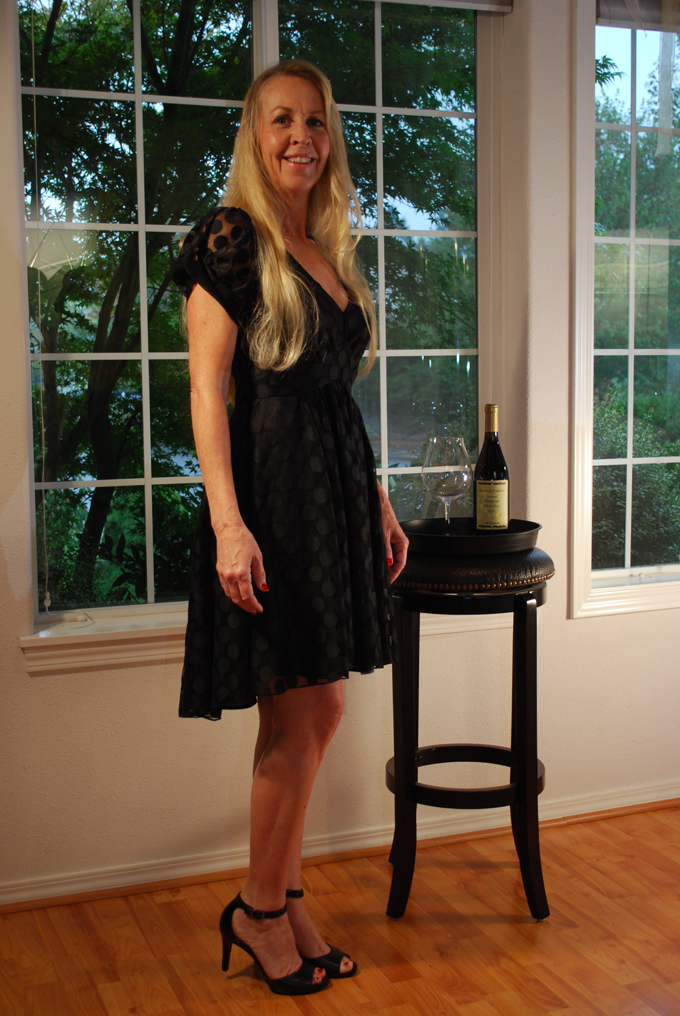 The back of course!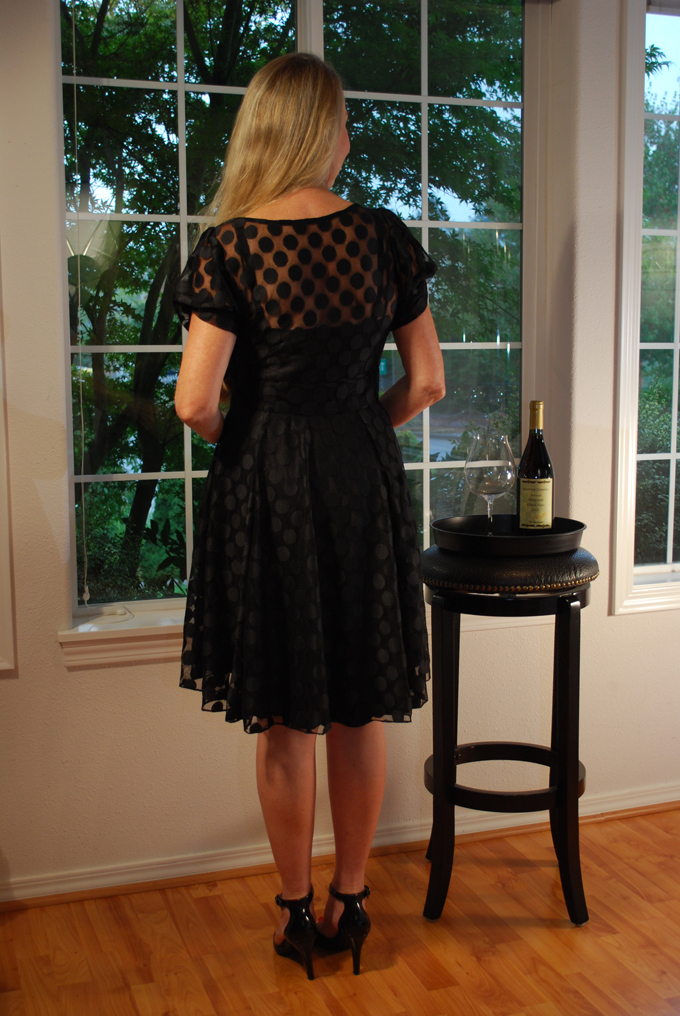 Cheers to another photo shoot!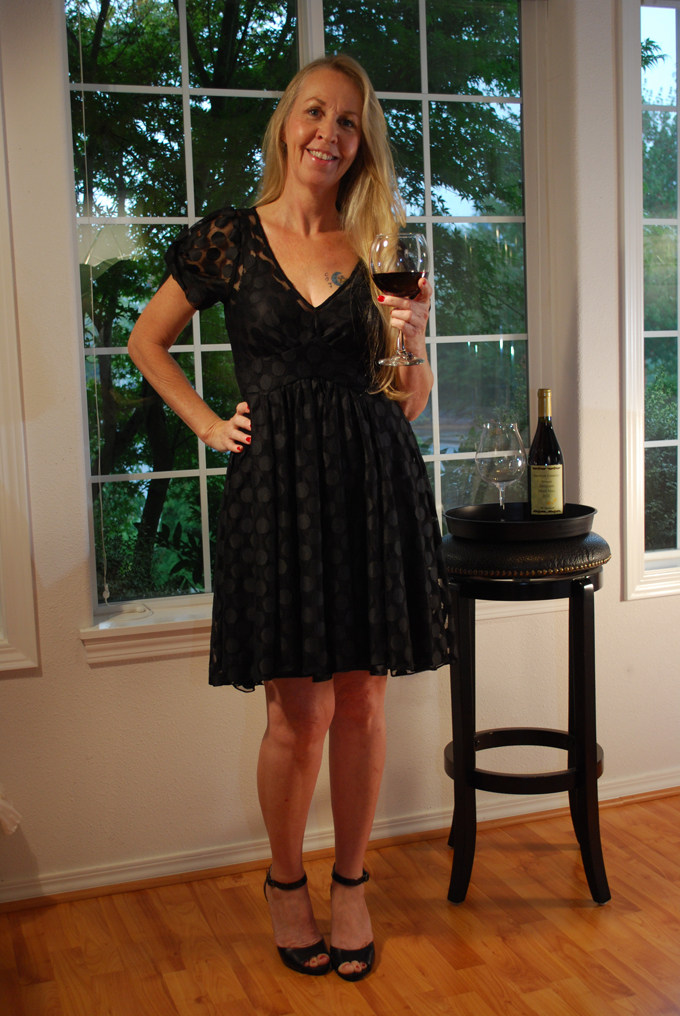 Right around the corner is one of my favorite times of year… Halloween!  To everyone sewing costume(s)… I raise my glass to you.  This is when the artist in each of us gets to really shine!  I am presently working on mine like a mad fool in order to get it done pre-Halloween and posted to share with you.  Be back soon!
Salut!  Jessica