Wahoo!!!  You can't see me but if you were a fly on the wall right now, you would be watching me skip my way to the wine rack looking for the appropriate bottle of wine to celebrate my triumphant moment!  You do get to see this though…
The wine…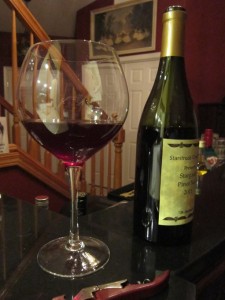 and the moment…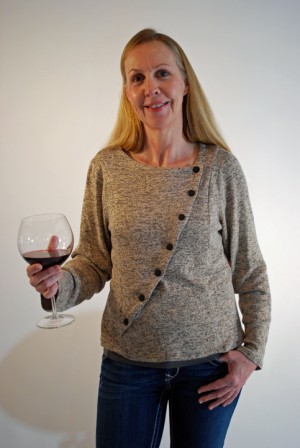 Yeah, I am drinking wine, I am suppose to be, I am celebrating my latest project!  The Silhouette  675 Top.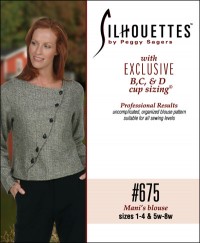 So what's so exciting about the fact that I made this top?  Well…the fabric is knit and this is the first knit anything I have ever attempted.  So………….Yes, I made it and it actually turned out!
Admittedly I was a bit nervous before I dove into this project.  I spent a good deal of time on the "internets", surfing anything and everything that had to do with sewing knits.  Finally, after feeling like I killed a bazillion brain cells fretting about how to tackle sewing them, I decided to go with the advice of the lady who designed the pattern, Peggy Sagers.
She said "use a ballpoint needle" and sew it like you do anything else.  Also, I had heard her say in one of her pod casts that she uses a teflon foot for most everything so I opted to do the same.   It did make sense to me since I have used this foot when sewing silk because it holds the slippery wonderful stuff quite nicely!  I set my machine to a 3.0 stitch for all the major sewing like she suggests in the pattern instructions and used the recommended 3.5 setting when top stitching and both worked like a charm.
The needles and the teflon foot that fits my Husqvarna sewing machine.
Silhouette patterns have 3/8″ seam allowances and when I first started sewing the fabric, I wondered if this seam would allow for enough width, especially when sewing three layers of the knit where there was facing.  I experienced the WOW factor.  I was impressed.  It was so cool to not have to spend time trimming the edges of seams.  It also meant needing less fabric and of course less waste.  I'm kind of diggin the idea!
There was a small speed bump that I hit…the buttonholes.  I have done lots of buttonholes but never on knit since I've never sewn it, right!  It was BACK to the "internets"!  Once I found the magic info I needed, I headed for my interfacing stash basket and pulled out my handy dandy Tear-Away interfacing and started cutting out strips which I then cut into large enough sections to place underneath each area where I needed to sew a buttonhole.  The interfacing tore away easily leaving the underside of the first buttonhole I made look exactly like it was suppose to.   It really did work like a charm.  I was so thrilled with my success that I went a little crazy and ended up with 7 buttonholes instead of 6 but hey, who's counting and besides, 7 is one of my lucky numbers so – "all is right in the world!"  Now –  it's back to my wine.
Salut!  Jessica