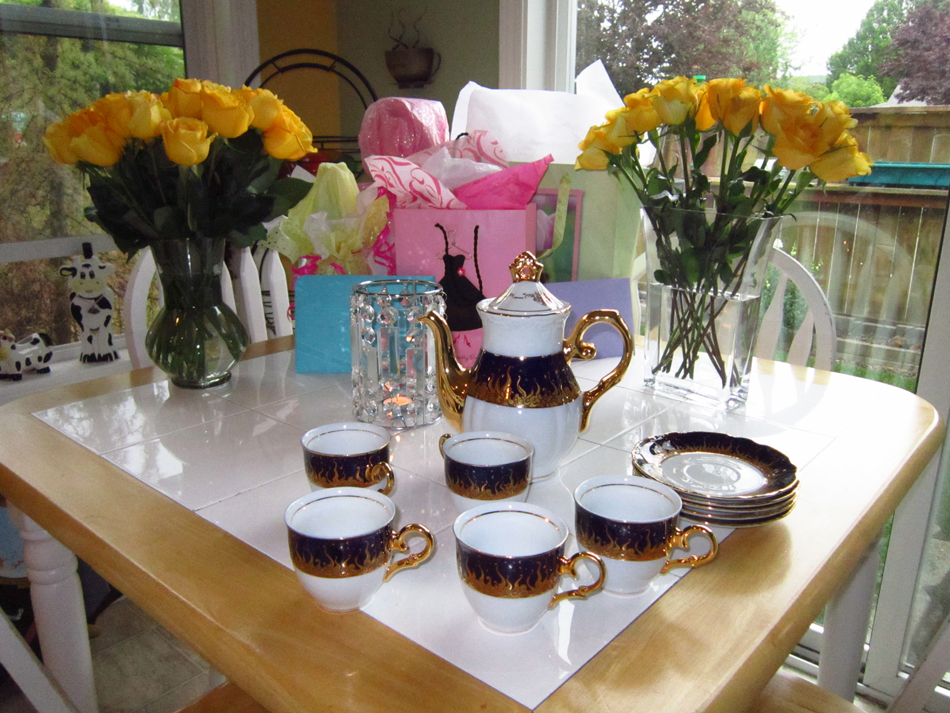 A table fit for Mother's Day
When we went into Joann's fabric store to look at patterns I had this funny feeling.  As we sat and perused the pages of the McCall's pattern catalog, I watched her scanning, looking for that perfect…unique dress and when I saw her zero in on it, I knew right then that I had my work cut out for me.  My daughter chose McCall's 6561.  Don't misunderstand me.  I have nothing against the pattern, they definitely had a cool idea in mind but… 10 pieces just to make the bodice?  Just saying.
 McCall's 6561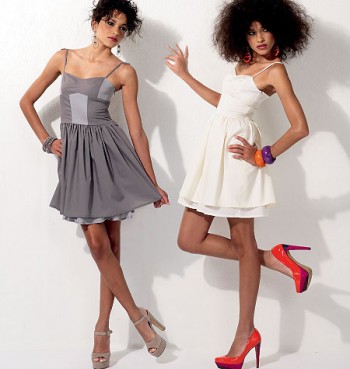 Needless to say, she had her heart set on it and so I said yes!  So the first thing I did was make a muslin.  Remember those 10 pieces!  We tried it on her and I had an "Oh Crap" moment.  I made the muslin up in a size 4 but my daughter is like trying to dress a pencil!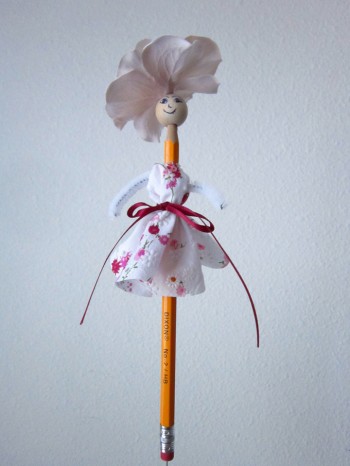 She is lovely, healthy and the eating machine in my household.  How she gets away with it I have no idea.  Her brothers harbor a little resentment since they have to count their calories, as do I.  Somehow she manages to maintain a 24″ waist!  We'll see just how many years this lasts.  (that sounds evil huh)
Well… anyways, besides the fact that my daughter is a pencil and size 4 was too large, she was still fuller busted than the pattern allowed for so I had to do some major pattern changes to all 10 pieces!  It took me two muslins before I got it right!
While it doesn't say it on the envelope, if you look at it on McCall's website, it is considered  "easy"!  Well yeah…it's easy to understand how to sew it; the instructions are pretty clear.  But it's a  "sewer beware" pattern.   I think most of the difficulty lies in the fitting but for new sewers, I think constructing the bodice is not a cake walk.  If any of you readers are new to sewing and have already taken on this challenge and did it, I have two words to say to you.. You ROCK!!
Anyways, with the fitting out of the way, we were ready to choose fabric.  It was a unanimous vote, white with a splash of red.  The fabric is white embroidered cotton and the lining which Calley chose is a white silk cotton.  We found some beautiful  red satin trim but my concern here was whether it would bleed onto the white fabric when it's laundered so several pieces had to undergo testing.  Cold water brought out red making the water pink, but hot water was worse.  I decided to wash the trim in my washing machine on gentle cycle, hang to dry and press it before applying to the dress.  (Heavy sigh; more work)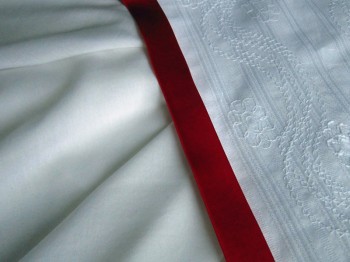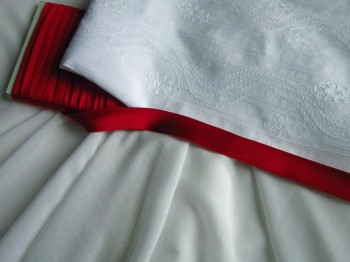 After pre-shrinking all the fabric, I was ready to start construction.  Assembling the bodice wasn't too bad though like I mentioned earlier, there were several pivots in the top and bottom of the front pieces that took me a bit but eventually I got them.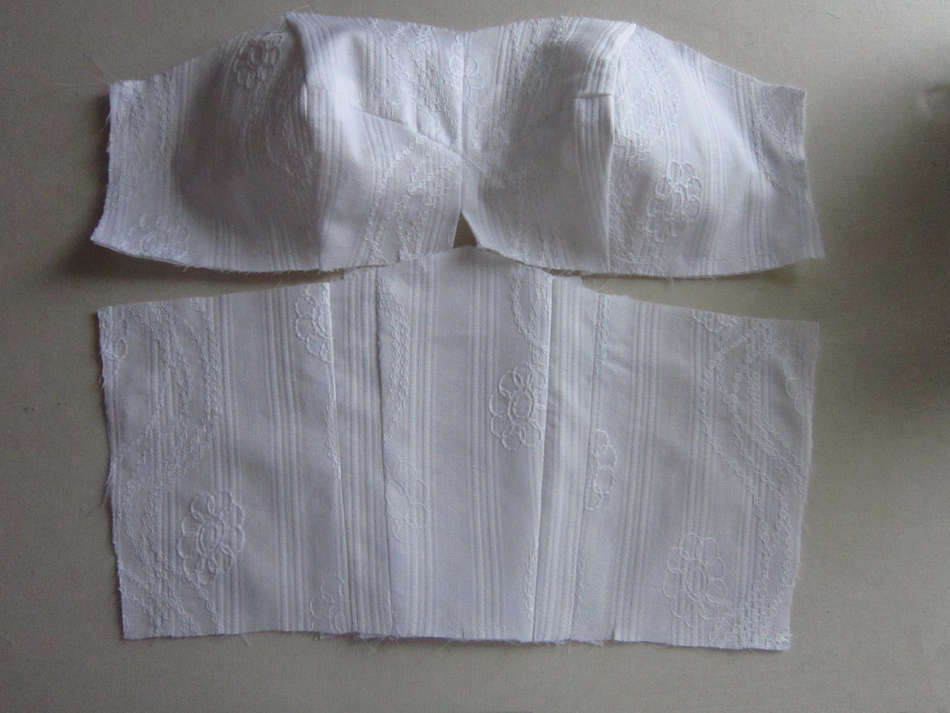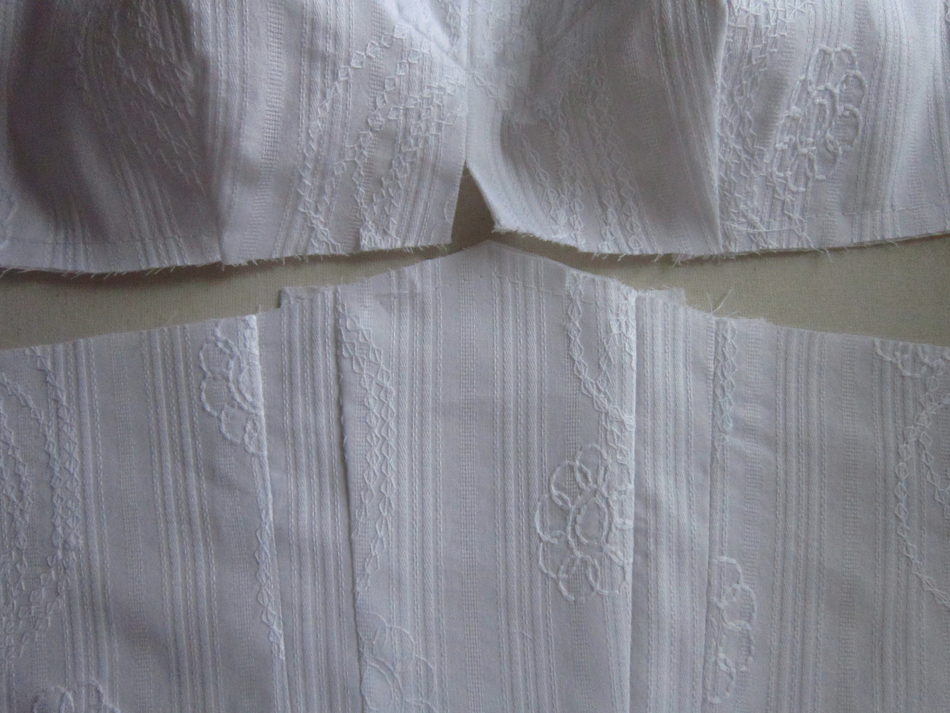 I took this close-up picture so you could get a good look at the bottom pivot on the center front.  I fussed with this one the most.
The main bodice is sewn to a gathered skirt and then there is a bodice lining that is sewn to a second or contrast gathered skirt.   Suffice it to say, there was a whole lot of gathering going on!  It wasn't hard, just time consuming.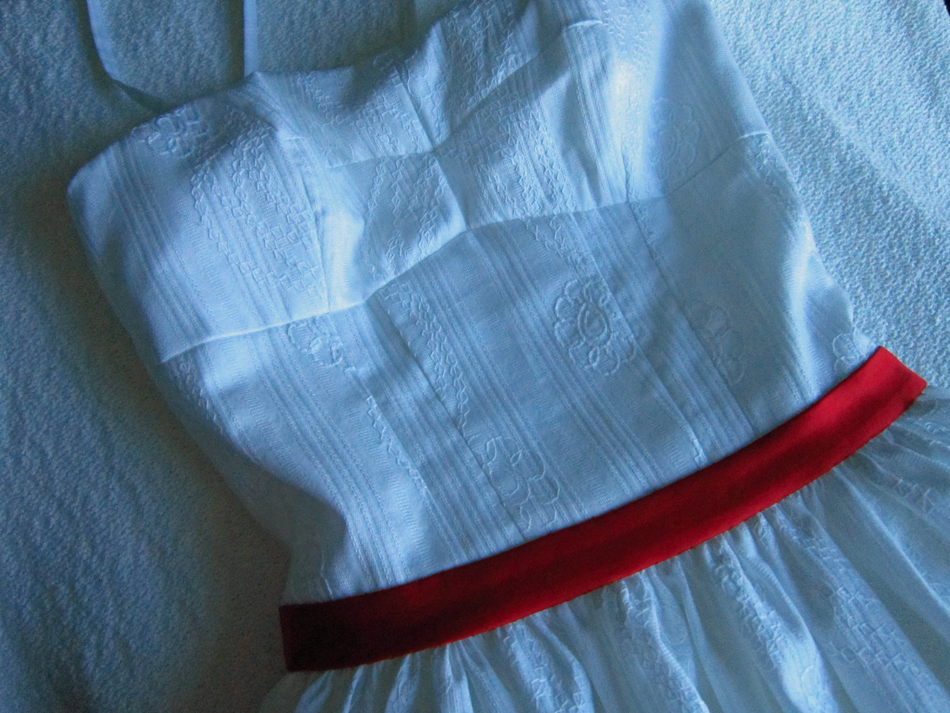 I decided to hand sew the red trim around the waist after the dress was constructed.  I did try top-stitching it on first but I didn't like the look.
To break up the layers, I sewed red satin trim on the top skirt.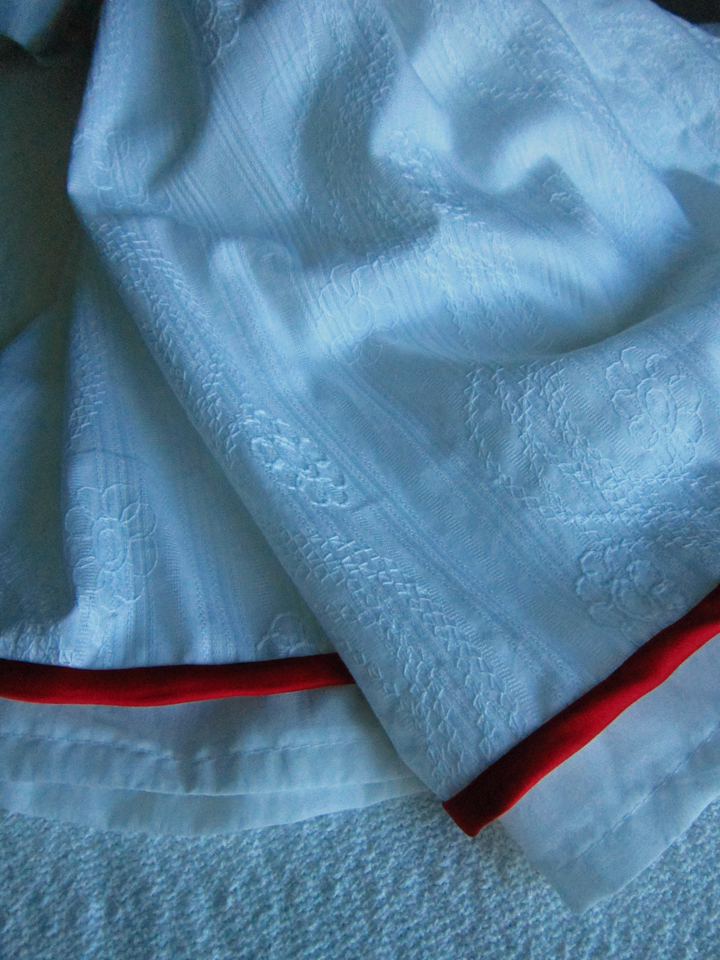 And here it is being worn by my daughter.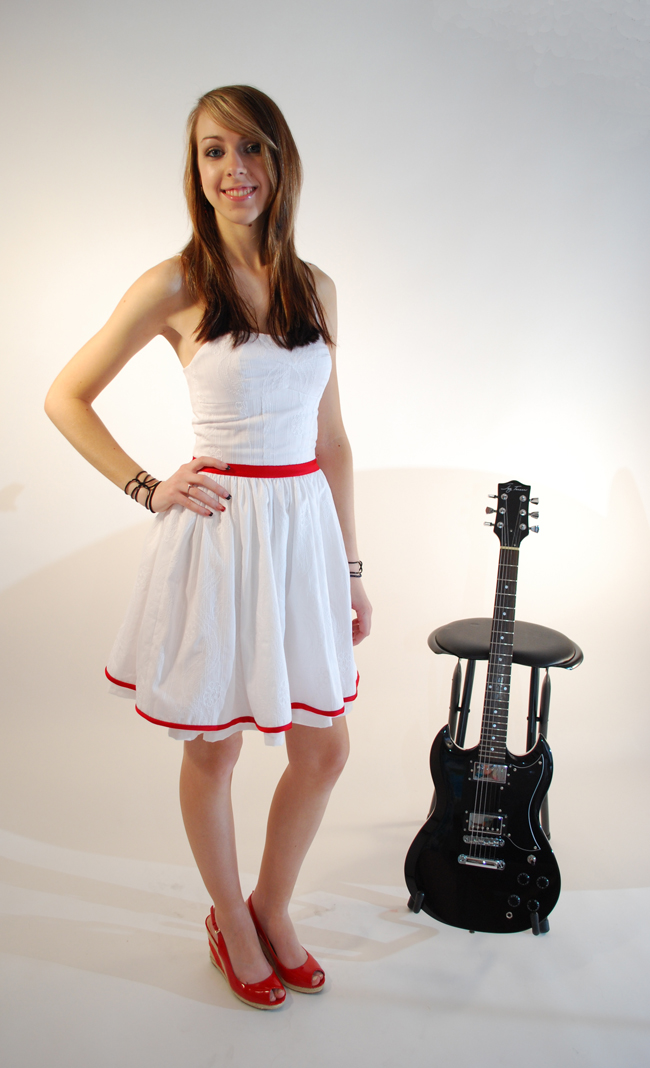 The back of the dress…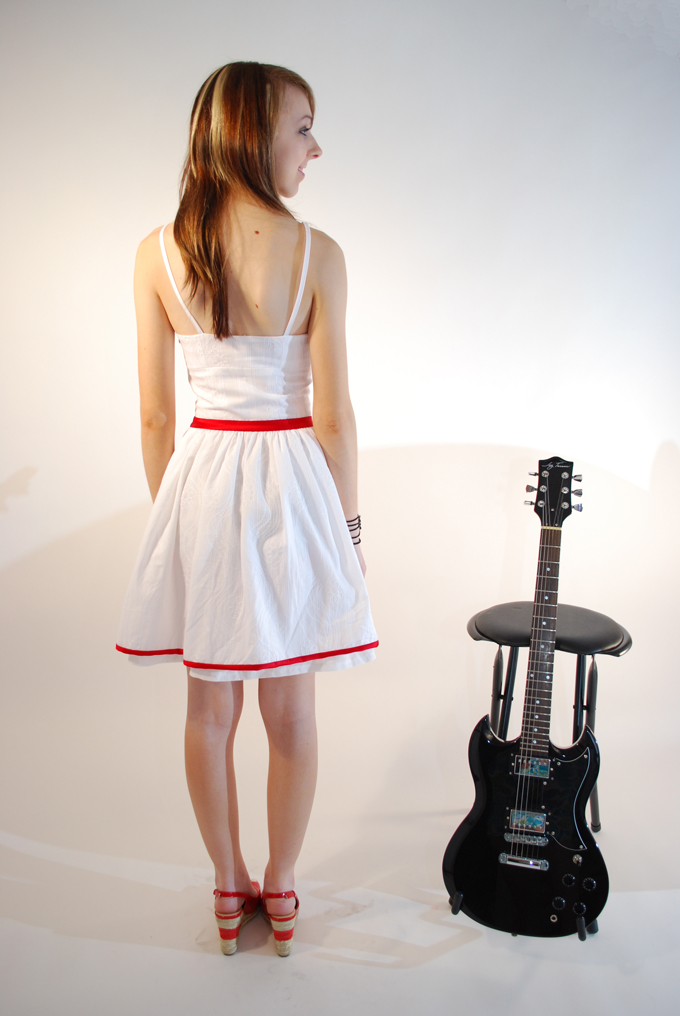 And a just because picture!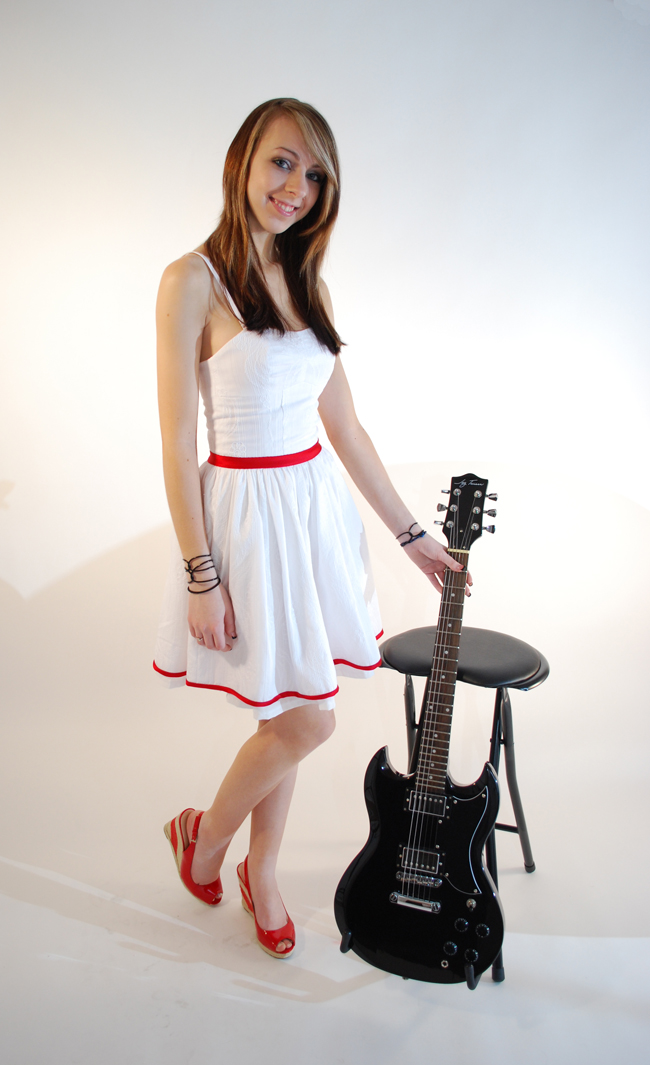 The dress was a success, especially because it's what Calley wanted but I am not real keen on making a 2nd or 3rd one.  Unfortunately I think she wants more of them and since she let me make her something versus buying it, how can I say no?  I'll make 10 if I have to. 🙂  I truly love being her and her two brothers mom, and sewing for them is such an honor to me.  You can expect to see more of my family creations in the future.
With that, I think I will now go and enjoy Mother's Day with my children.  If you are a mother, a child who has a mother, or know someone who is like a mother to you, take advantage of the opportunity today to give your love.  We don't know what tomorrow will bring, but today is here, so live it to it's fullest.  That being said, I'm now signing off to go and enjoy a glass, or two, of champagne!
Salute!  Jessica