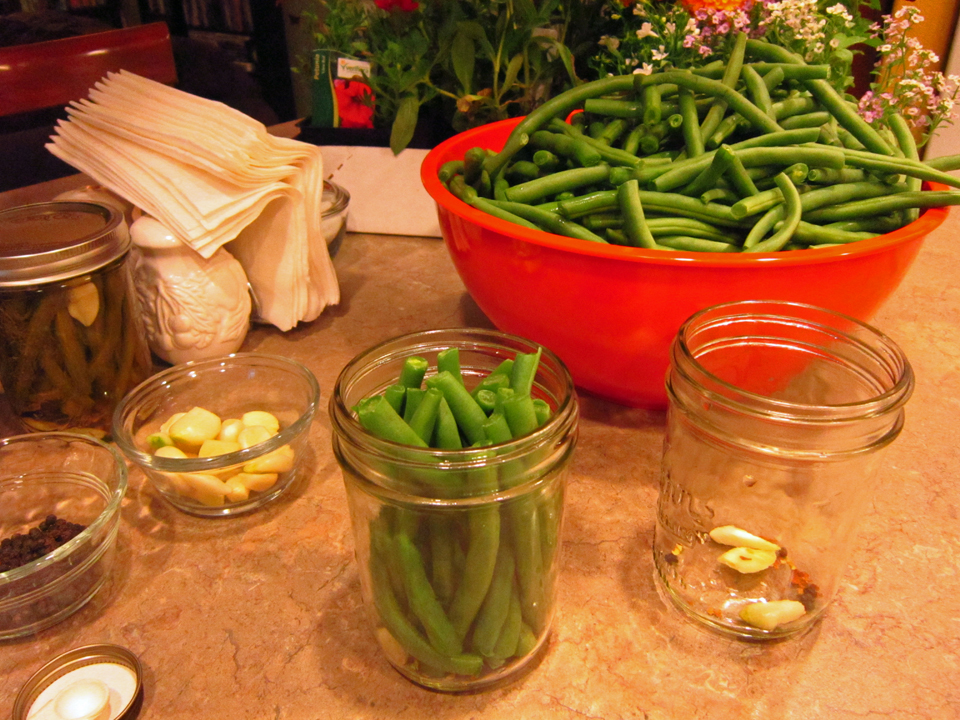 Hope you all are enjoying your summer.  Likely taking a holiday to some special place…the beach, the mountains, going home to another state or country, or visiting family and friends you haven't seen for a while.  If so, tell them I said hi!  🙂  As for me, well – not seeing a holiday in the near future… there just seems to be more work that needs to be done!  My herbs, flowers, bushes and grass are in constant need of watering, especially in the 90 degree days we seem to be having quite a bit of.  Who said we were approaching an ice age?  Honestly though, I'm not really complaining because I love doing these seasonal things.  It means that I get to spend more time outdoors, I get to appreciate the smell of flowers (though there is something with hot days and dog poop that I don't especially appreciate) and I also get to do my yearly canning.  Canning, you ask?  What's that!  You know, I think it's becoming a lost art.  I was fortunate enough to learn it from my grandmother.  I remember my visits to her house so clearly.  The first thing I always did was hit the pantry, strategically planning my meals based on what grandma had canned since my last visit.  My favorite was peaches!  Naturally my children have been indoctrinated into canning and will help me (most of the time) when the fruits and vegetables start rolling in.  Every year the pantry gets filled with the usual items for the winter months; peaches of course, raspberry, strawberry and boysenberry jam, apple butter, spaghetti sauce, spicy tomato and mango chutney, and of course pickled dill green beans which explains the picture above.
Somewhere though in all of  this chaos, I still manage to find time to do my sewing which brings me to my latest project, a dress I made using the Simplicity 2703 pattern.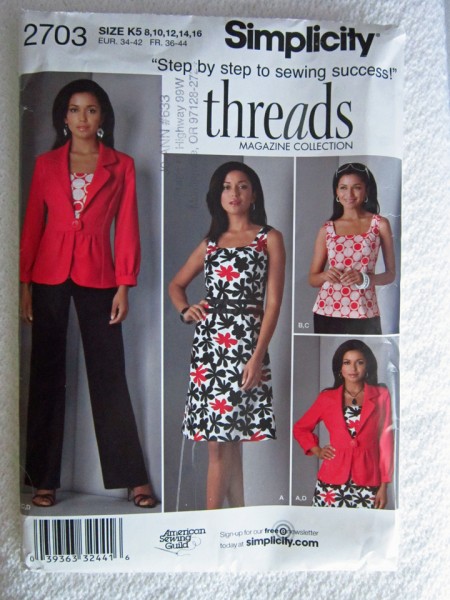 I bought the pattern back in February or March, I think, and then added it to my "collection" and forgot about it.  I hope I'm not the only one that does that!  Anyways, then in the beginning of June, when I was buying fabric for the McCall's 6745 dress that I  made, I stumbled across another fabric that I had no idea what I would do with but had to have.  Now I know I'm not the only one that does that!  There was only 2 1/6 yards left and I made it mine.  So last week when it was time to start a new project, I pulled out this fabric and pondered again on what I should do with it.  I contemplated designing something of my own, but it was hot, I was tired and so I decided to take the easy road and rummage through my pattern "collection" (notice how I'm avoiding the word stash – collection sounds more artsy fartsy!).  Lo and behold, I found the Simplicity 2703 pattern and wow…my fabric looked almost the same!  The point here is to say that I didn't mean to do that!  But… since it happened, I decided to go all the way and I even added the two rows of twill tape.  So here's the fabric which turned out to NOT be fine cotton which I had originally thought but instead sateen.    The white fabric is a pongee.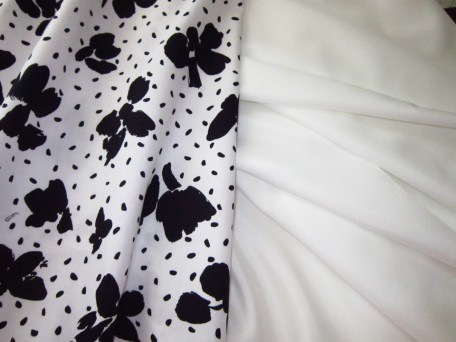 The pongee is for the lining.  Yes… I am a liner!  I don't line my garments to hide ugly seams since I am pretty particular with how I finish seams.  I like to consider myself sort of an "haute couture" kind of girl.  I should be clear though that I don't always use haute couture techniques for finishing seams, but I am fussy.  There is something about a lined garment that gives me the feeling of quality – maybe it's what the RTW (ready-to-wear industry) has done to me!  But it's also that it just feels nicer to wear.  I like to use china silk, but when I"m not sure I'm going to like a garment I'm making, I hesitate to splurge and spend the extra money so pongee is always my fall back.  At $3 to $4.99 a yard, it's a no brainer!  Pongee does sort of feel like silk to me, is nice to sew and since this makes me happy I'm good with it!
It is such a pain in the derriere every time I start a new sewing project because there is a whole fitting process that I have to go through.  My shoulder width across the front is about 1/2 narrower than most standard patterns, my bust cup size is somewhere between an A and a B and  my torso length is about an inch shorter, especially noticeable in the back if I don't shorten the pattern pieces in length.  I have learned this through trial and ERROR!   Depending on the style line, all of these details can be easy to remedy or become challenging.  This dress did create a bit of a challenge for me because the darting happens in the neck line.    I started off thinking I might not like this dress but after three muslins, I finally nailed it down and thought otherwise.
The pattern instructions are easy to follow.  I did make one change – I added a skirt lining made from my white pongee by sewing it to the bodice facings that I cut out of the dress fabric.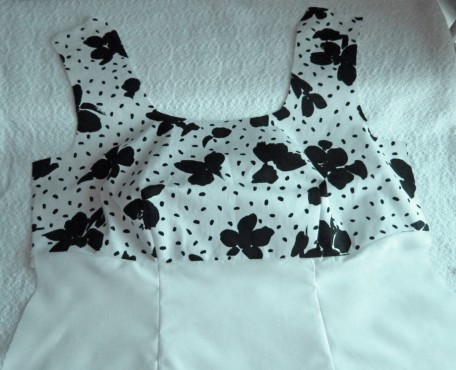 The back tripped me up a bit.  I initially sewed darts in the skirt back lining and then when I went to attach it to the bodice back facing, the skirt part was too narrow.  It was a total DERP moment!  I removed the darts, though now have dart markings that hopefully will wash out but hey… now they fit together perfectly!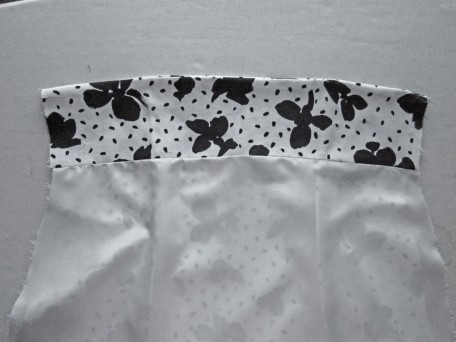 Whether it was the fabric or the pattern, or both, sewing this dress went very smoothly other than the lining foo-bar.  I wish all my sewing creations went this way.  (I've still not gotten over the experience of sewing the Simplicity 1797 dress)  As to some of the details – here is the bodice showing the neck line pleats and the two rows of 1 inch twill tape.  The pattern calls for 1/2 inch but I wanted the trim to be more bold!  What's new huh!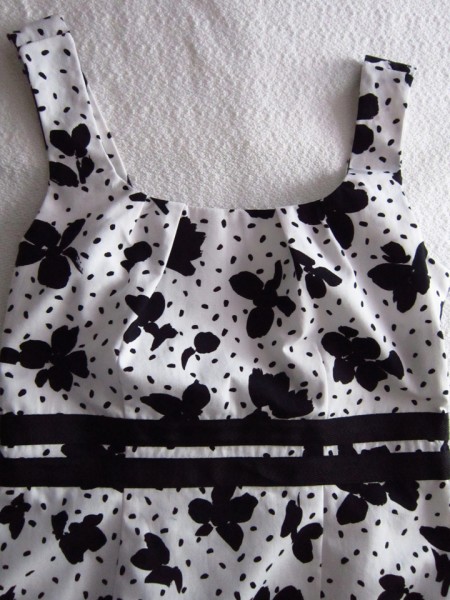 Here is a close up of the neck line pleats.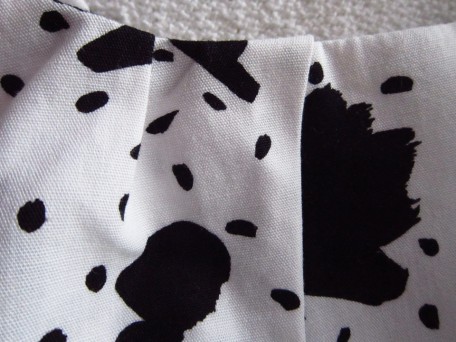 The dress closes on the left side with a zipper.  I used my favorite, an invisible zipper and so I did not sew the fabric and lining seams below it until after it was installed.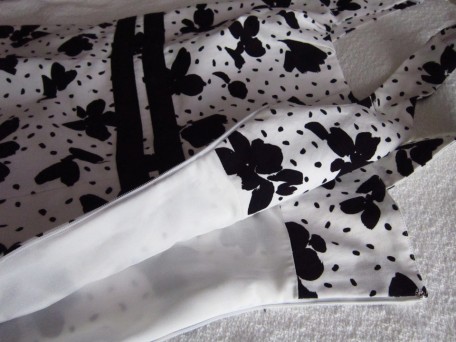 Well there you have it – a dress made from the the Simplicity 2703 pattern.
Now the moment of truth, a picture of moi wearing it.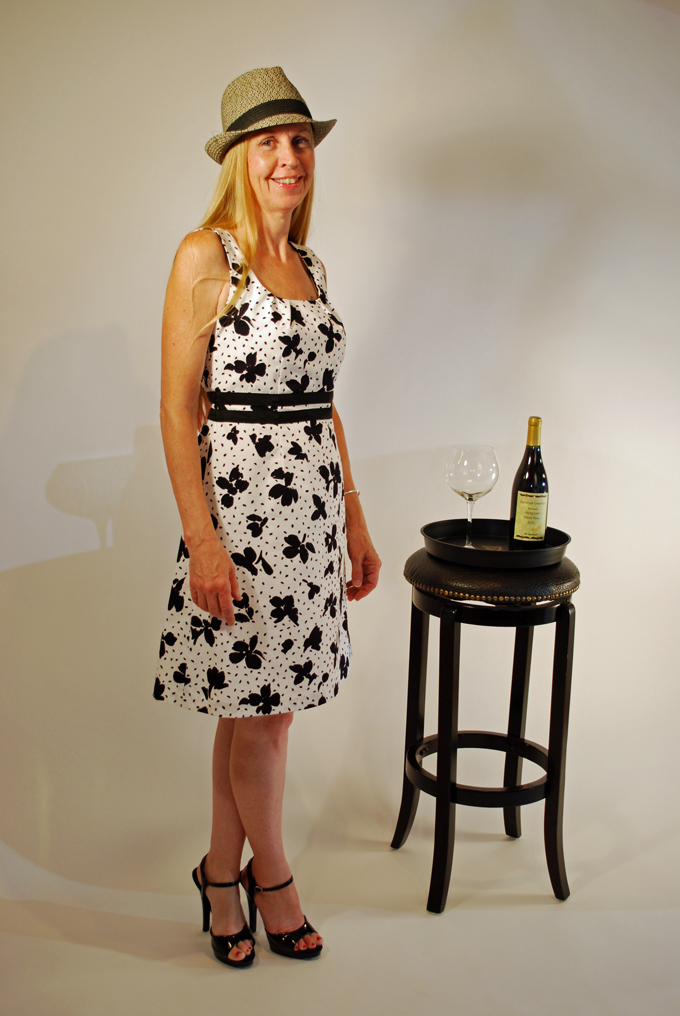 The back of course!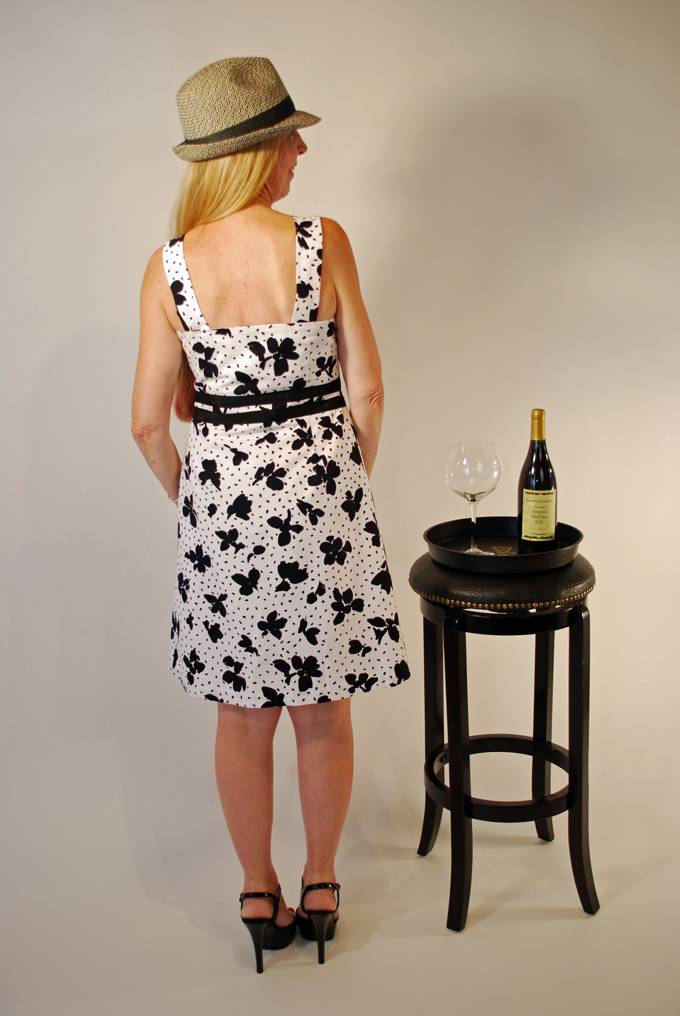 And one for fun!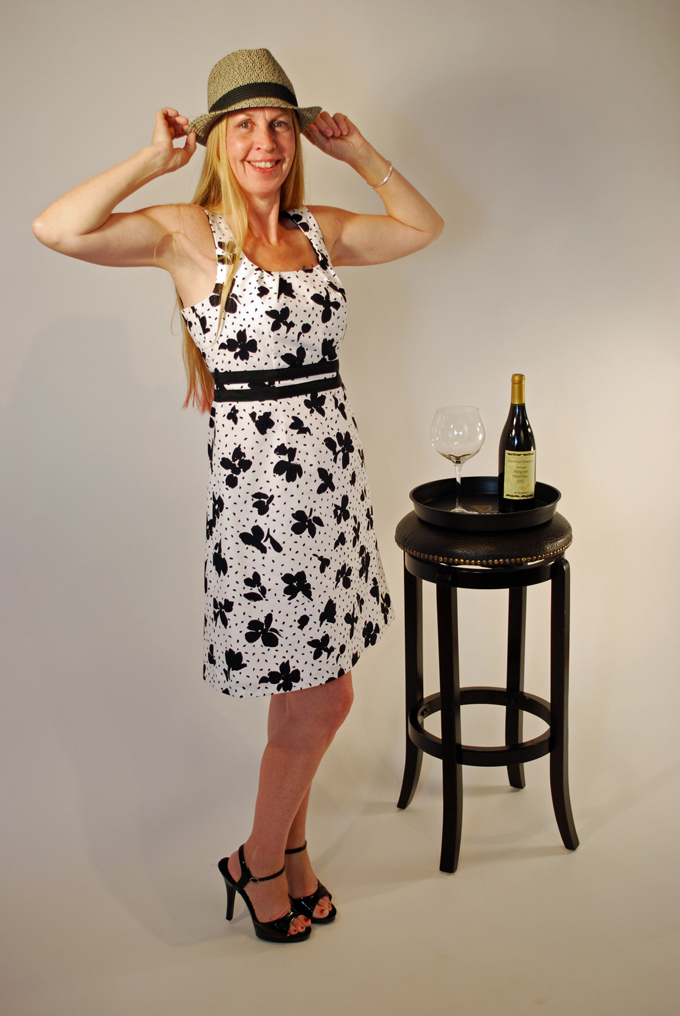 So there it is, another new dress!  A special event is coming up this next month that I might wear it to unless I think of something else before then… it's called "Dragging the Gut".  My youngest son and daughter are going to drive their cars and I'll drive mine of course.  Probably have some friends join our herd and we'll all drag the gut for part of the evening, along with hundreds of others on a route that will take us down a main street of a town we live near.  After a bit of dragging we will cruise on back home, have dinner and I will indulge myself with a glass of wine! Or maybe two!  A hot August night adventure … can't wait!
Salute!  Jessica