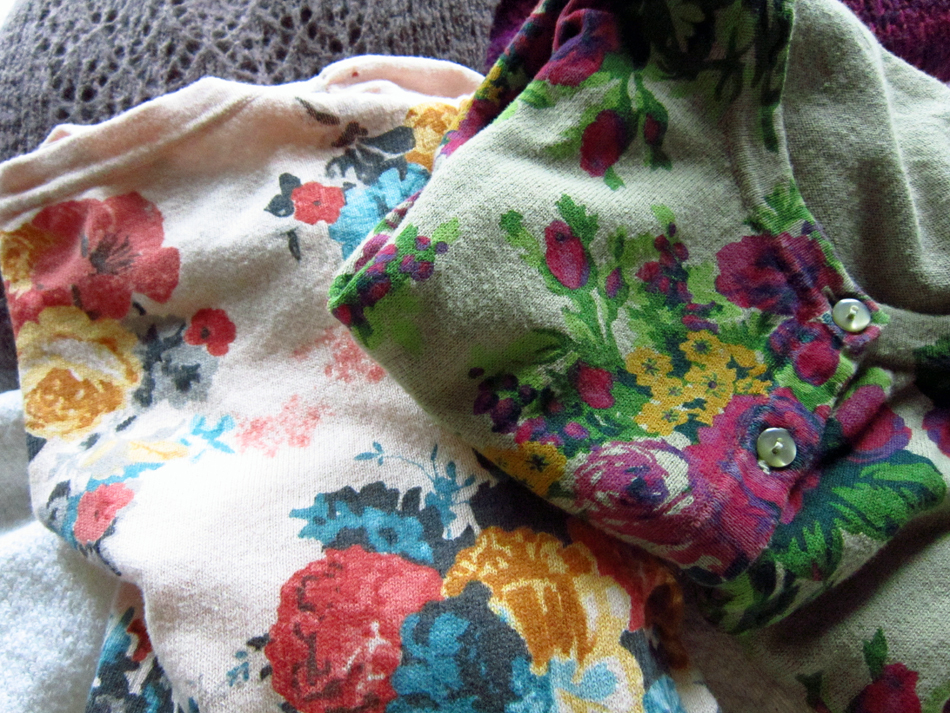 I'll start by saying… I love sweaters!  The weird thing though is that I don't have very many, however that's going to change because I just figured out that I can sew them!  Up until now, I never dared to consider making these wonderful little wardrobe necessities.  I figured sewing knits would be an experience from hell and happily chose to never go there.  Then after spending some time with some wonderful women in ASG (American Sewing Guild), a door has opened and knit fabric has hit the fan so to speak! I won't say that I am totally comfortable sewing knits now but my confidence is growing, especially after making the McCalls 6708  sweater.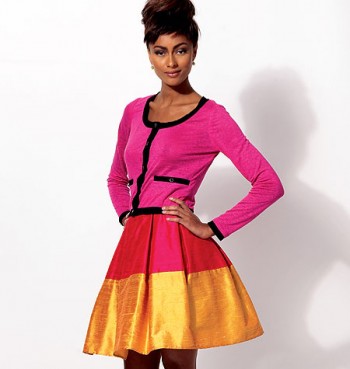 For the fabric I chose a double-ply knit, black and white stripes on one side with small polka-dot like markings on the other.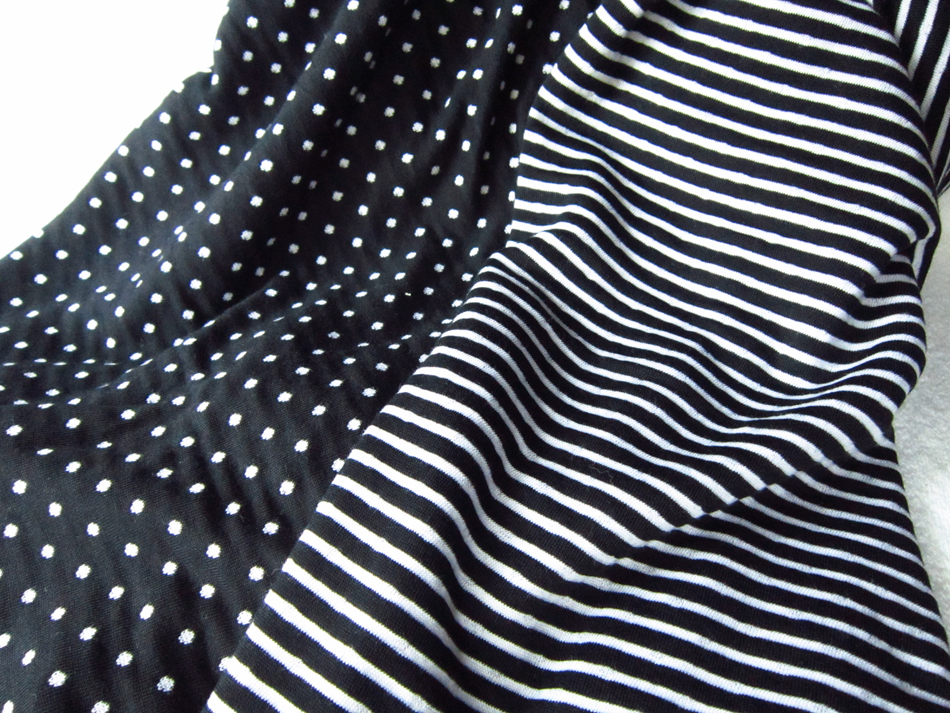 My inspiration for this fabric came from the Spring 2013 Ready-to-Wear Fashion Show number by Balmain which drew me in and renewed my interest in the black and white theme, and especially stripes.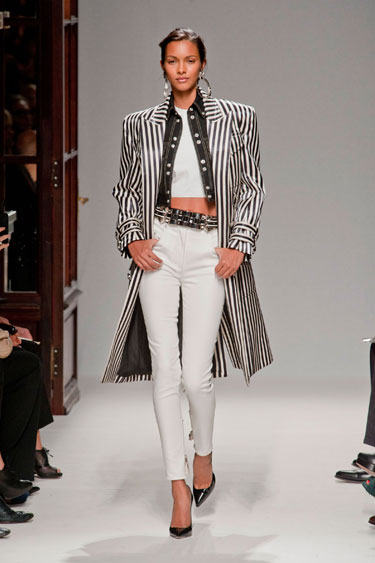 Photo: Monica Feudi/Feudiguaineri.com http://www.style.com/fashionshows/review/S2013RTW-BALMAIN/
The sweater I made was a mash-up.  I wanted the neckline of A and the length of the bodice and sleeves of E.  It wasn't difficult at all.  By overlapping the front A tissue piece over front E tissue worked perfectly.  I used the back pattern piece for E.  Long sleeves were not a problem either since both sleeves come as one tissue.
For size, here again I chose small based upon the circumference of the bust provided on the pattern for that size.  I didn't make a "knit" muslin.   I do like adventure and given that there would be some stretchy going on, I decided to throw caution out the window and just sew!
The instructions were very clear and quite easy to follow.  Double-stitched seams were suggested for most of the construction.  For this I used a twin-needle, a 3.5 mm. stitch and my standard sewing foot.   It wasn't called for but I decided to serge all the edges that would be exposed to make a nice finish.
I was fascinated with the knit that I used because it was double-sided and not too thin.  It seems that thin fabric is the norm in store bought garments these days and doesn't last long but I will save that for another rant!  Due to my stripe inspiration, for some fun and to make it interesting, I decided to use the opposite side of the fabric for the neck, front and bottom bands.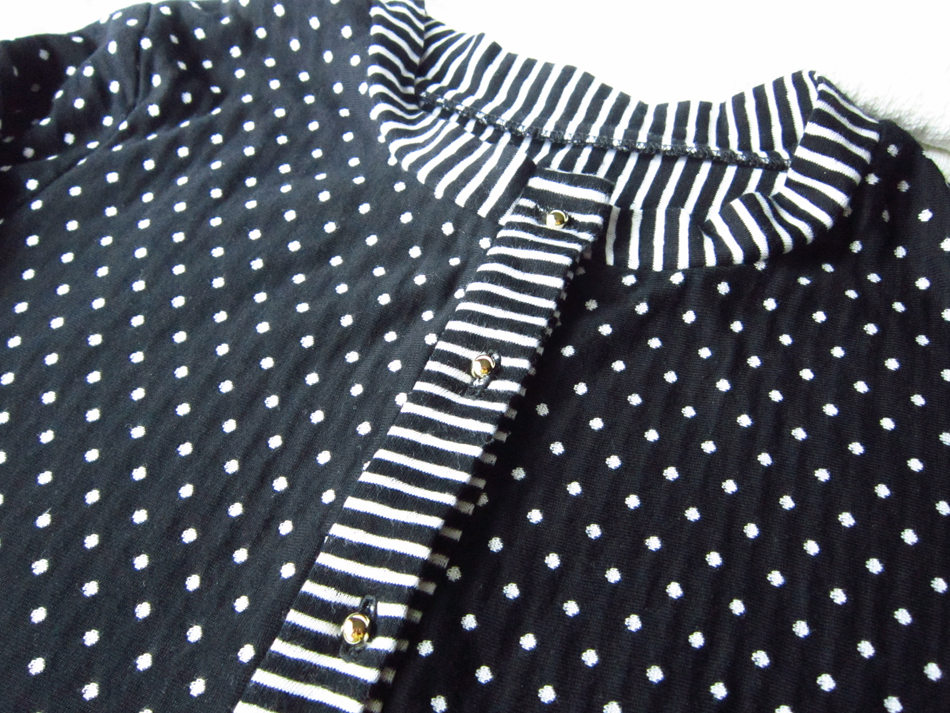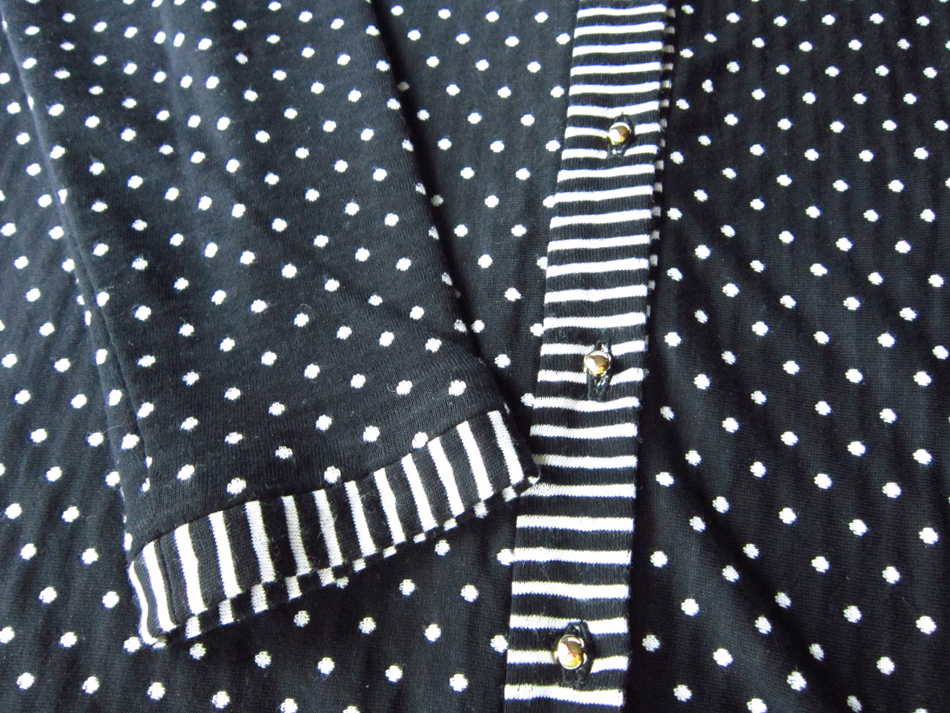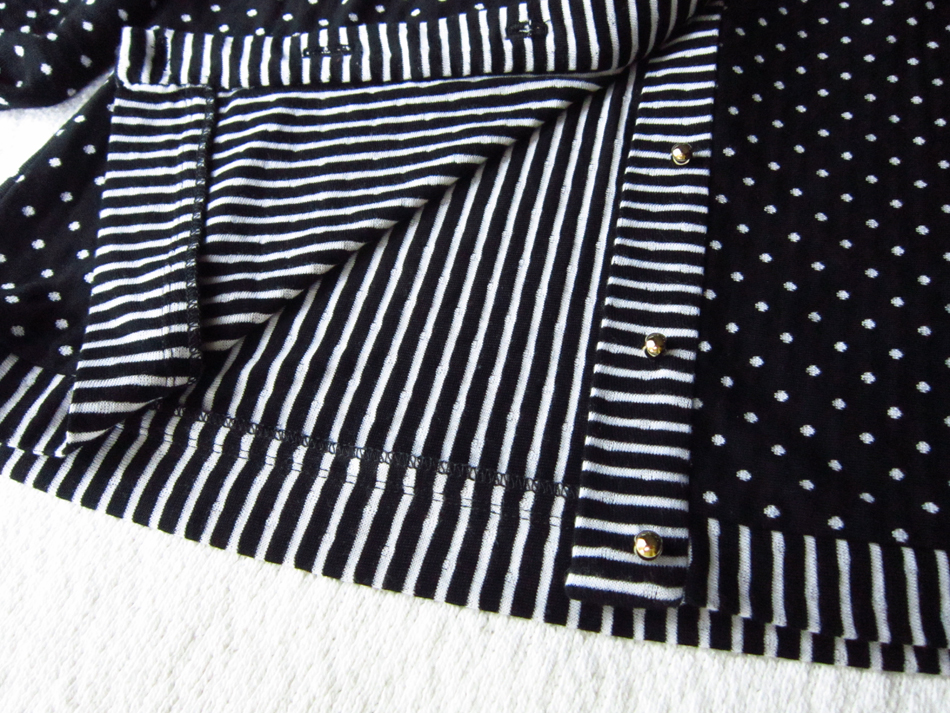 All the bands fortunately turned out pretty good, but because of the method of construction with the neck band and my double-ply not-too-thin fabric, it was a real pain in the… derriere to get the finish I wanted.  The thickest area was where the top and bottom buttons go.  It doesn't help that I tend to be a perfectionist,  sometimes very problematic for me!
As a side note, always up for  a challenge, I decided to cut out the sleeves and bands cross-grain so I could have the stripes in the direction that they are as well as to utilize the fabric and eliminate waste.  There were no problems with doing this and I have a chunk of fabric left, for what I don't know, yet…
So…here it is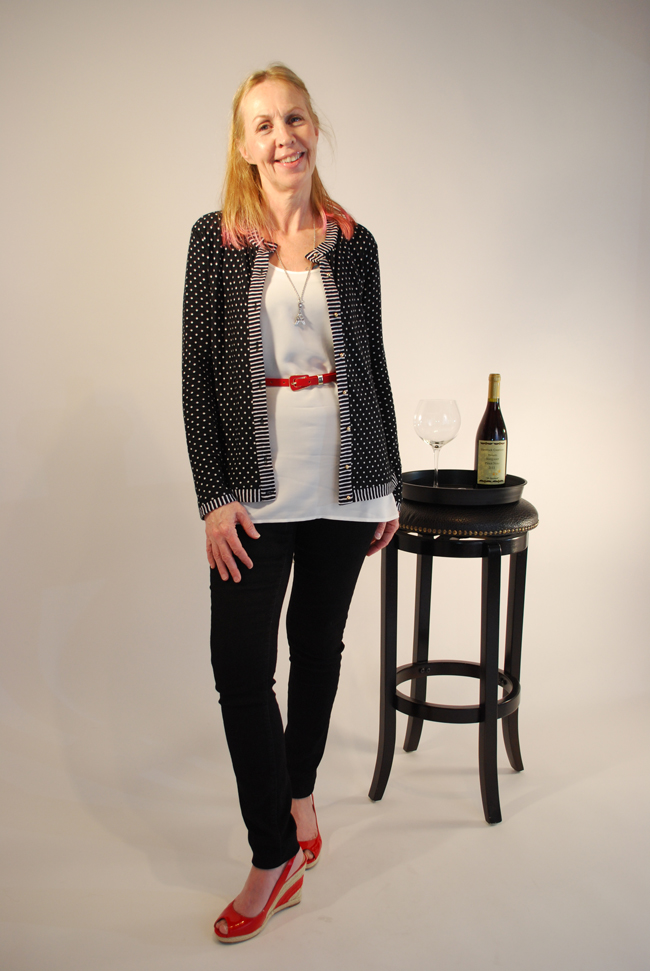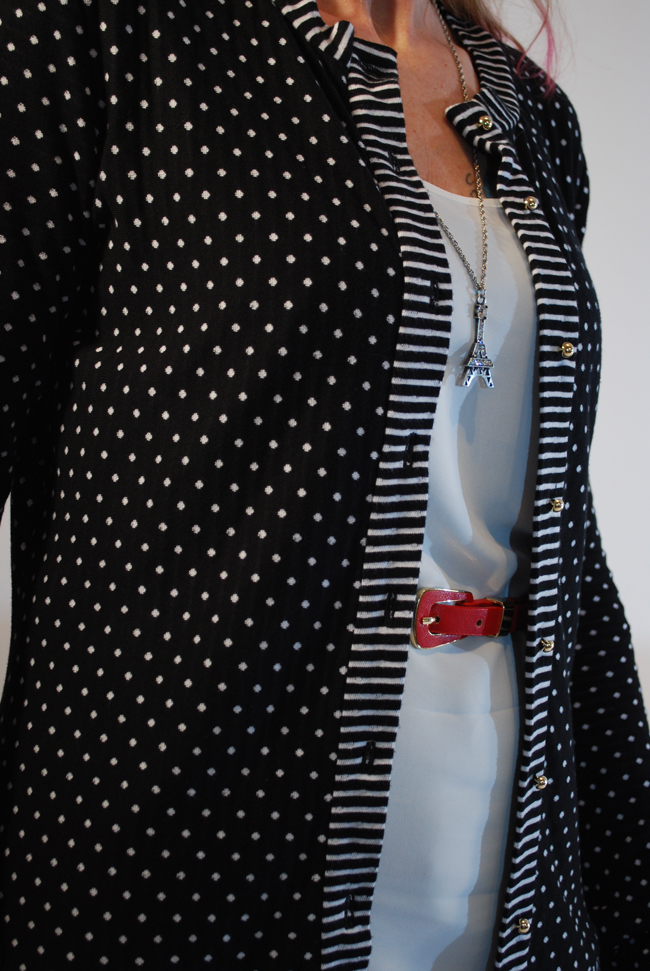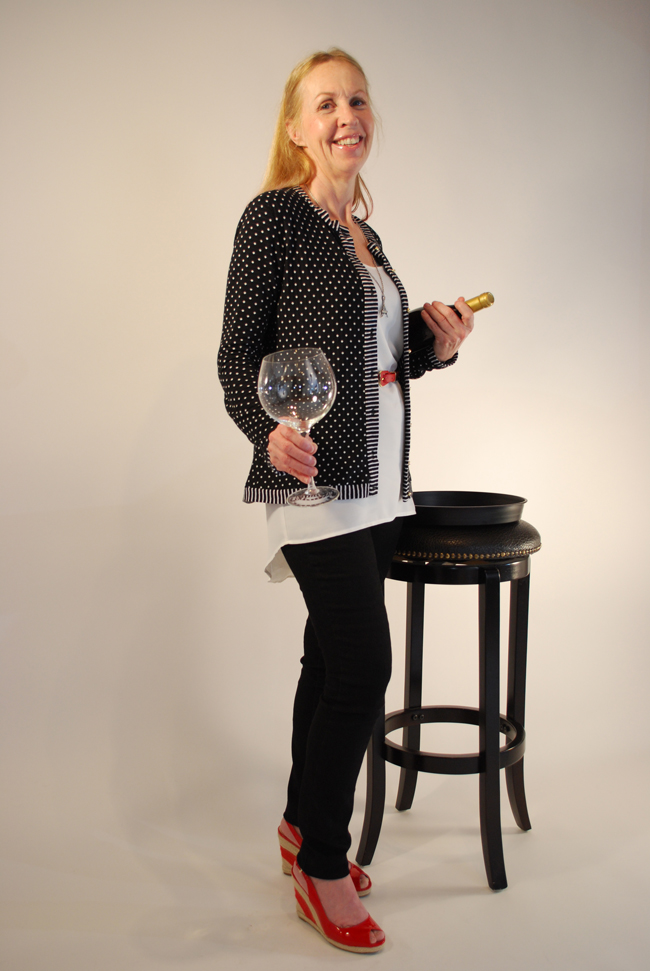 I have to say, I really like the way knit responds when a seam is sewn in it and I love how it feels to the touch – oh so soft.   It is pleasurable to sew!  I'm still a bit skittish when it comes to doing buttonholes.  It's a real pain to remove all the threads when the buttonhole is a total bomb and requires a do-over!  Moving right along… yes I'm discovering that sewing knits can be a pretty fun thing to do, and that's why I plan on sewing this sweater again.  However,  I would like to try and figure out another method for applying the neck band…I need to put on my thinking cap.  If you have any suggestions, I would love to hear them.  Until then…it's off to go wine tasting!
Salut!  Jessica