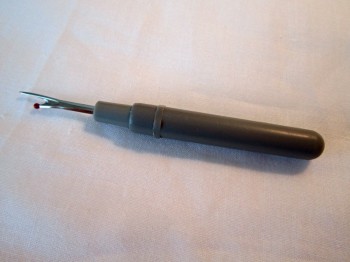 The "Save-your-Derriere Tool"
Have you ever decided to sew yourself something, lets say… a new spring-time looking cocktail dress that you can just imagine yourself wearing.  You then decide it would look spectacular made of this fantastic silk that just happens to cost almost $30 dollars a yard, but it's not very often that you  buy fabric this expensive and so…you tell yourself you deserve it and BUY it!  You then hurry home and dive into the project like the world is going to end tomorrow.   As you are nearing the finish line, having sewn all the pieces together, you try it on before doing the final touches and discover that… IT DOESN'T FIT!  It turns out your butt is bigger than you thought.  You become concerned that maybe you are shaped weird in the shoulders because the neck of the bodice back looks more like a vampire collar.  AND…you discover that your boobs are actually bigger than you thought because the bodice fits more like a corset!
Okay…yes, I am talking about something I did!  I know; you are asking…why didn't you make a muslin first.  Well…does previously making another style of dress from the same pattern count as a muslin?  I thought it did but I was WRONG.  After a number of  different tactics, I finally admitted defeat, lovingly folded the partly dismantled dress into a small square and put it away because I couldn't bring myself to throwing away the almost $30 dollar fabric it was made out of.
That was over a year ago…my life has changed a lot since then, more than just the usual changes that life brings.  There were broken friendships, the death of a friend, end of a marriage, that feeling of ickiness  that comes when we think we may have failed.  But time has passed, healing has occurred and it now feels like it's time to take on new challenges.  This includes that little folded up square of partly dismantled dress that is in bad need of a re-do.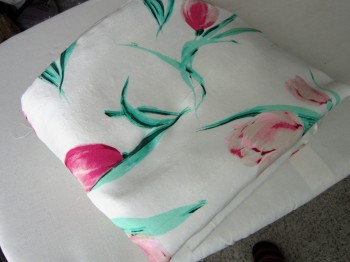 My sewing courage has certainly been re-vitalized through the learning of pattern drafting that I have undertaken the last few months.  With the seam ripper in hand, and a deep breath, I set to work.
The pattern that I used was S2588, the multicolored dress on the right except with a slim fitting skirt rather than the fuller one shown.  The slim skirt is also included in the pattern and drawings of it can be seen on the lower part of the pattern envelope.
The original dress I made had side-seam pockets but they are now gone for good! The approximate 3 inches of pleats that were suppose to be in the top front of the skirt found a new home.  The side seam also moved away from the bodice side seam.  This all was done to make room for my big butt!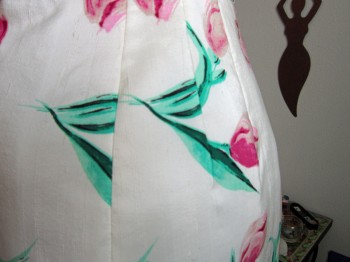 After making the Silhouette top with the 3/8″ seams, doing the same with this dress was a no-brainer.  I  managed to get plenty of circumference!
As for the vampire collar, I cut 5/8″ from the top of the bodice-back  which brought the neck band more in-line with my neck.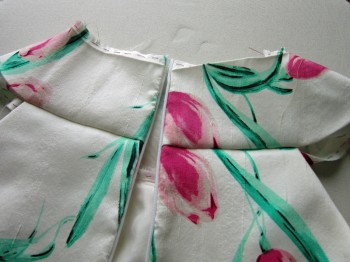 There are lots of angles and curves in the pieces that make up this dress, which makes it a bit tricky when it comes to fitting, but I took my time, did lots of hand basting with lots of  FITTINGS and I did what I set out to do.  It felt liberating to move seams, create darts and tear out unnecessary interfacing.  Here it is from the back…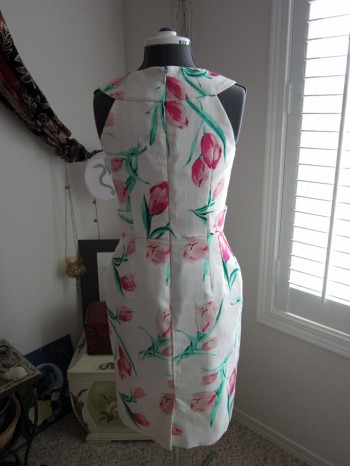 Still doing some finish work, but almost done.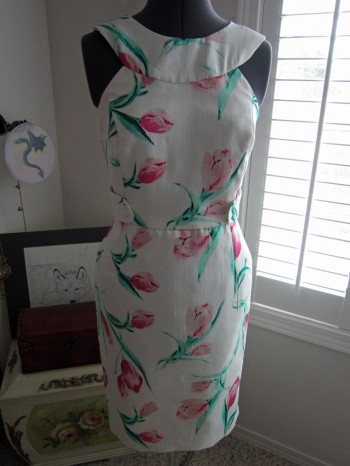 Buttons still need to be sewn on the tabs at the waist.
And here it is all finished!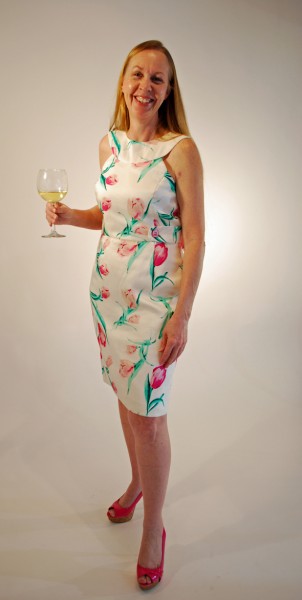 The back…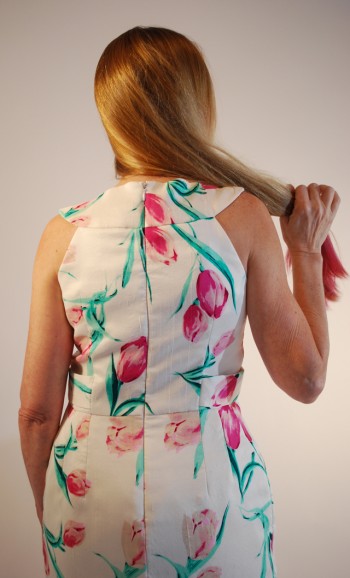 Close-up of the side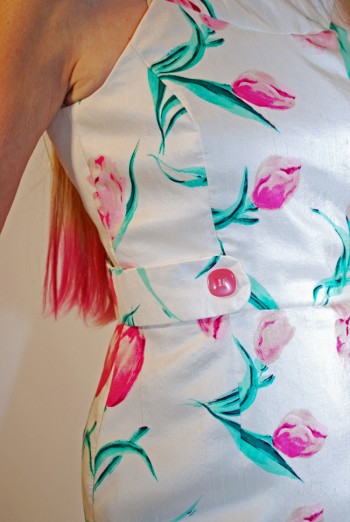 I have named it my "Liberation" dress.  Why?  Because I felt both a sense of relief and a sense of freedom when I was making it conform to what I wanted, rather than the other way around.  No pattern instructions, just me, my creative nature and a handy-dandy seam ripper!   The side-seams are not where they usually are, but why should that matter.  Maybe the darts are not located in the correct places, but my butt has enough room so who cares!  And thank you thank you Peggy Sagers for 3/8″ seams; without them, this might not have been possible!   Yes…if we set our minds to it, there is almost always a chance for a successful red-do!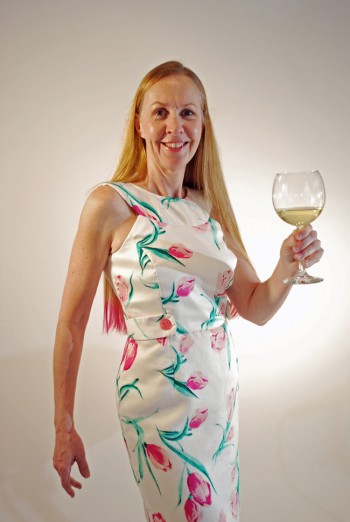 I forgot to tell you – when I saw myself wearing this dress, it was while drinking some of my favorite wine so with that, catch later, gotta go enjoy the rest of my glass of Chardonnay!
Salut!  Jessica