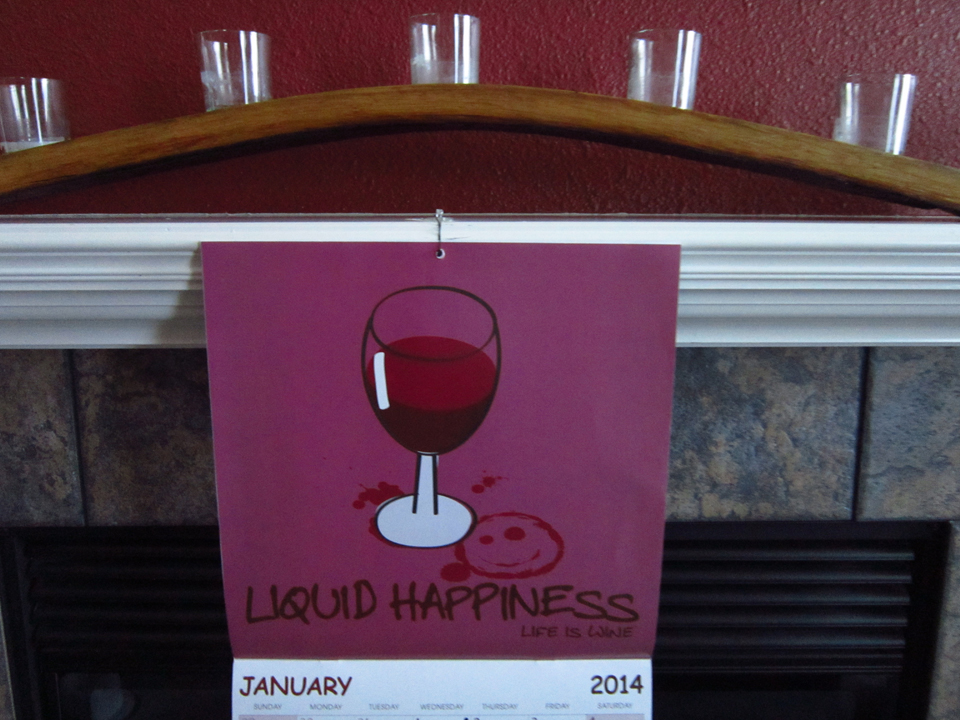 My new calendar for this year!  I'm liking it!
Well I'm back!  You were probably wondering if I fell off the earth… or something!  Happy to say, nothing of the sort, just recovering from the holidays and adjusting to the beginning of  a new year.  It started off with a bang.  Spent all day the 5th of January at Oregon Health Sciences University in the surgical waiting room… one of my sons  had to have his gall bladder removed.  Imagine that!  He is a 27-year- old male and so this is sort of an odd thing.   After the dust settled from that, I decided I better get busy and make my little Burda 8836 dress in blue.  This project also ended up in the emergency room which is why I am so late in getting back to you.  Oh… and did I mention that this same now gallbladder-less person is having a birthday at the end of this month and asked me to sew him a flannel shirt for a birthday present?!!  Yes… I have definitely been feeling overwhelmed.
So I suppose you want to hear the grizzly details… of making my Burda 8836 dress, that is.  Let's see – where do I  begin.   Maybe a picture of the pattern first!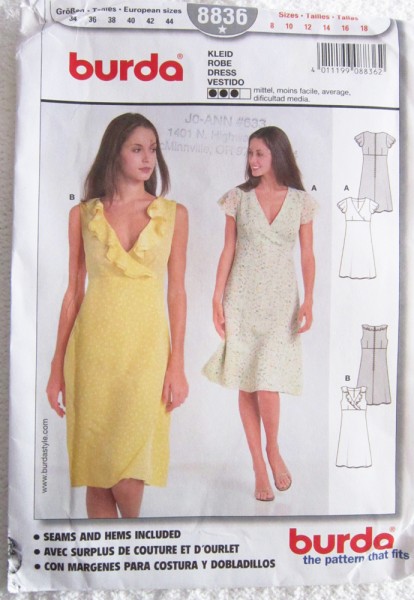 Originally I had imagined this dress in black, however I found myself not to excited to take on another black project since making the black jumpsuit, mainly because I need to improve on my lighting.  I think what I need is one of those big bright lights you see at a road construction site!  That would be so awesome!  Okay, never mind, not logical, but you know where I'm coming from.  Anyways, after much deliberation, I ended up deciding on blue.  I have never owned a blue dress so I was feeling pretty jazzed about this idea.  I spent about an hour at the fabric store wandering… and wandering… and….  then finally, I found a small bolt tucked in between several others that I just didn't notice before.  It was blue but with a red hue making it almost purple but not quite.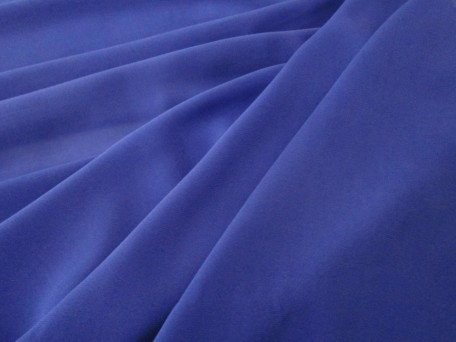 Interesting thing about this fabric.  It was in the Georgette/Chiffon section which is the kind of fabric that I wanted but it feels like silk… sews like silk… even the lady at the cutting counter thought it was silk, but it was not in the silk fabric section.  Hmm… maybe I got lucky and things are going to start shaping up!
And this is my lining…
Okay… moving right along – this fabric business is where my disaster happened.  The width of the fabric was less than 45″, can't remember the exact measurement now… I think it's intentional memory loss due to trauma!  Anyways, I think what happened is that after much discussion with the lady at the cutting counter,  I ended up with a converted amount of yardage and so I was a happy camper and off I went.  After pre-shrinking, I laid out my fabric and as confident as can be, started cutting out the pattern pieces on the fabric.  I really was paying attention in the process and it was when I got to the last piece, a skirt front to be precise, I realized that there was not enough fabric!  Panic began to set in.   My daughter had to go into Beaverton that day so I asked her if she would swing by the fabric store, in hopes that she would be able to buy me another yard of that same fabric.  WRONG!  No fabric, no where, no how!
Some days passed as I stewed on what I should do.  Then the light bulb finally turned on in my head and I figured it out.  You see, the dress pattern calls for two skirt layers and since I did get all the bodice pieces and one entire skirt layer cut, all I needed was to find a second fabric that blended, contrasted, or whatever, that I could use as a 2nd layer that is sandwiched between the top layer and the skirt lining!   It wasn't what I really wanted to do because I saw in my mind two matching layers flowing with each other along the hem but since that wasn't going to happen, this was certainly a solution to the problem.  I went back to the same fabric store and wandered… and wandered… you know how it works.   I finally had to settle on my best option, a solid blue  Georgette in a totally different shade, but it was not to dark or too light so it didn't change the shade of my original fabric when I tested it with a scrap.  This is a picture of my blue Georgette.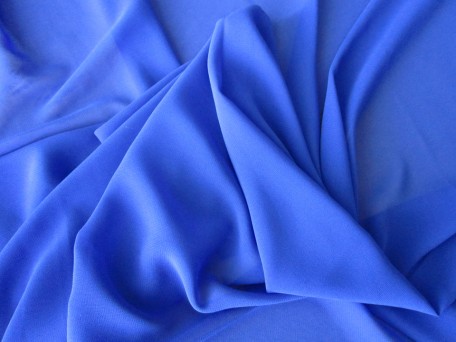 Alrighty!  I was ready to sew now.   I had already made a muslin of my bodice which I was happy with.  The front…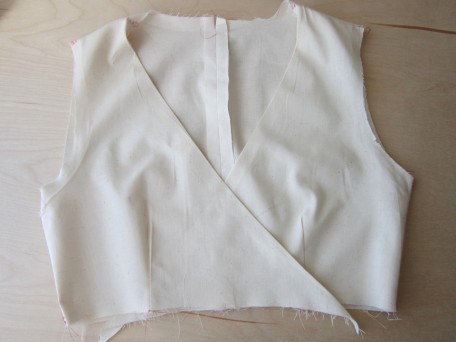 and the back…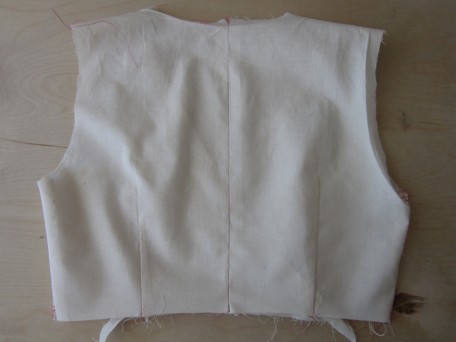 I am fussy with the inside of anything I make.   I don't think it's an anal retentive thing!  It's just that when I feel my clothes are made really nice, then I feel good wearing them.  Enough said right?   So I really liked this Burda dress, but the design challenged me with finishing concerns.  For the butterfly sleeves, I sort of did what was suggested in the pattern but not!  I actually created an edge that looked sort of embroidered.   Sort of…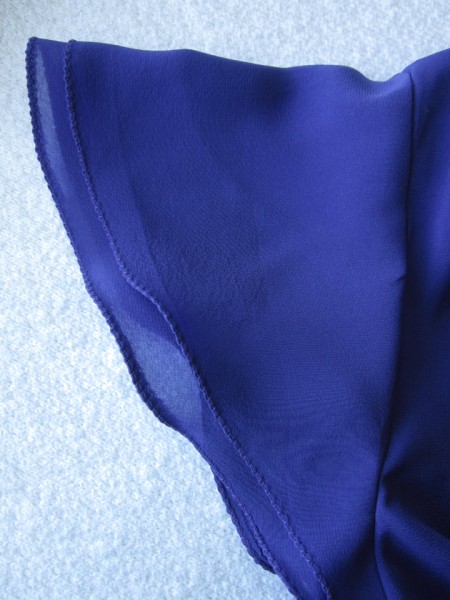 The  way you put the bodice together does not allow you to use seam allowances to fold under to cover the stitching of the attached skirt or the installed zipper.  I decided to use hemming tape to cover up both areas.  I am not sure I am happy with the look of the hemming tape but I went with it.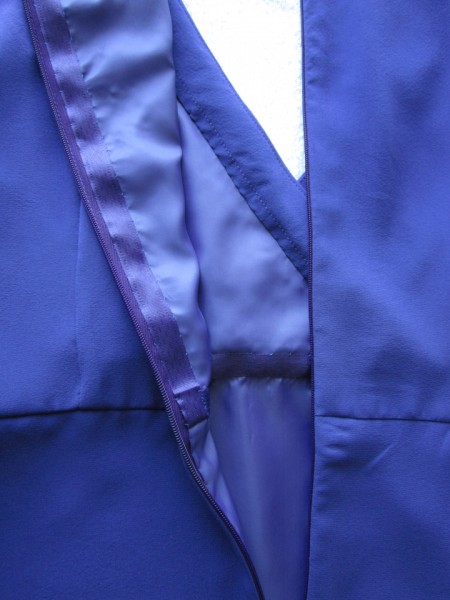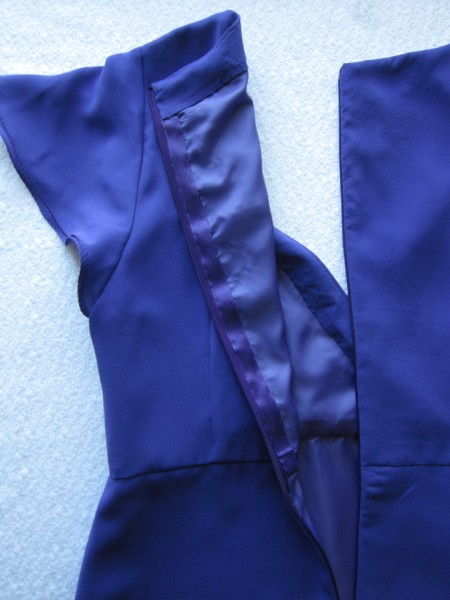 I am an invisible zipper addict and since I used one in this dress, I had to definitely bind the edges.
The pattern instructions said to finish the hem the same as the sleeves so that is exactly what I did.  I did however make the Blue Georgette layer shorter because I wasn't liking the contrast.  It looked to me like the slip was showing!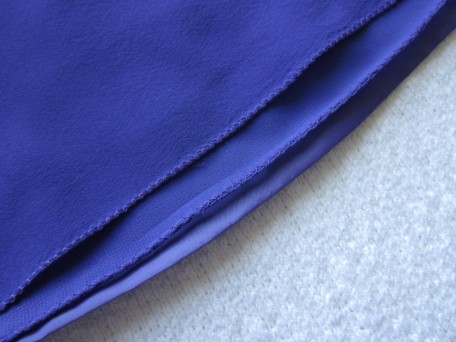 Alright then.  I finished the dress and I really love it.  I think sometime this spring I am going to make up the option A style with the ruffle around the neck… AND I think the fabric will be yellow!
Here is the finished Burda 8836 in Blue!  The hat is a little goofy but I was having trouble getting into photoshoot mode…it was part of an outfit my son had to wear for his bachelor party!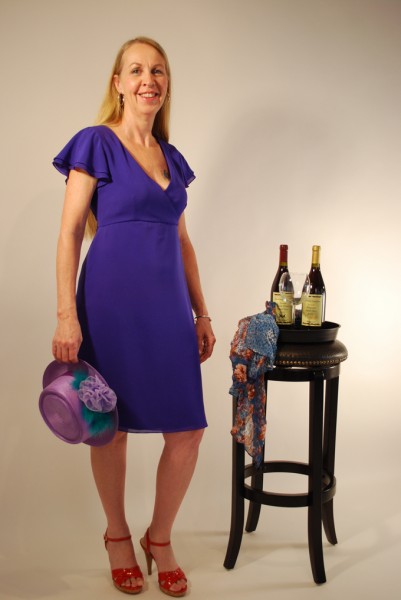 The back of course….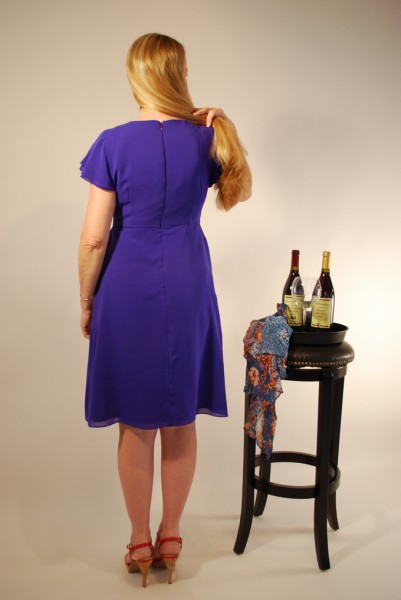 Goofing off as usual…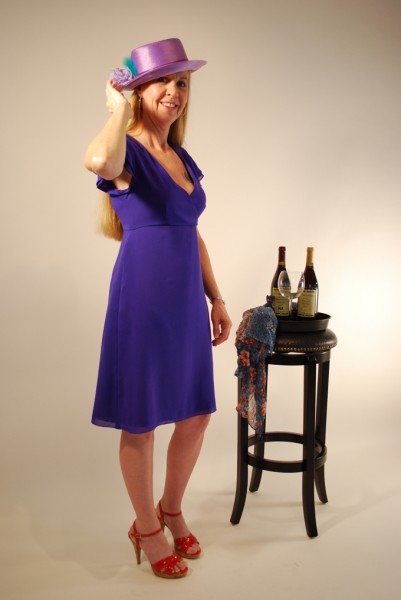 Now I'm ready to head out to the Wine Cellar and celebrate!  Feeling pretty good in my blue, maybe silk, dress.   And lots to celebrate… including that I'm almost finished with my son's flannel shirt, got my 2013 taxes done and started bottling my wine so everything is momentarily alright in the world.  Look out 2014… Here I come!
Salute!  Jessica