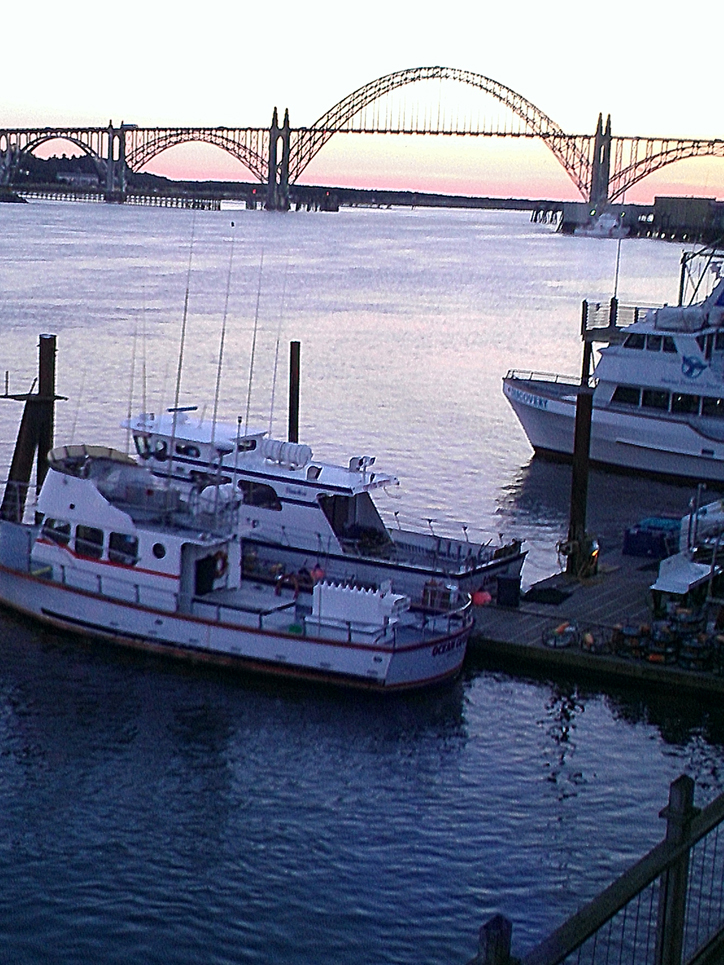 Spent this last weekend with 10 of my bestie gal pals at the February 2015 Seafood and Wine Festival in Newport Oregon.  It was lots of fun… well maybe even more than that, especially when wine, champagne, Fireball and a bunch of "ladies" are involved!  (please note the quotes, italics, bold print and underscore.  Its important that I make this point clear – I want them to remain my forever gal pals!) Seriously though, one of the highlights for me was getting to spend time by the ocean.  I love our ocean here in the Pacific Northwest… even if its not as warm as bath water and doesn't have palm trees swaying in a toasty summer breeze around it. Heavy sigh… gonna have to leave that thought behind though because now it's time to talk about important stuff… like sewing!

It was my hope that my next post would be about pants but with work schedules, time… life, my friend and I have not gotten together yet to do my fitting but no worries, the pants post will arrive soon! In the meantime I'd like to talk about a project that I just finished and involves the Butterick 6054 pattern.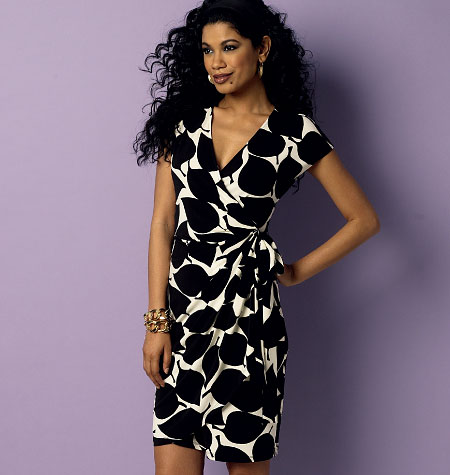 The fabric and look of this dress is what immediately drew me in.  You know… that comfortable summer look… it reminded me of those swaying palm trees and sipping a tropical drink on the beach while lying on a lounge chair!  You're really getting the picture now… I'm ready for summer! And a vacation!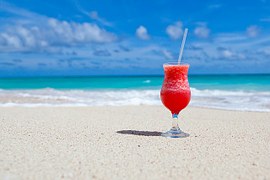 But honestly, the biggest reason for why I bought this pattern was because the Buttericks were on sale, 5 for $5.00!  Anyways, light weight jersey is the suggested fabric to make this dress out of and it just so happened that I had some.  And can you guess what color… yep, black.  I had actually bought the fabric to make a top out of but never did! Yeah, I bet many can say, been there, done that!
At this point I have to admit something… though I really like wearing garments made out of jersey, I don't especially like sewing with it.  And, I really don't like cutting pattern pieces out of it. It's so s-t-r-e-t-c-h-y!!! However, this was not the worst of my problems.  I had to figure out how to cut all the pieces from my 1 and 3/8 yards of black jersey when the pattern instructions called for 1 and 7/8 yards. For several hours, maybe more, I arranged and rearranged.  At one point I had to walk away and decided that a glass of wine might ease my frustration!  Because my cutting table is not very large, I attempted laying the fabric on my big cardboard cutting mat on the floor where there was more space but discovered that my knees were gonna hate that idea so moved the mat and fabric back up onto my table. I persevered and in the end, won!  There was barely any waste which I was actually quite happy about!
The instructions for putting this dress together, for the most part, were easy to understand but I would say that it is not the easiest dress to make. There are 5 pleats in the top of the right side of the skirt, 4 that stack one on another requiring a lot of basting, and then after the skirt is sewn to the bodice which I found a little tricky doing when I reached the glob of pleats section, the 5th pleat is then folded over the top of the others.  The tie comes next which is basted over the top of all this.
This picture shows my beautiful black jersey as a gray… with fuzz balls on it!  I so hate that!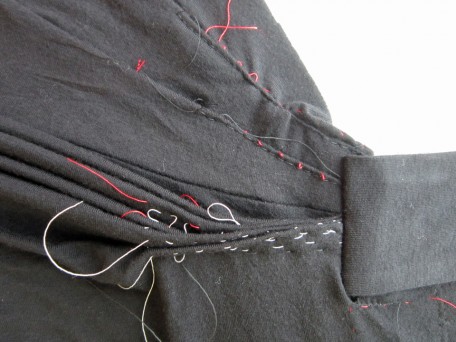 With the tie folded to the left, it's easier to see along the edge of the bodice and skirt.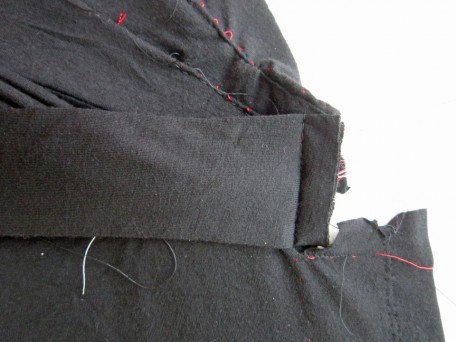 It was at this juncture that I understood why "light weight" jersey is suggested because the next step was to sew on the front right facing which layers over the top of the other ?? layers at the waist area that I've lost track of at this point!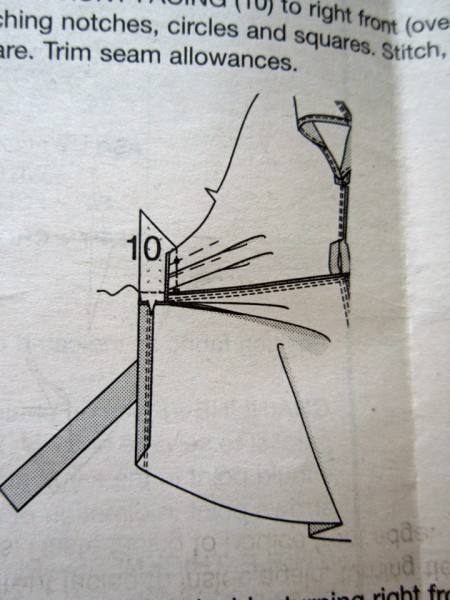 This was when I got a little confused but… right or wrong, this is what I did and it worked fine. I laid the facing over the top, right side to right side, matching the waist and facing edges and notches, and sewed across in a 5/8″ inch seam but stopping on the left at the pivot point where the arrow is pointing.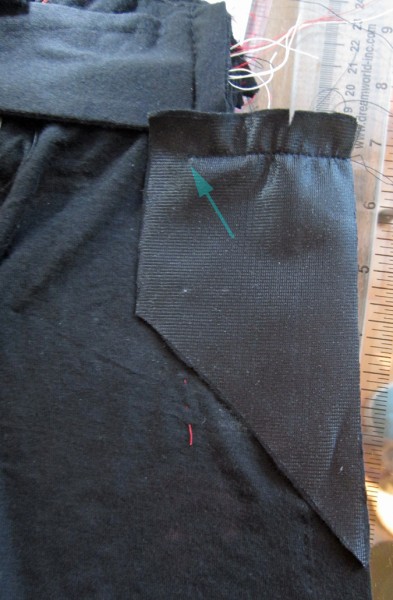 Then I pivoted the facing upwards to match along the bodice edge and then sewed a 5/8″ seam along that edge. Important point:  I did discover that this seam has to stop at the pivot point otherwise the facing doesn't turn to the inside properly.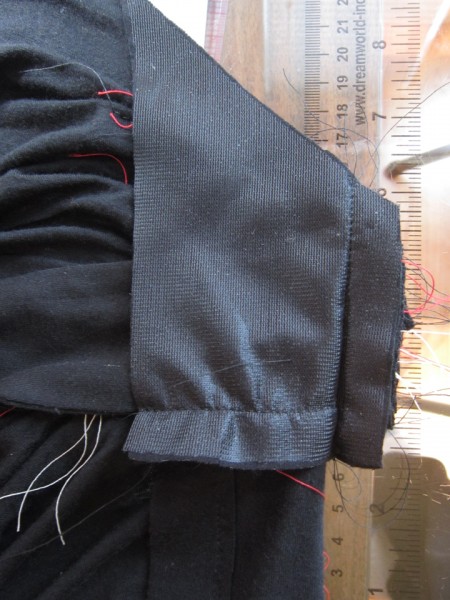 After I took out part of the seam which is a pain in the derriere when the fabric is black and stretchy jersey, this is how it looks turned to the inside. Note the big glob of fabric hence the light weight jersey!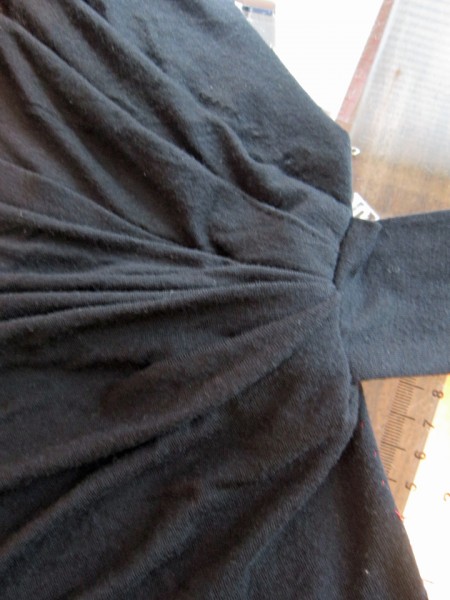 Just got to thinking that I forgot to mention one important little detail that was suppose to happen after sewing the skirt to the bodice.  The pattern instructions call for plastic elastic to be sewn into the waist seam allowance.  I hate wearing elastic in most anything I wear, bras I suppose are the exception to the rule and so I avoid making garments that require it.  However, just to be a good sport, I did try once to apply the elastic.  When finished, it was my opinion that it looked like crap, would probably feel like crap to wear, so removed the crap!  Since the dress already fit me like I liked, I determined that I didn't even need elastic so end of story! We'll see how I do on my wear test… hopefully there will be no regret!
The rest of the construction process went smoothly.  There is a bit of double top stitching but I like the look and it's easy sewing! Well I guess it's time to share.  Oh yeah… there is one other tiny little thing about light weight jersey… it's very thin!  Still trying to work out what to wear underneath but at least in a controlled environment like in my studio, there's no worries! After looking at the pictures, maybe I don't even need to worry!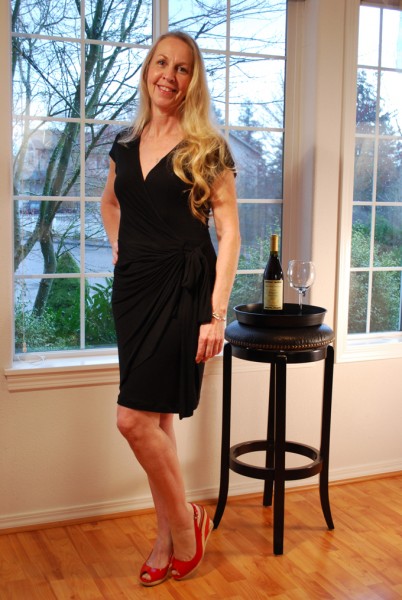 Forgot to move my hair but the back looks like a back for whatever that's worth.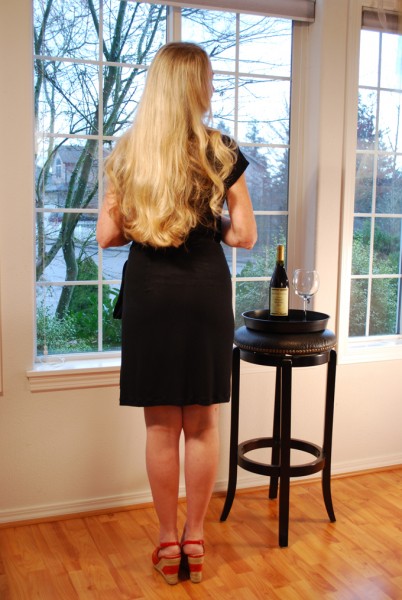 Was trying to do a side shot so the tie would be visible but since the dress is all black it's hard to see.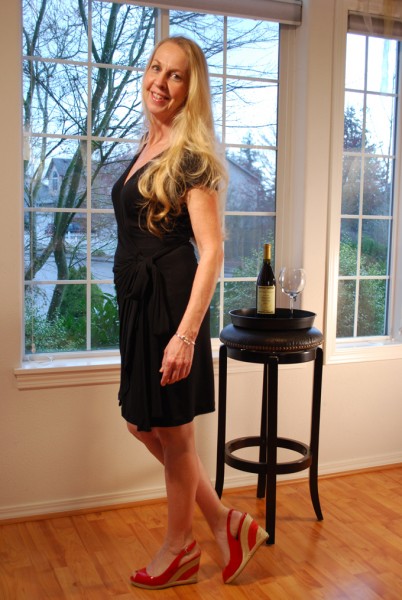 And as far as I can tell, there's no undies showing so light weight jersey certainly rocks this dress!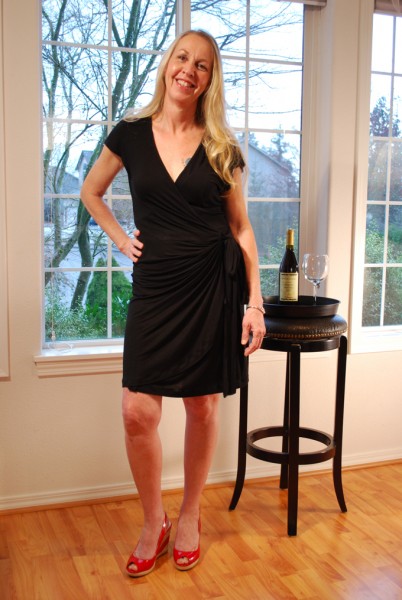 Tomorrow is February 28 and then we roll into March… and Spring!  I'm getting antsy to start sewing my summer dress wardrobe and will share of course.  Also just finished up my pants fitting so have some up and coming news about that too.  Until next post!
Salut! Jessica