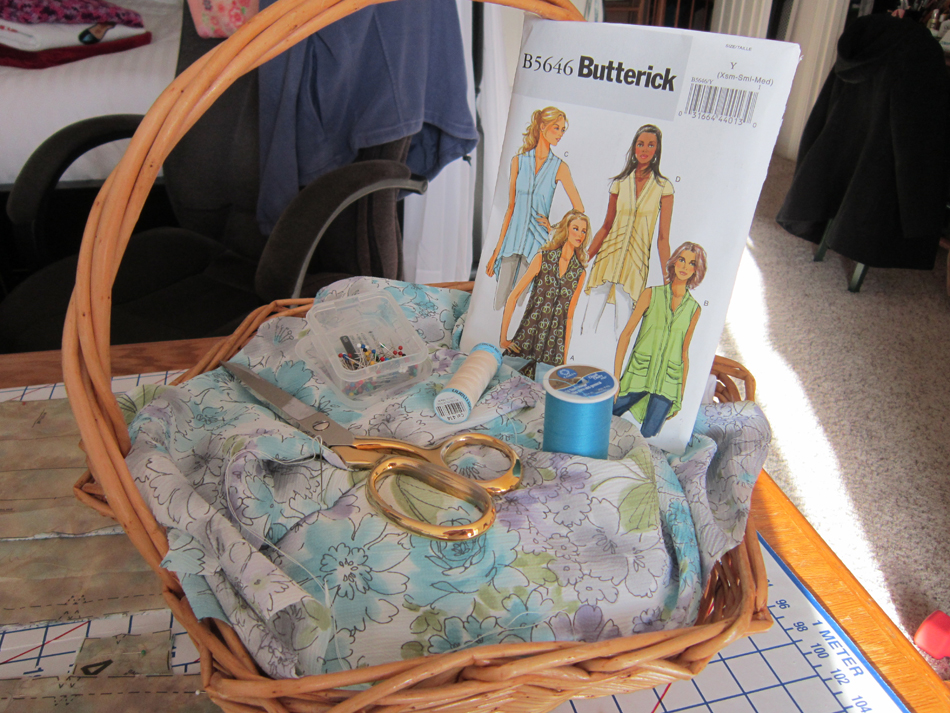 Believe it or not, I have been sewing while I have been chit chatting on this blog for the last few weeks!  And… outdoors soaking up the sun and working in the yard cuz spring is here and it's time to plant!  Even mucked out the small pond and waterfall in my backyard leaving it sparkly and pretty…until next year when I have to do it again!  Here I am though, faithfully sitting here at my desk on this beautiful sunny April 1st Monday morning, writing because this is important too. No fooling!
So what have I been sewing?  Well, actually a few things, with three more projects in the makings.  Sometimes I make myself crazy! Today I am going to start by reviewing Butterick 5646 and with the next several posts McCalls 6708 and Simplicity 1797.  I am splitting them up because I think I talk to much and end up making monster posts that you may not want to sit and read!  See, here I am, yaking!
Butterick 5646                                  McCalls 6708                             Simplicity 1797
Before diving in, let me first say that each of my projects gets to go through muslin consideration.  There's nothing worse than finding out that something doesn't fit properly that you were dreaming of wearing when you finished sewing it.  Been there, done that!
Also, sewing for myself is sort of like dressing a triangle!  I find it a constant challenge with any pattern I choose to make, because my shoulders are a little more narrow than standard shoulders.  My bust… well I won't complain; I am far from gifted in this area, but it could be a lot worse.  Then there's my waist, it's two sizes up as compared to my bust measurement; what's with that!  Hips are hips; they are always the fullest area but the numbers just keep getting bigger.   See…  a triangle!  What has worked best for me is to cut a size 8 at the top with still a bit more adjusting, then ease this size into a 12 at the waist.  Most of the time size 12 is good for the circumference at the hip line, but sometimes I will cut out a 14 just to be sure!  I try not to pay a lot of attention to size though, just actual circumference; notice I said try.  And go figure, my store bought clothes are entirely different sizes!  We are all in this mess together so I'll just leave it at that 🙂
Okay…so here goes:  The Butterick 5646 top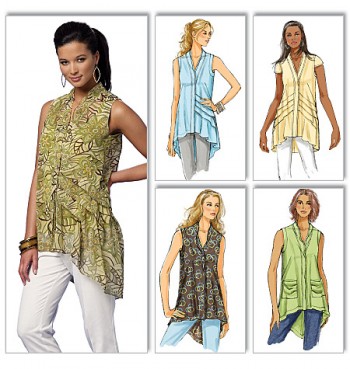 Let me start by saying that I picked this top because I like the long v-shaped back business that's going on.  Besides looking very feminine, it's a butt cover when I don't want my butt seen.  (have no idea why I sometimes feel this way)  😉
The pattern is sized by XS, S, M, L, XL, and XXL
I chose size Small for several reasons.  First, the bust circumference was closest to mine.  Second, the waist and hip measurement with ease was printed on the pattern pieces, a number of inches more than I needed.  And third, I pinned all the tissue pieces  together to see what I was working with and could easily tell that it was going to be loose fitting all the way down;  so…with much contemplation, I decided there would be no muslin done and size Small it would be.  After the fact, I could have made an XS, since I almost feel like I am wearing a painting smock, but…I am not gonna fret!
I made style B because it has pockets which I thought would make the front more interesting.  Chiffon and georgette were two of the recommended fabrics which was why I chose to make it in the first place.  I love to wear things made of these light flowy fabrics, but… I thought I would do a test drive with some fabric I discovered in my stash that I bought a year or two ago to make a skirt out of, don't know what I was thinking, anyways, decided to use it for this top.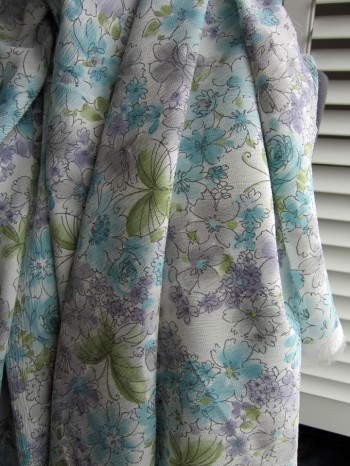 The instructions for the most part were straight forward.  The band around the neck tripped me up at first, likely because I have not sewn a lot of tops.  You had to sew 2 bands allowing for a hidden  band where the buttons and buttonholes are to be placed.  As usual, I went off the beaten path because I wanted blingy buttons and didn't want to hide them!  The 2 bands got to become one band for my whim.  All I did was slip stitch them together along the center edge and then top-stitched 1/4 inch  from the edge all around the entire band.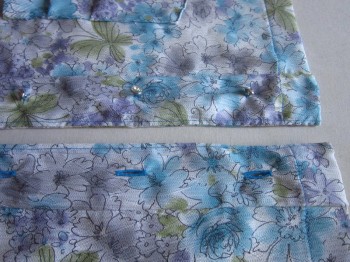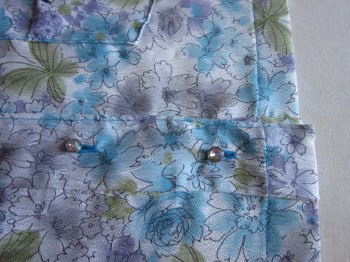 I loved sewing the french darts.  I have read that they can be a bit tricky at times.  I can see how this might be, especially with certain kinds of fabric but the finish line is so complimenting that I can't wait to sew them in future garments.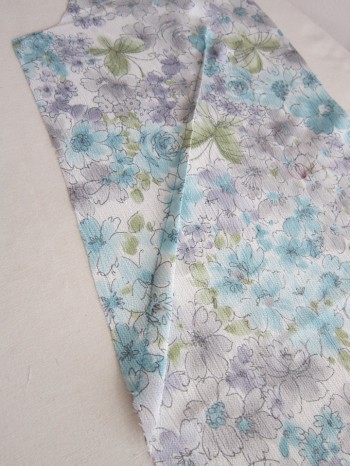 Also, french seams were a suggestion for finished edges which is one of my favs so I did this too.  Maybe I will make this again in an XS if I can find some pretty georgette fabric.
The back…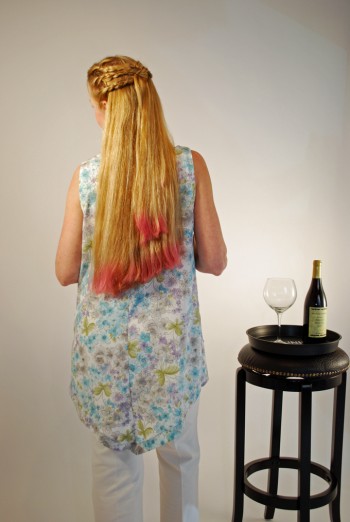 And the front!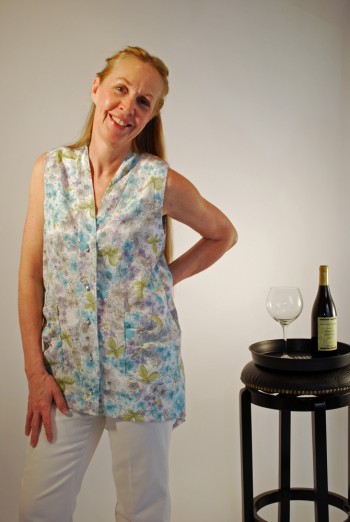 Salut,  Jessica