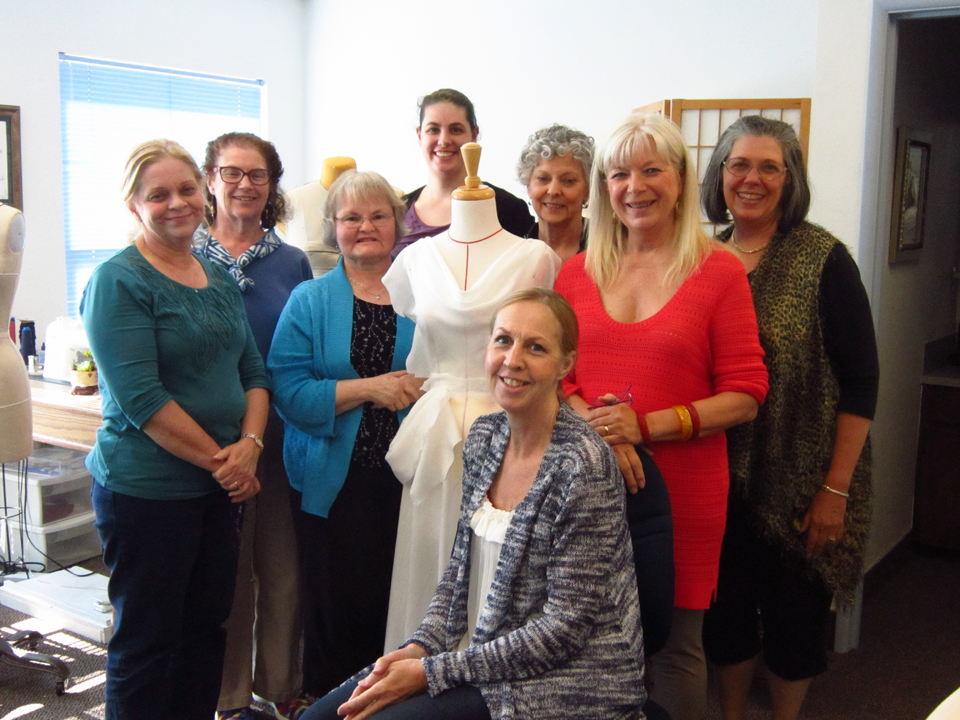 Some fabulous ladies to drape with!
Well…I have finished all my draping classes and learned right from the get-go that my biggest challenge was overcoming the feeling that I was wasting fabric.  I am not a hard core recycle queen, not even remotely close, but as we cut, tore and marked our muslin and rayon for all the different projects we did, I had a struggle going on in my mind.  Kinda weird, I know.  Maybe this was in part due to the fact that at times it's hard for me to find the extra funds to purchase fabric for my own sewing projects so to use up almost 14 yards of muslin and rayon for these classes gnawed on me.  I had to keep reminding myself of what I was gaining in this process and believe me, I truly gained a lot!
To start off, let me first officially introduce you to "Wolfee".   Her and I worked quite well together.  Since she is almost exactly my size, this means that everything I draped, with a few small adjustments, I will be able to use to make garments for myself.  Pretty cool eh!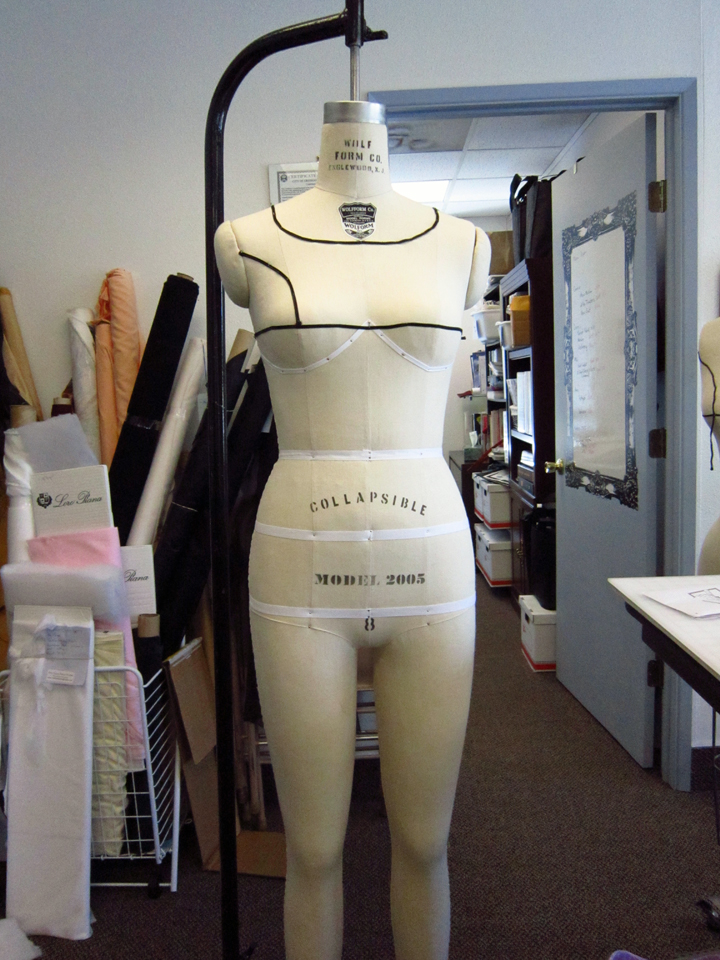 She is wearing black soutache braid for style lines.
Our instructor, Catherine Stephenson, Custom Couture Clothing, was awesome.  She shared a wealth of information as she walked us through our draping projects, providing both group and individual guidance.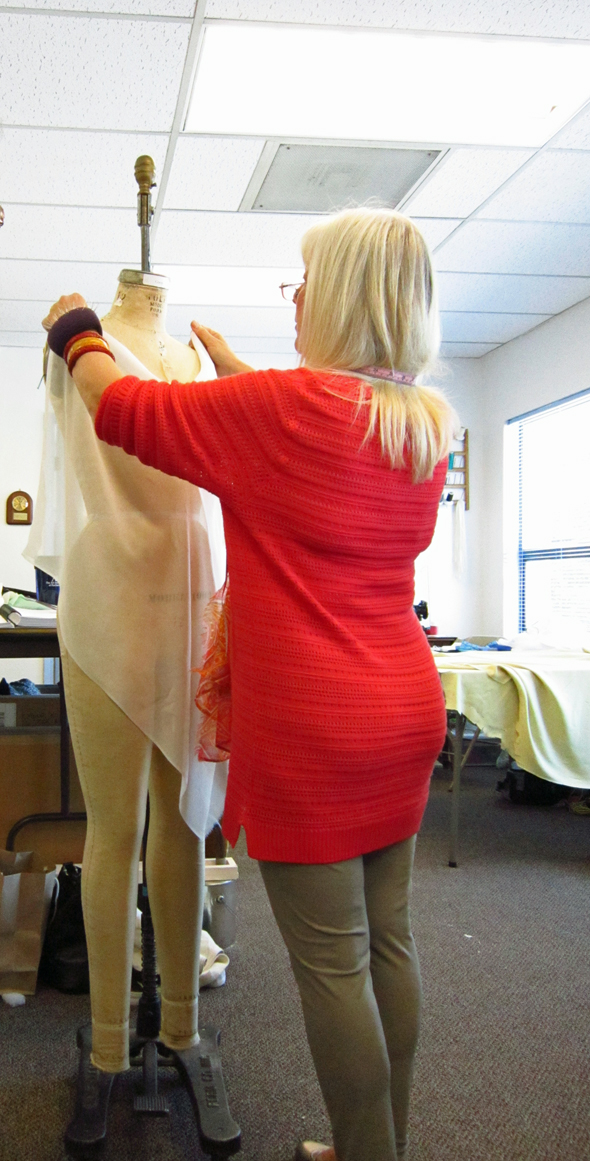 Catherine showing us how to drape a cowl neck.
Some of the draping techniques Catherine used were from the book, "The Art of Fashion Draping" by Connie Amaden-Crawford, a designer for The McCall Pattern Company under the Butterick label.  It's a bit spendy but will certainly be part of my sewing library one day soon.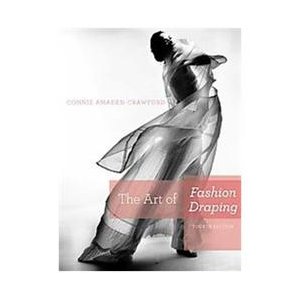 In the first session of classes, we learned the importance of grain lines and cross-grain lines since these play a major role in the draping process.  Another crucial part of draping is being precise and consistent when marking the draped and pinned muslin pieces since these markings are the lines, notches and bust, waist and hip levels that we rely on to construct the garment.  The learning curve started flattening real fast for most of us with this part of the draping process.  It's kind of difficult to take pieces of fabric off of a dress form and then pin them together to form a garment if you can't figure out what your markings mean!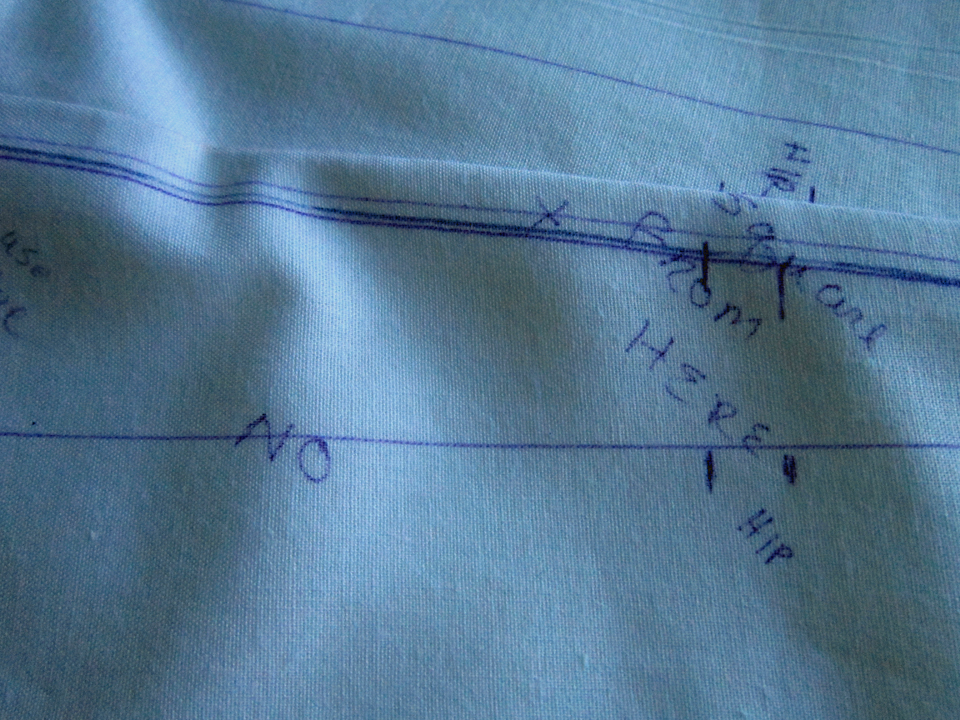 I think our Christian Dior jacket was one of our high points in our draping projects.  After finishing, I knew where I should have been a bit more careful in my draping, but nonetheless, I think that if I can fix a few discrepancies, it could serve as a functional pattern to make a jacket for myself…aside from the crappy collar.  I was not happy with it at all.  It was a project we did earlier and  I didn't know that it was going to be what we would use for the collar of this jacket.
 Princess bodice done and now making peplum.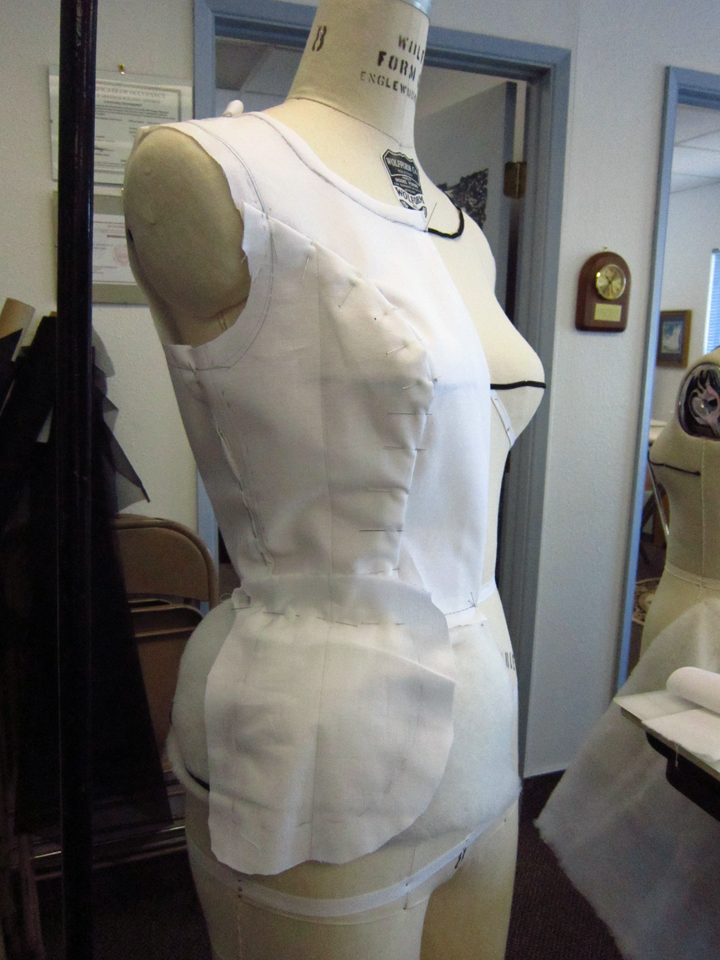 Notice the batting around hp area.  It was to ensure more fullness in the peplum.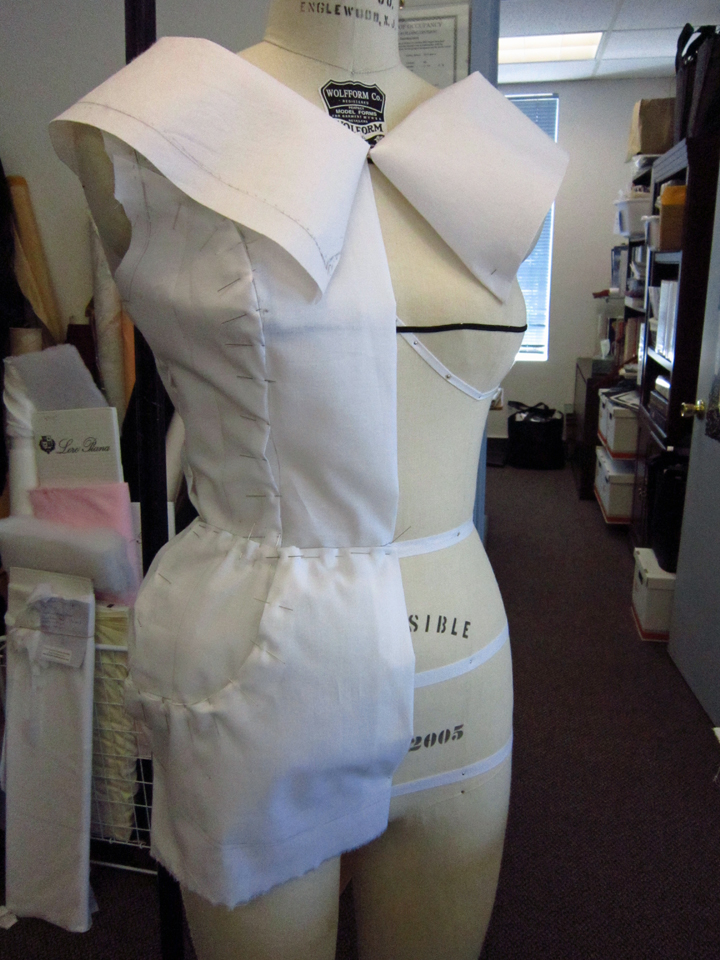 Finished front of Christian Dior jacket with my crappy collar!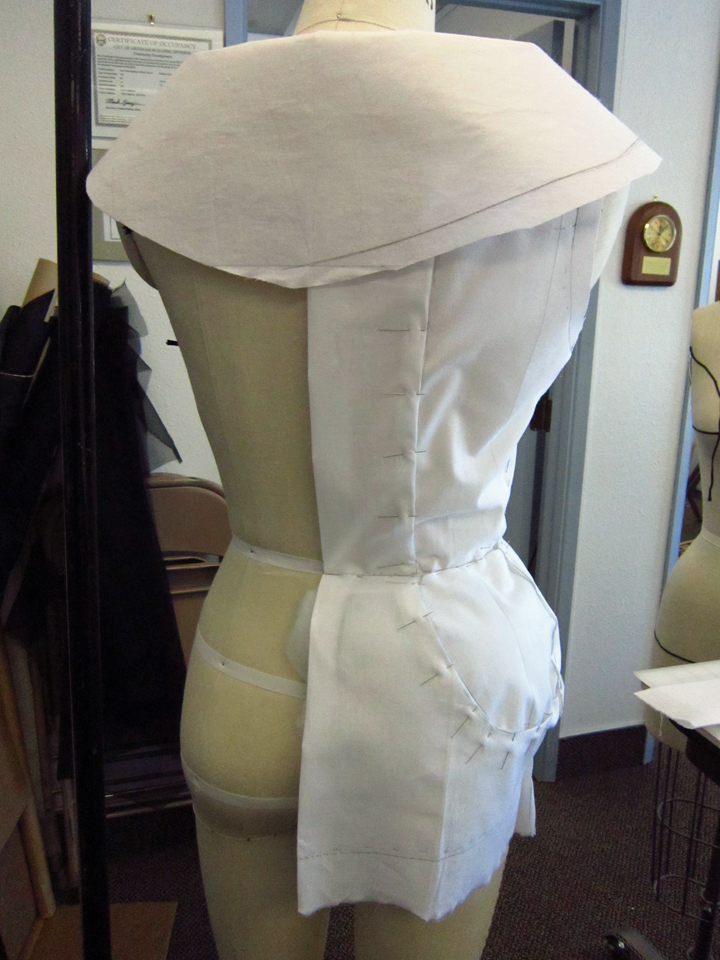 Back of Christian Dior jacket.
The final garment we draped was done on the bias!  I have not worked much with bias though have been wanting to.  I didn't realize the complexity of just what happens when you cut fabric diagonally.  Sheesh!  One thing for sure, I will definitely have plenty of stay tape of some sort on hand when I create a bias garment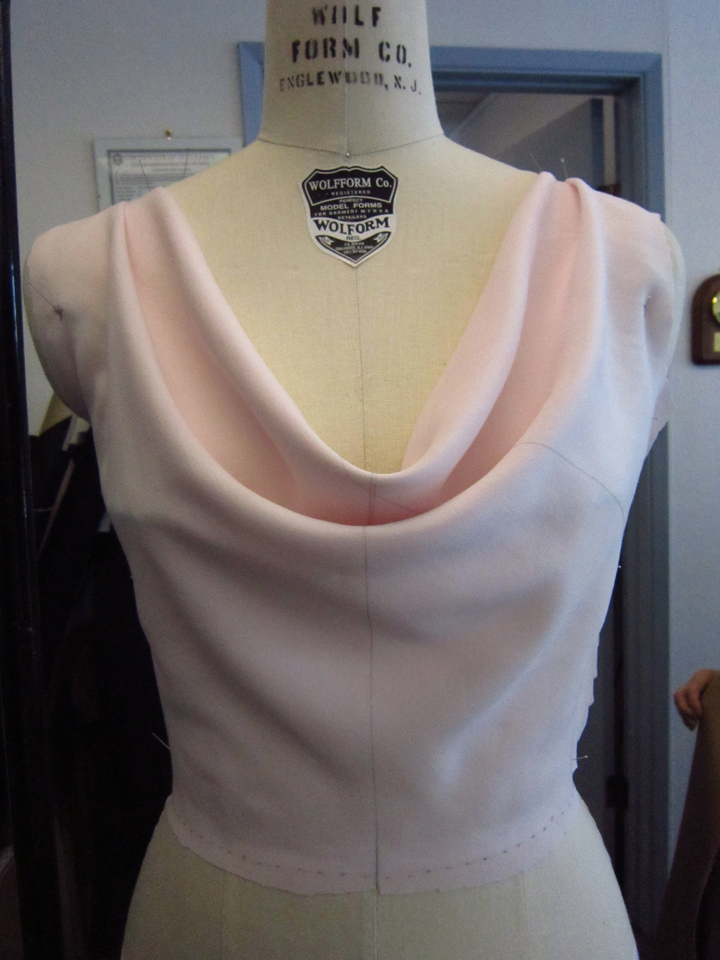 A cowl Neck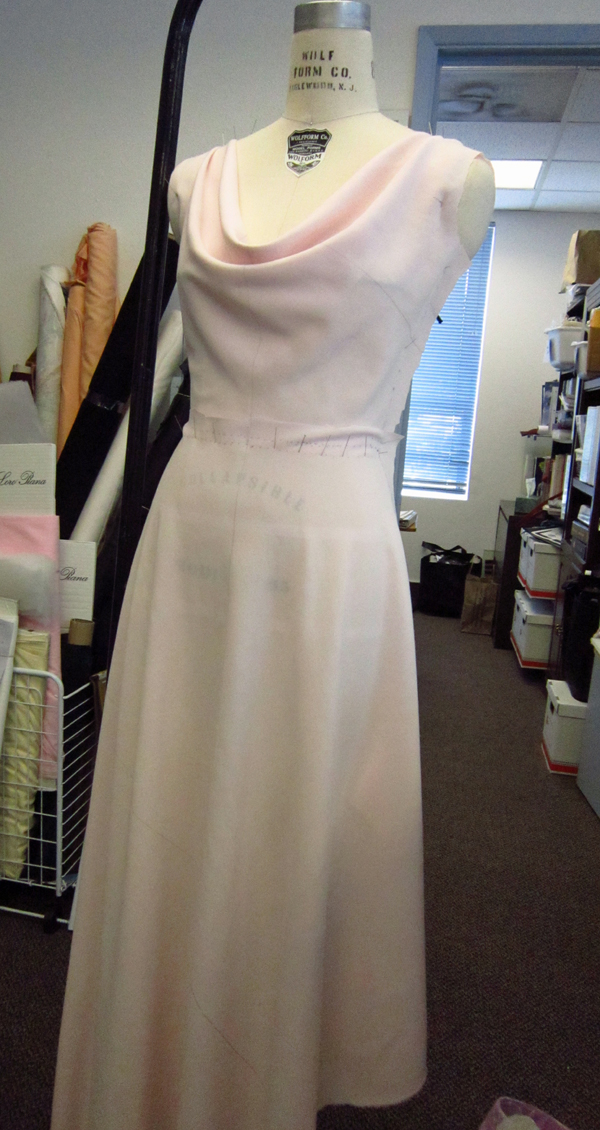 And the potential dress with a cowl neck
So guess what?  Draping is a dying art.  Many accredited fashion schools have removed draping from their fashion design programs because they feels it's an obsolete technique.  Since much of the design work these days is taken from drawings to computer pattern design programs, I guess technology is draping's downfall.  And get this…the ability to sew is not considered a requirement of a fashion designer.  If you are talented enough to be able to design, you leave the sewing to someone else.  Hmm… It sounds to me like being able to construct a garment through sewing is not considered very honorable let alone glamorous.  Right about now I bet you can feel a rant coming on cuz I sure do!
Well I suppose I better show you that my draping classes were successful in showing me how to drape.  If you are a returning visitor, you have seen a picture of some pastel green fabric with embroidered pink polka-dots.  If this is your first visit, well…I used this fabric to make the princess-seam line dress that we draped in one of our classes and here it is.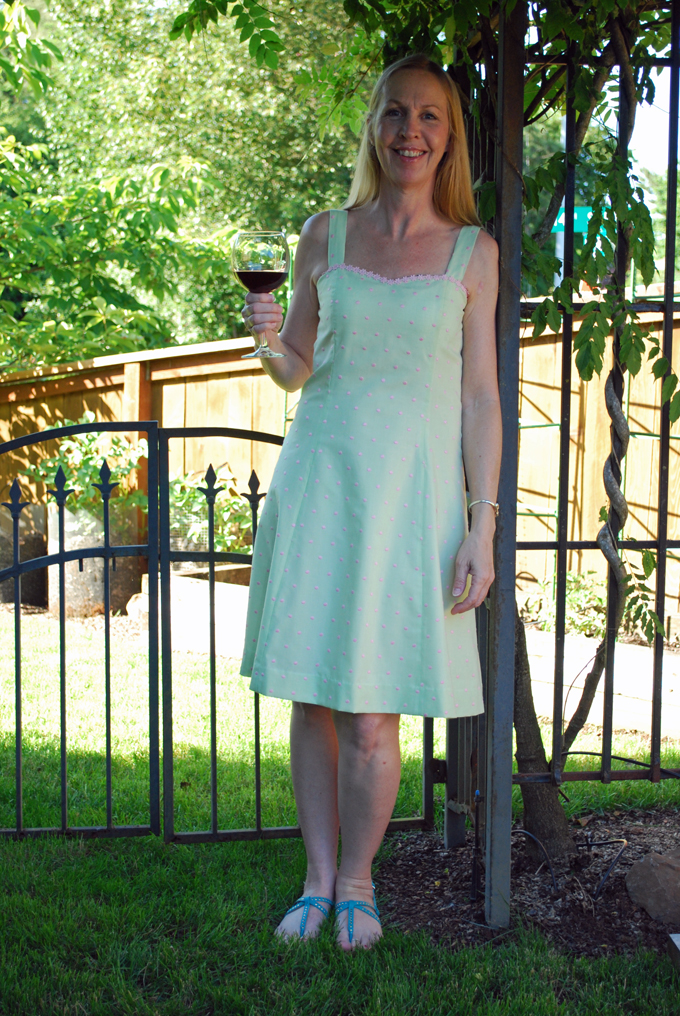 I wore this to one of our last draping classes since Catherine had challenged me to make it and I knew I couldn't chicken out.  I felt a lot of sweating going on when she said take your sweater off and let me see.  Fortunately this was not a full fledged test, but if it had been, from the smile on her face, I think I might have got an "A".
Salute!  Jessica