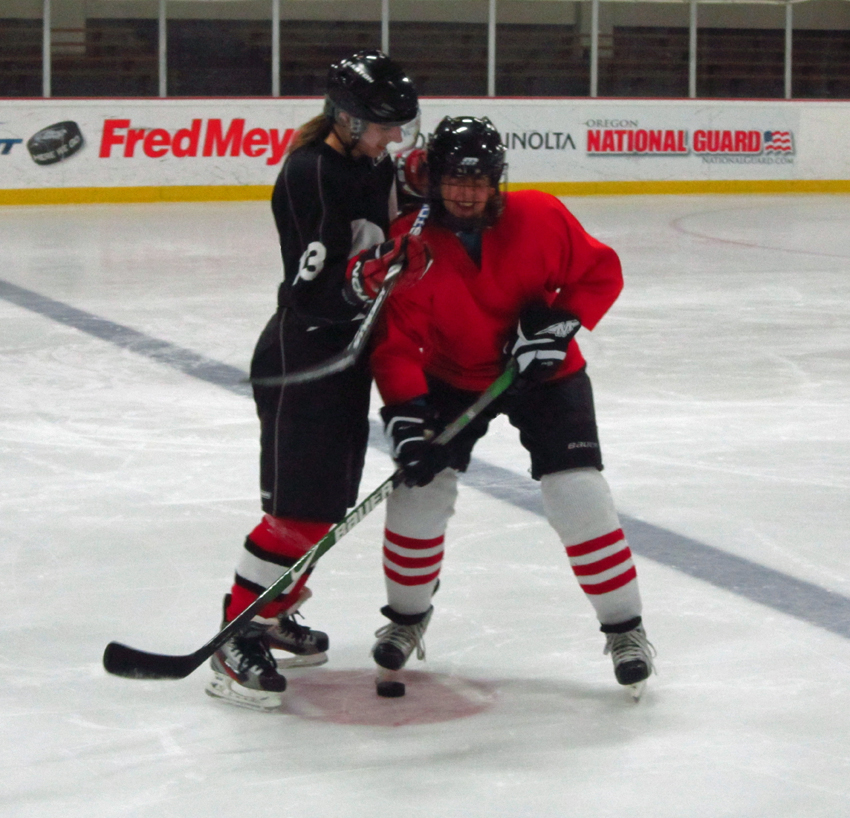 Summer is definitely here!  We've had a lot of 90 degree plus kind of days and we aren't done yet!  Don't misunderstand me though,  I am not complaining.  It's pretty nice not being cold, wet and wearing fleece!  And… what's really cool and the best remedy for dealing with this hot weather is the quality mother-daughter time we get to spend at the ice area.  Both my daughter and I love to dress up and wear high heels but at every opportunity, off go the heels and on go the skates!  My life, as many of you regular readers may have already figured out, is an interesting marriage of interests but there is never a dull moment which is fine by me!
As for sewing, well… with all of this warm weather I seem to be getting behind on projects I have been working on as well as those I have been planning.  My sewing room starts warming up about 11:00 and by noon I have to give it up and go chill out.  Then my mind is free to contemplate on even more sewing projects. (digging a hole for myself huh!)  And.. when it's 94 outside, I have no idea why but I have been thinking about making a coat.   To your next question, no, I have never made one before but I have made jackets with various tailoring techniques so why not?  I purchased a book some time ago, like sometime back in the late 90″s (whoa, the 90's are starting to sound sort of ancient), to learn to make tailored jackets.  It was written by Pati Palmer and Susan Pletsch.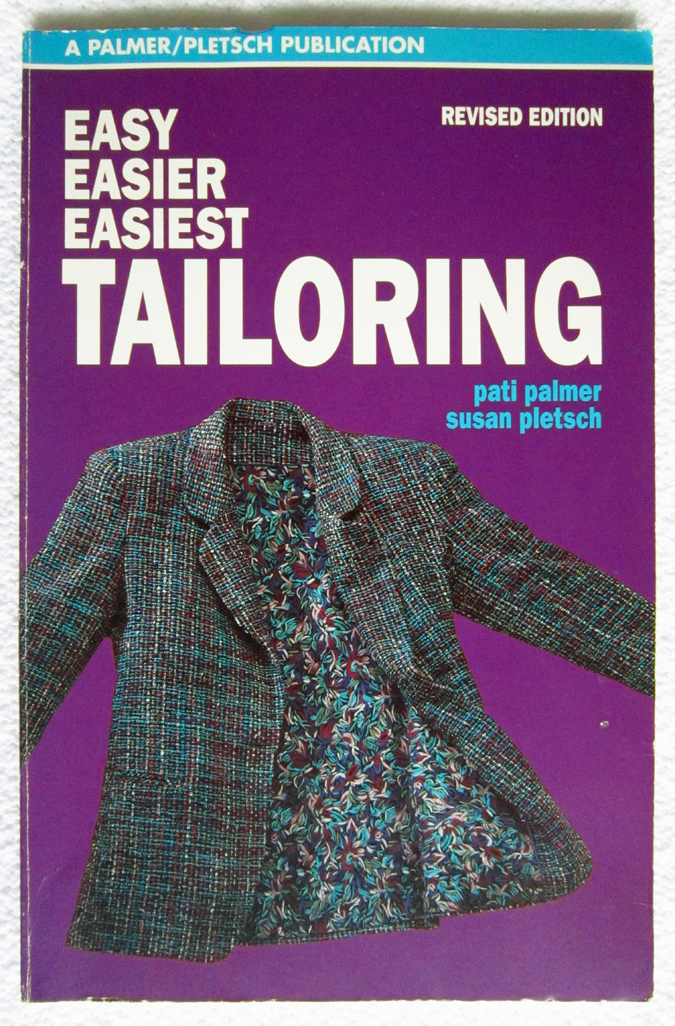 Unfortunately this book is no longer in print but I noticed that used copies are still available on their website.  Amazon may also be a good source.  A newer book was written to replace this one titled "Jackets for Real People".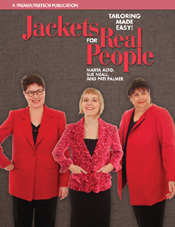 I've not had an opportunity to view it so I can't convey differences but it looks to be loaded with pictures and quite possibly more information than my book.  Despite which one you would choose to have, these ladies do a very nice job of explaining things so that even a beginning sewing artist, seamstress, tailor, or sewing enthusiast can understand and follow.  Warm winter wool coats are not discussed in my copy of Easy, Easier, Easiest Tailoring, rather jackets and blazers, however, to me it seems that a coat is really nothing more than a longer version of  a jacket with maybe an additional internal layer or two of fabric for warmth so I think the tailoring techniques in either book can still be applied.
I do sometimes question my enthusiastic confidence, especially when I get a notion like trying to make my own coat, so to be on the safe side, I did what lots of others out in the world do, I went to ask the oracle… the internets, about coat making.  Interestingly, either I stink at surfing the internets or there's just not a lot about coat making to inquire about.  I did find bits and pieces, but overall, making a coat seems to be sort of uncharted territory.  I did find a few patterns that caught my attention, each with one or two features that I want to include in my coat.   There is the Simplicity 2311.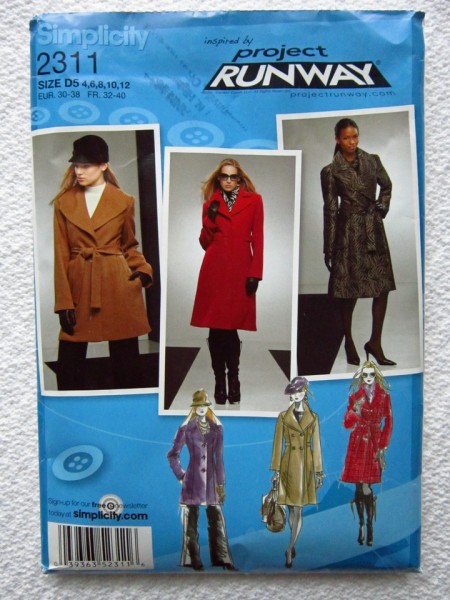 What I like most is the shawl collar, but I am not keen on the one piece sleeves and yoke in the back.  It does have a double breasted front, a definite feature for my coat.
Another possibility is the Simplicity 1759 pattern,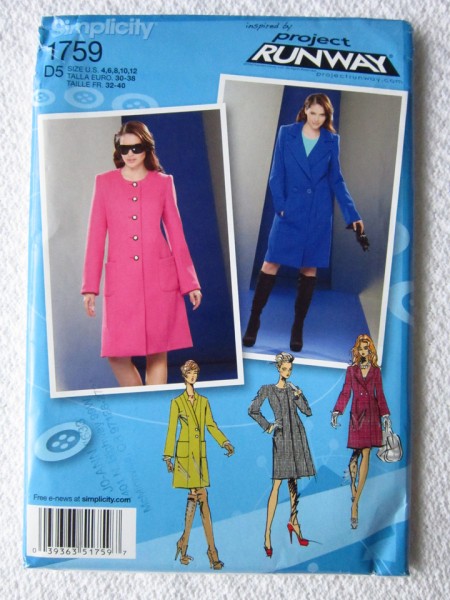 This too is double breasted, has the 2 piece sleeve and princess seam style.  Hmm… getting closer, but I still haven't found exactly what I am imagining.
Not ready to give up, I next looked at the Burda 7855 pattern.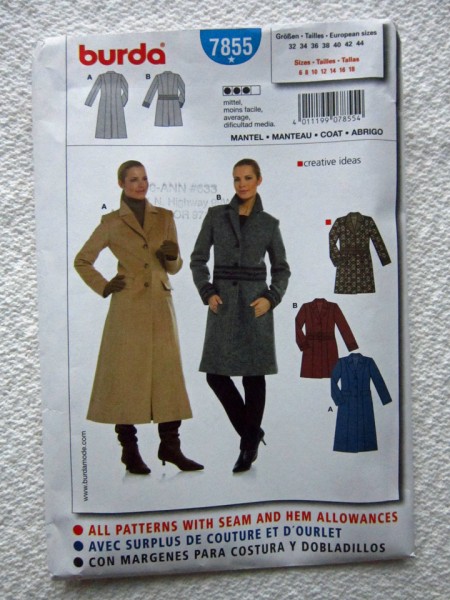 This pattern had most of the length that I am after.  Actually I would like my coat to be ankle length.
Now here is where the heavy sigh comes in.  A realization has hit me straight in the face like dung beetles zeroing in on poo! (actually witnessed this in the Amazon jungle)  The coat I have in mind does not exist which means I am going to have to do a bit of design work.  Actually a TON of design work.
Whenever I start planning a new project of any sort, especially with sewing projects, I have developed a skill that requires wasting lots and lots of paper; it's called making lists.  For whatever reason, this is the way my mind works and I choose not to argue with it because I would loose.  So it was after I purchased all 3 of the above patterns, opened them up, compared pattern pieces, measured, and cut, that I realized it was time to "make a list" of the style and features I want my coat to have before going any further.  It really wasn't too awful.
Princess seam style (with subtle flare at bottom)
Full length
2-piece sleeves
Double breasted
Seam pockets
Removable hood (for times when I am trying to save my hairdo from the rain)
Lapel collar (I was thinking a shawl collar but I want a hood so I guess the hood cancels out shawl – unless…. I make a second coat – ewwwww, scary thought right now)
So my greatest hope at this point in time is that I can design this list of wants into the coat of my dreams AND get it finished before the cold weather really sets in.   Well… time will certainly tell but for now, after a great workout today at the ice arena, it's time for some cool refreshing beverages at one of our local hot spots, McMenamins Rooftop Restaurant and Bar.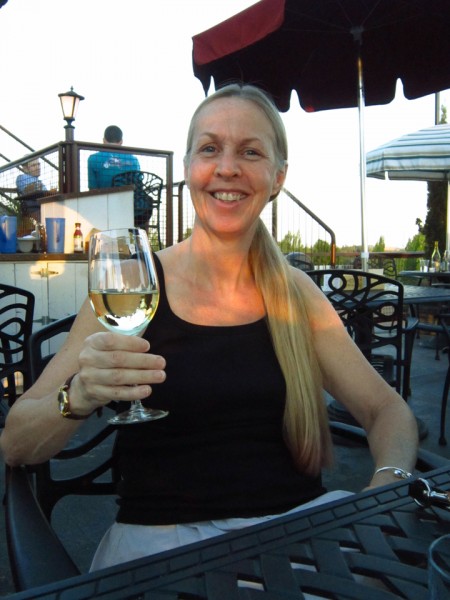 We will sit and eat our delicious food, drink our fabulous beverages as I ponder coat making, new and unfinished projects and costumes!  Yes…costumes!  Halloween will be here before we know it and that's when the artist that dwells somewhere within me comes out to play and then the real sewing artistry fun begins!  But I promise that I will keep you updated on the coat extravaganza!
Salute!  Jessica