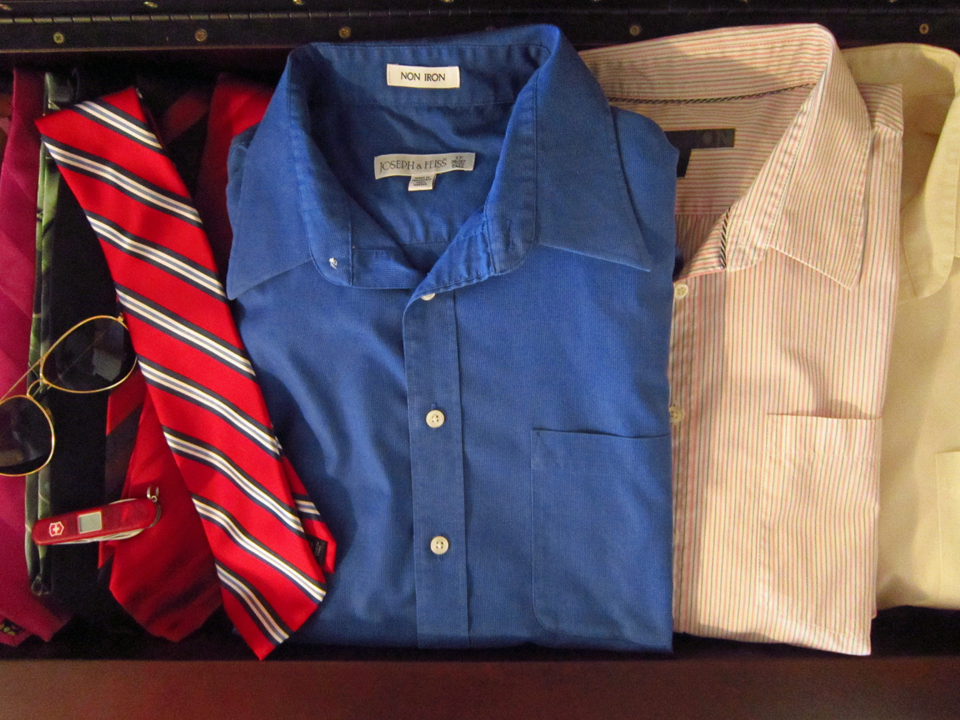 Sewing for my daughter is lots of fun.  Not just because I get to sew something and it happens to be for her… there is a whole lot of stuff that happens.  There is the choosing of the pattern and fabric that gives us the opportunity to spend some time together.  And then there is this communicative thing that happens between us. We talk about our likes and dislikes, our favorite colors, what trends we like and what we absolutely hate!  We talk about what looks good on her and what looks good on me.  She becomes my confidante/fashion apparel assistant adviser.  And in all of this, the mother-daughter bond is ever strong (most of the time).    So.. how do I improve the bonding power in my relationships with my sons using the sewing approach?  Easy!  By shirtmaking (hopefully).
Unless one is fortunate enough to have a shirtmaker mentor, you will be forced to start off like I did and visit your local fabric store, looking through the pattern books hoping there is a men's pattern available.  I did find one that I thought I could live with.
McCalls 6044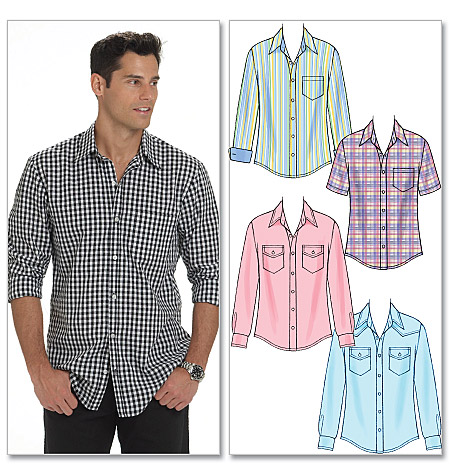 I could live with him.  Hey!  I'm human.
Ahem…My shirtmaking career is going to start with my first victim, Jared, so I selected an x-large pattern size because that's what he wears in RTW (ready-to-wear) shirts.  Now I know better than to think that this shirt is going to be an exact fit so before cutting out anything, I decided to get lots of measurements.  First of course were my son's.  The next were from a shirt that fits him comfortably.  I measured the neck, the shoulder length, the armhole (armscye), shoulder width, chest, waist, hips and shirt length.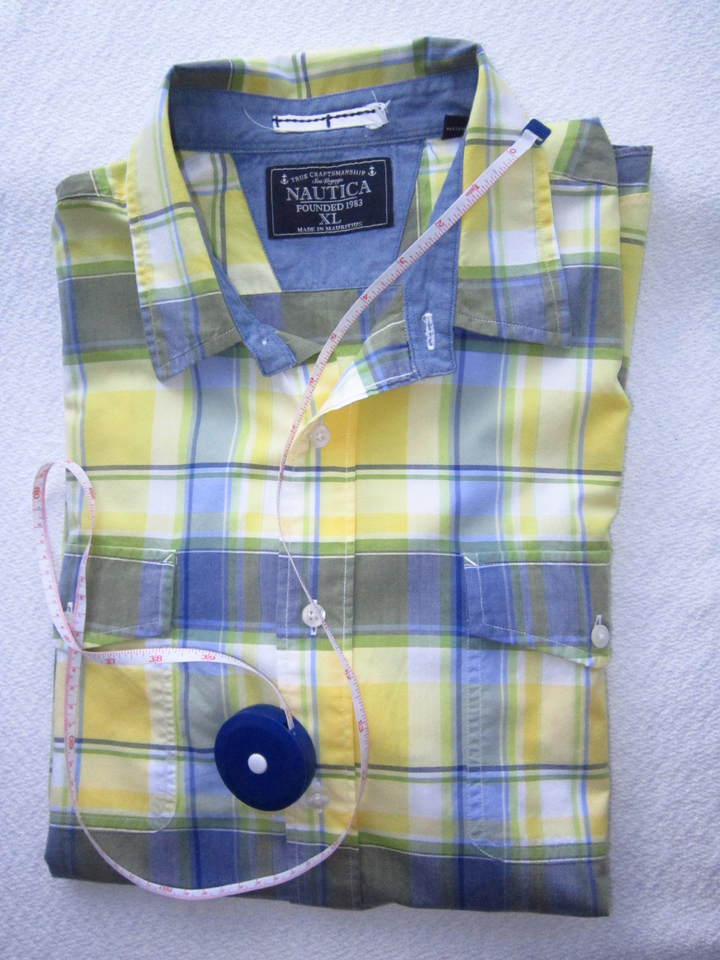 The pattern measurements were almost identical to the RTW shirt so I figured I would push on to making a muslin (with a little tweek of course).  I wanted a traditional yoke in the back, not a western styled one that comes with the pattern so I changed it.  The result… well the neck fit really nice, but from there, let's just say I was pretty disappointed.   No…it was not because of my change in the yoke.  You thought you had me there huh!  These were the usual fitting issues that seem to happen every time with any pattern.  The shoulders hung almost 2 inches over the ridge points, at chest level we needed to lose about 1 to 2 inches and the armpit area was full of extra fabric.  "Awe crap" were naturally my first words.  So then I made him try on his RTW shirt and discovered almost the same problems.   I had a revelation!  Besides the fact that I am finally figuring out fitting problems and recognizing them easily, more importantly, men have become comfortable wearing crappy fitted shirts!
This is where the bonding thing was suppose to be happening between me and my son but from his perspective, I think there is a bit of confusion.  I think he is thinking, it fits him just fine so why not make the shirt and be done with it.  I on the other hand want to make him the best shirt he could ever have.  It's a stale mate… a Mars vs Venus!  So he walked off, thinking about cars, girls, making videos, drinking a beer.. whatever guys think about, and I did the only thing I could think of… I asked the Oracle (the internets!) what she knew about shirtmaking.
I learned quite a bit during my visit to the Oracle.  There are some pretty nifty bloggers on the internets who share a wealth of information about shirtmaking.
Peter Lappin, of Malepatternboldness.blogspot.com is a very interesting gent whose blog I will continue to enjoy reading.  He talked about felling seams when shirtmaking, totally groovy information that I hadn't even thought of!
Pamela Erny, a custom shirtmaker who shared her split cowel collar design on her blog site,  Off-the-cuff-style.blogspot.com that I can't wait to try.
Geoffrey Edwards, blog writer who posts on the BurdaStyle.com forum website under the name, gedwoods.  To my delight, one of his postings I found on the forum was "Drafting The Men's Shirt Block".  Interestingly, he is a Canadian scientist with such a passion for sewing that for the past five years has developed and designed a new clothing line, "g-moda".   Last night I drafted a shirt for my son using this gentleman's drafting instructions and it turned out quite well visibly.  The next test of course will be to make a muslin.
And last but not least, David Page Coffin, author of  "Shirtmaking".  His book was recommended in a number of the shirtmaking blog articles I have read.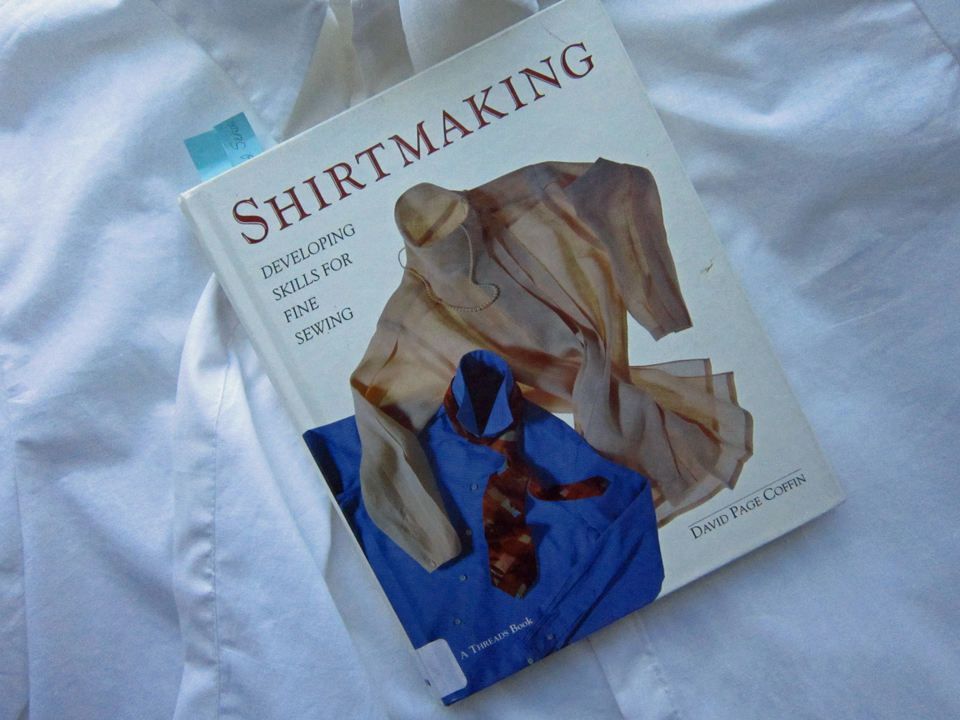 The beauty of this book discovery was that day-before-yesterday, while perusing the sewing book section in my local library not expecting to find much of anything, I stumbled across this very book!  What a wealth of information.  It's so awesome that I have been reading it like a novel!  It's gonna be another one of my sewing library requirements! What's more…he walks you through his draping technique, step-by-step, in the creating of a shirt, on a real man!  You know what this means don't you.  I have briefed Jared of my intentions and noted a rather grim look on his face.  There is no doubt in my mind that a six-pack of Newkie Brown Ale will appease his concerns and sweeten the deal!  There will be an up-date soon on my shirtmaking career including the live male draping.  Almost forgot to mention, straight pins will be involved!
Salute!  Jessica