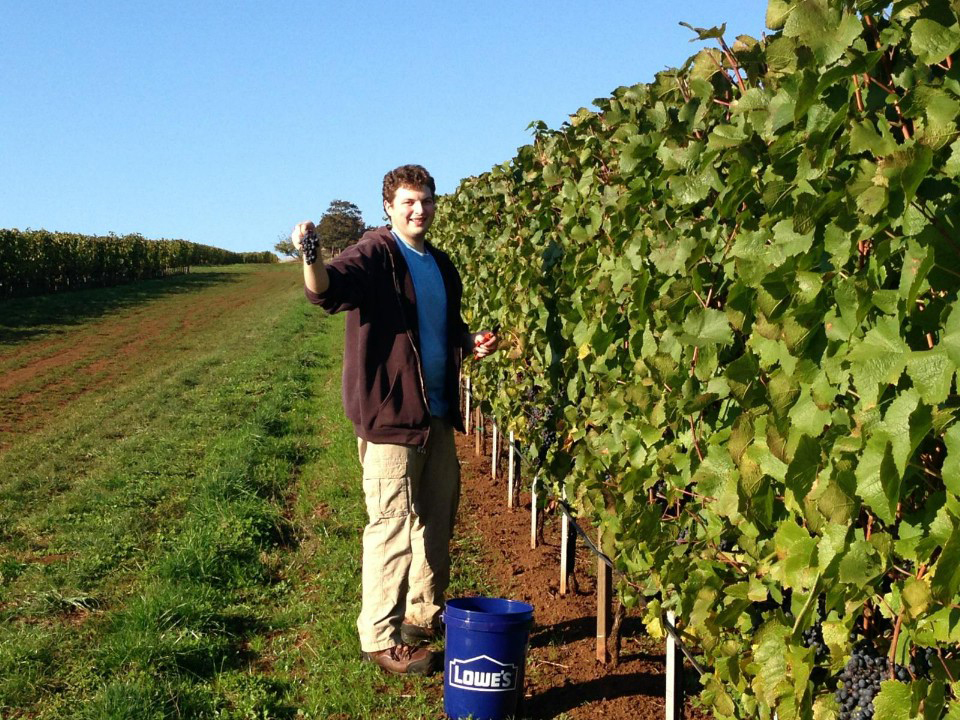 Here is my son in total bliss in the vineyard.   You might think it's because he is spending the afternoon outdoors on a beautiful day.  But nope… that's not it.  He is laughing his derriere off because he knows that he's dragging home 300 MORE pounds of grapes for me to make wine out of!  As of today while writing this, I have almost 500 lbs of grapes fermenting in my kitchen!  We are going to be very happy people for the next year!
So there it is… since I'm knee deep in grapes, I'm a little bit late posting costume number4 for you but better late than never eh!  In my last post, I mentioned that I was going to show you something renaissancey!  I should clarify that what I am actually going to show you is medieval.  The difference between Renaissance and Medieval is really nothing more than two different periods of time in history with the medieval period coming before the renaissance period.  There… now that I have that covered, we are off!
The Butterick 4827 pattern is a very nice put-together medieval dress ensemble.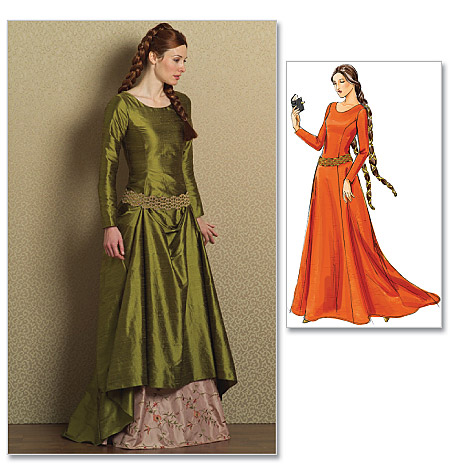 The only challenges to making it, from my perspective, are in the fitting and putting in the eyelets if you happen to get some of the crappy gold ones that I used!  (Sorry to say it but I think they were a Dritz product)  They did not set well and so have snaggy edges that are messing up the cording that laces up the back, replacing the need for a zipper.  Yes!  No zipper, but… be eyelet aware!  They have some very nice grommets in assorted colors at corsetmaking.com which I have used since making this dress and they are definitely worth the trouble ordering.   Grommets are just a little bit more heavy duty than eyelets but so is a zipper!  Oh.. also a bit of warning… since the back laces, you will need help getting dressed AND undressed but that's none of my business!
For the dress I used drapery fabric, a little heavier than I would have liked and which may have have played a little part in the eyelet disaster, but I loved the look of it and couldn't resist!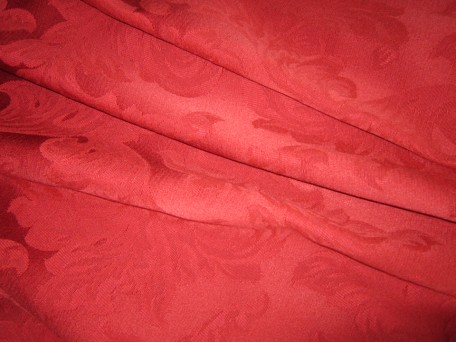 The instructions are pretty easy to follow though I did get tripped up a little when it came time to make the bands that the eyelets are inserted in.  The instructions talk about "the band" and it's not until step 21 when the instructions say to apply eyelets to each band!  Maybe I was just having a dork moment but there it is just in case it's confusing to any of you.
The finished dress has princess seams with a small chapel train built into the length of the back.  As I mentioned earlier, the zipper is replaced by lacing down the back.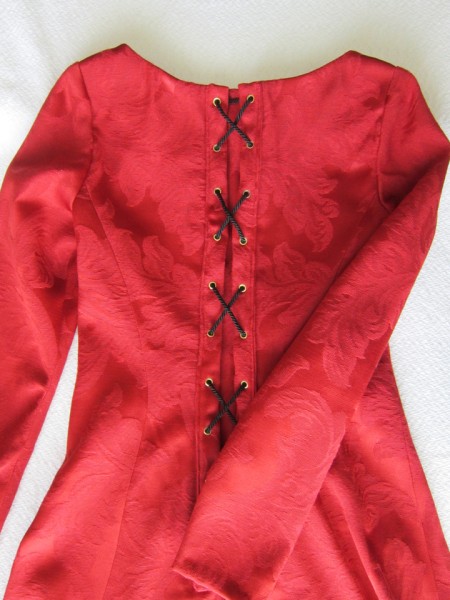 I made this dress several years ago for an SCA event and at the time did not make a skirt so to give this pattern a fair review, I decided to go ahead and make the skirt.  I envisioned some sort of gold taffeta fabric with embroidered somethings on it but the fabric gods were not interested in helping me out!  I had to keep reminding myself that it was just a costume so I found myself settling for some gold metallic fabric.  I had many reservations, clear up until it was time to cut out my pieces.  Following a  glass of wine, I decided "who cares!" and started cutting.  It was actually really fun sewing with it and I am quite happy with how it turned out.  No zipper here either… just a button and buttonhole though you can finish it with hooks or whatever type of fasteners please you.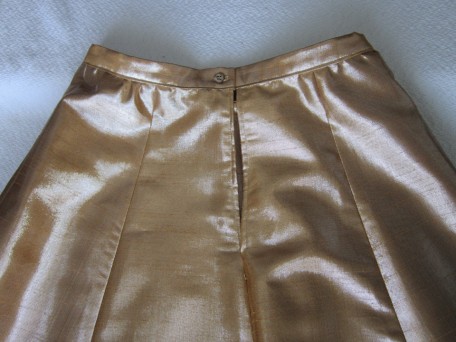 I loved the look of the belt that the model is wearing on the pattern envelope and assume it is made using the belt pattern pieces included.  However… where do you find that kind of fabric?!!!  Once again, I detoured and decided to go with something that I had stuffed away in a costume basket.  I don't know where it came from but I think it use to belong to my daughter.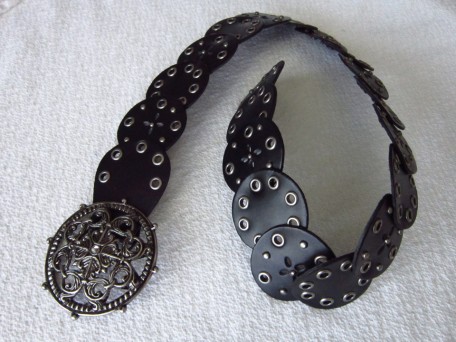 Of course there is footwear that must be considered!  I purchased these medieval boots on-line at Costumes of Nashua.  You have to scroll down a ways before you see these.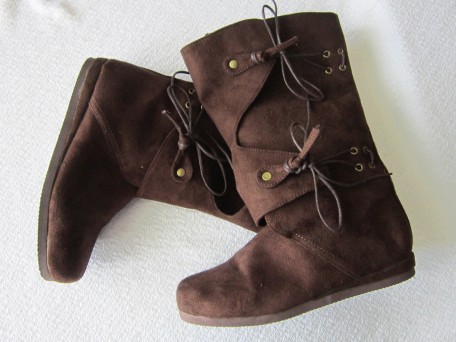 Okay!  So there's the necessary garb for a medieval female.  And here she is doing her best to not look too tired!  LOL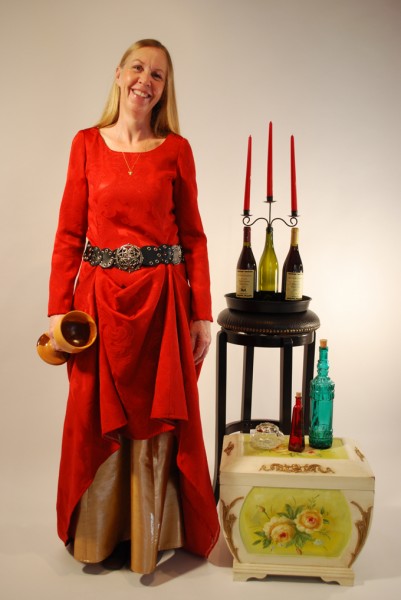 The fabric of my dress was too heavy to really look good hanging over the gold skirt.  Fortunately it is being held up with safety pins that I can easily remove!
No skirt, but now you can see the dress and train.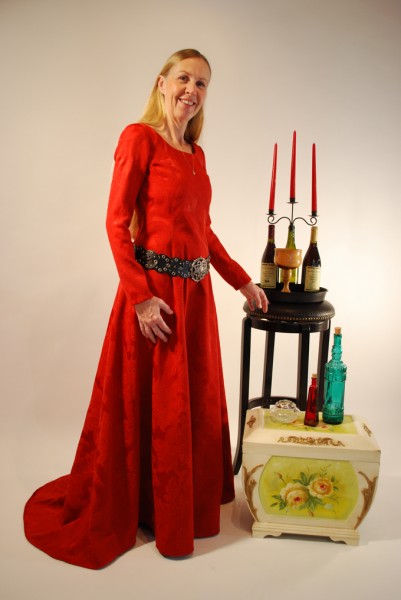 Of course there is the interesting back…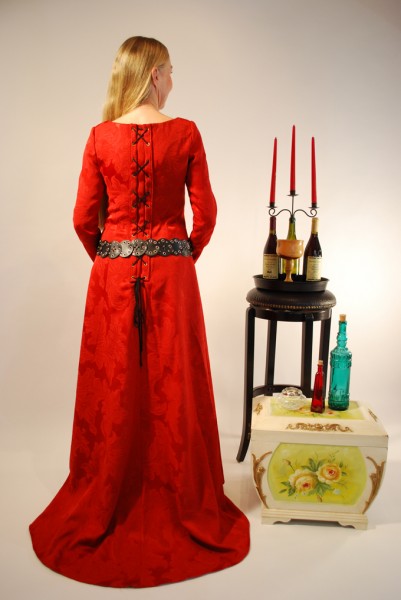 And one with my hair.  Hey… it's about the only thing that I was born with that I half like!  I keep toying with cutting it off though…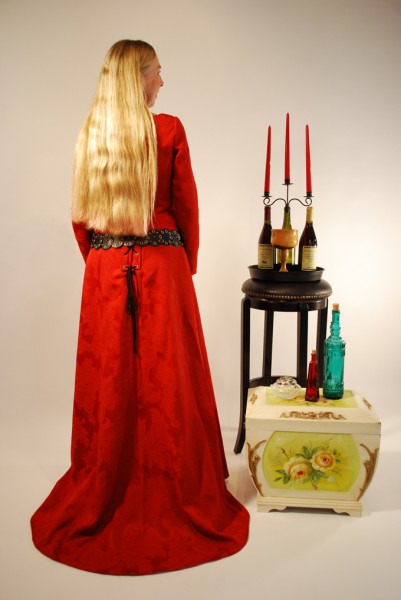 And you always have to have a fun one!  I was trying to show some boot!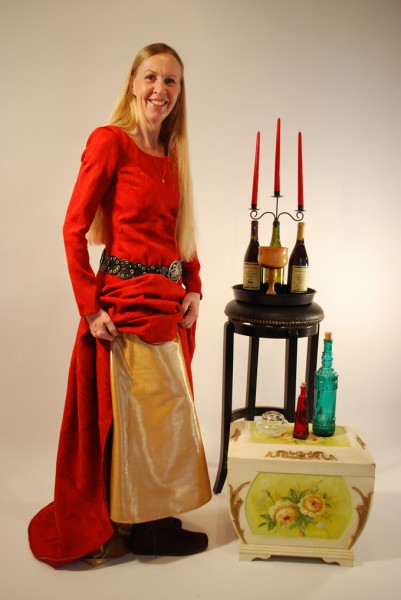 Okay then.  That's it for this week… I hope this is helping give you some ideas for your Halloween debut if you haven't already set to work creating something fabulous!  Next week's costume line up involves lots of feathers!  Will see you then.  Now I have to go check on my wine… and have a glass to celebrate finally getting this posted!
Salute!  Jessica